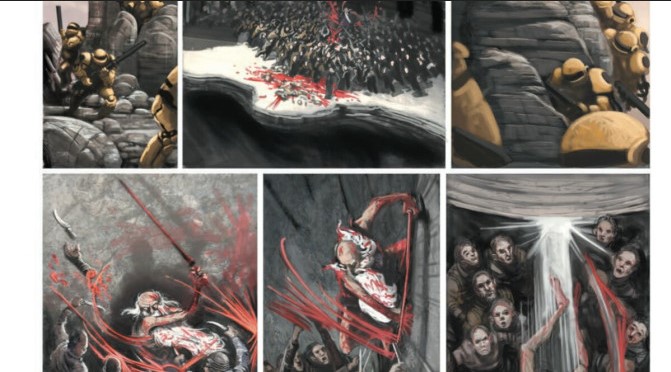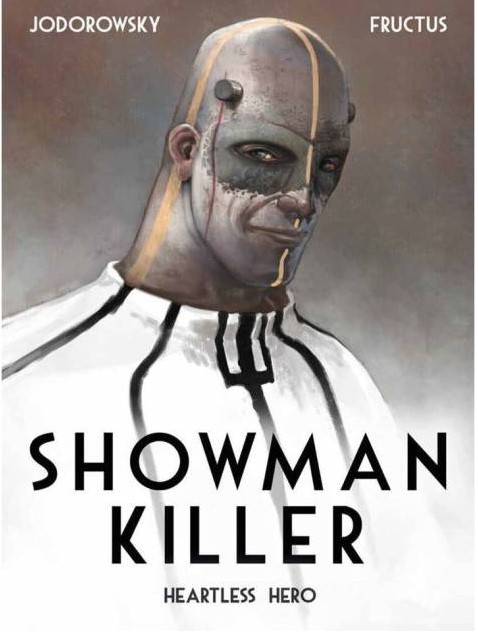 Writer – Alejandro Jodorowsky; Artist – Nicolas Fructus; Translator – Ivanka Hahnenberger; Publisher – Titan Comics
The science fiction graphic album Showman Killer: Heartless Hero begins on a prison planet, with an unofficial visit from a sperm collector.
The scientist Courcolain is tired of his unprofitable service to the galactic Omnimonarch and schemes to get rich by creating the ultimate mercenary.   Courcolain and his assistant, Orlanda, travel to the prison planet Halkatrass and collect sperm from a condemned cannibal psychopath.  They then return to Courcolain's secret lab with the sperm and inseminate the comatose Lady Anonima; the resulting child, a boy created from the genetics of a noble mother and a criminal father, is raised by Courcolain and Orlanda to be an emotionless, lethal killer.  When the boy  becomes an adult, he receives biological modifications from Courcolain that allows him to morph his body into deadly, monstrous forms when he says the trigger word "Show."
Courcolain dubs his creation "Showman Killer" and presents him to the Omnimonarch, who offers Showman Killer a job as the head of his security forces.  But Showman Killer refuses to serve either Courcolain or the Omnimonarch, and instead becomes a freelance mercenary working for the highest bidder.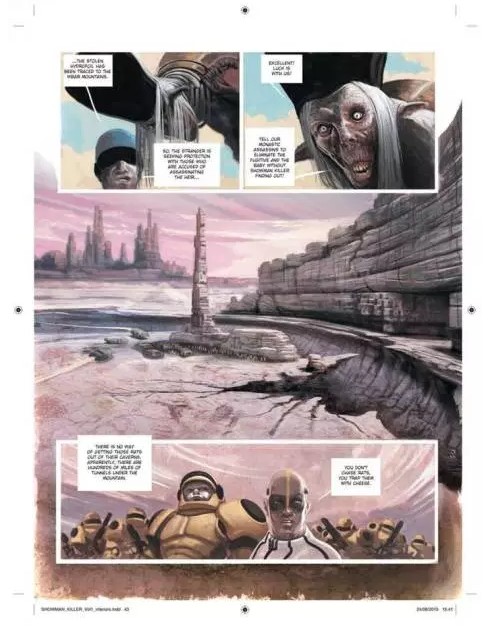 Years pass, and Showman Killer lives in luxury on an asteroid, taking high-paying mercenary jobs.  Although he lacks emotion, he is haunted by an unknown woman who appears frequently in his dreams.  When assassins attack the Omnimonarch's family, Showman Killer is hired to retaliate.  In the process, he encounters the mystery woman that he has seen in his dreams and gets a new mission that changes his life.
Written by Alejandro Jodorowsky, Showman Killer: Heartless Hero is reminiscent of Jodorowsky's other science fiction comics, particularly The Metabarons (with artist Juan Gimenez);  both comics showcase superhuman anti-hero characters in an epic space opera narrative.  Artist Nicolas Fructus depicts the characters and settings in beautiful, lush color; the art is captivating.
Originally published in French by Editions Delcourt, Showman Killer: Heartless Hero benefits from the translation work of Ivanka Hahnenberger.  It has been the experience of this reviewer that sometimes translations of European comics have awkward phrasing or jarring humor that does not connect well with English readers.  But that is not the case here; the dialogue and captions of the graphic novel are easy to follow without distraction.
Showman Killer: Heartless Hero offers readers repulsive (but perhaps redeemable, and definitely interesting) characters and exotic settings that are exquisitely rendered; the comic grabs your interest with its first panel and compels you to keep reading.  Every page is an exciting delight; if you like engaging space opera and beautiful art, you should check out Showman Killer: Heartless Hero.