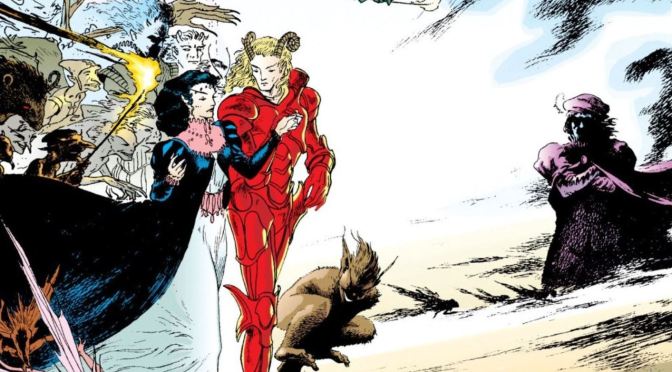 Published by DC Comics in 1990, The Sandman #19, entitled "A Midsummer Night's Dream," is arguably one of the best single issues of the acclaimed series; in 1991 the story won the World Fantasy Award for best short fiction — the first comic book to win the award. But shortly after it was published, a copy of the comic was found at a crime scene that shocked a small college community and the comic's creators, part of an apparent effort to portray a murder as a comics-inspired suicide.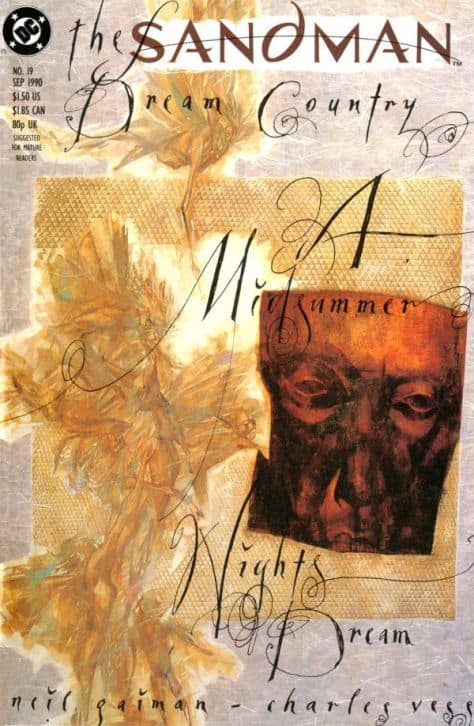 Founded in 1870 as a teachers college in the town of Lock Haven, today Lock Haven University of Pennsylvania offers various courses of study to approximately 4,000 students; the town's population is approximately 10,000. The university's website boasts that the campus "is located on the west branch of the Susquehanna River in the scenic mountains of Pennsylvania" and that its historic downtown location is "where tree-lined streets and beautiful Victorian homes border campus, and restaurants and shops are just a few blocks away."
The scenic academic campus is a suitable location for readers to enjoy the contents of The Sandman #19. Written by Neil Gaiman and illustrated by Charles Vess, "A Midsummer Night's Dream" is set in the English countryside in 1593; William Shakespeare leads his actors troupe to perform a play (A Midsummer Night's Dream) commissioned by the comic's protagonist, Morpheus, the lord of dreams and stories, as tribute to the fairies of legend, who are invited to watch the play.
The Sandman #19 was released on Friday, August 31, 1990. The following Monday, September 3rd, on Labor Day, Michael Houseknecht moved into Lock Haven's Smith Hall dormitory. Houseknecht was a 20-year old undergraduate student majoring in social work. Previously, Houseknecht had lived off campus with his 19-year old boyfriend, Michael McGarvey, since March.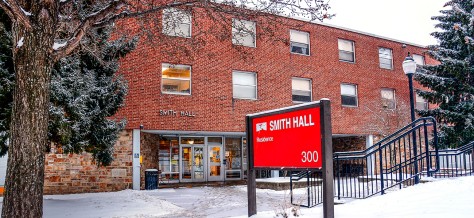 Houseknecht's move to Smith Hall seems to have been prompted by McGarvey's abusive behavior. In July, Houseknecht appeared at his neighbor's home, bloody and bruised; Houseknecht told the neighbor that McGarvey was responsible for his injuries. After returning to McGarvey, Houseknecht again showed up beaten at the neighbor's home a few weeks later.
A Lock Haven alumnus recalls that Houseknecht "was small-framed and blonde, with one of those floppy 1980s haircuts that were so popular at the time." In 1989, Houseknecht had attempted to join a campus fraternity but was blackballed, apparently because he was gay.
This same alumnus, reflecting on his own experience as a gay man, contemplates how things might have turned out that September had both Houseknecht and McGarvey encountered more campus support and sympathy: "But a more obvious truth was that the two Mikes were a couple of scared, troubled kids who might have done a little better if they had had someone compassionate to listen to and try to understand them."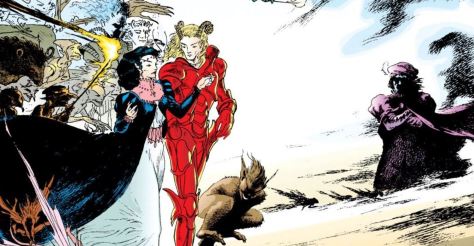 Houseknecht's friends last saw him alive on Thursday, September 6th. When questioned later, McGarvey told police that he had last seen Houseknecht on that date, when he had returned a black necktie to Houseknecht.
Almost a week later, prompted by calls from Houseknecht's worried mother, who had not heard from her son in days, Smith Hall staff entered Houseknecht's room after 9 p.m. on Wednesday, September 12th; staff found his partially decomposed body. Houseknecht's cause of death was strangulation with a necktie.
Also in his room was a note and a copy of The Sandman #19.
Referencing Houseknecht's death in a 2012 HuffPost editorial defending comics from criticism that the medium inspires violence, writer Elaine Lee states that a copy of The Sandman #19 was found near Houseknecht's dead body, along with an apparent suicide note which read:
"It was his time to pay the piper!!!!!!! The SANDMAN. P.S. The Sandman will bring perfect silence to the world through eternal sleep!!!!!! ENJOY THE SILENCE!"
Lee also recalls hearing from artist Vess in September 1990 that Gaiman, troubled by Houseknecht's death, was considering giving up writing comics altogether.
On Thursday, September 13, 1990, police interviewed McGarvey. Police obtained search warrants to search McGarvey's apartment for any materials related to "death, dying, suicide, homicide" or "a DC Comics book character known as 'The Sandman.'"
But the following morning, after being notified by a neighbor, police found McGarvey hanging by a rope from a stairway to his apartment's basement. Rescue workers resuscitated McGarvey and got him to the hospital, where he died on Saturday, September 15th.
At McGarvey's apartment, police found a note, similar to the one left near Houseknecht's body, also signed "The Sandman"; the police also found a picture of Houseknecht and another note making references to "being in love with Mike" and "joining him."
As the police investigated Houseknecht and McGarvey's deaths, the campus community was fearful. Lock Haven students left their dorms that weekend in record numbers. Only a few weeks earlier, near the University of Florida in Gainesville, police had found the bodies of five college students murdered and mutilated by serial killer Danny Rolling, who would be apprehended months later. The proximate deaths of Houseknecht and McGarvey, the recent University of Florida murders, and the media interest in the notes signed by "The Sandman" fueled campus anxieties.
Months later, the police officially concluded that the two deaths were a murder-suicide, with McGarvey killing himself in apparent remorse at murdering Houseknecht.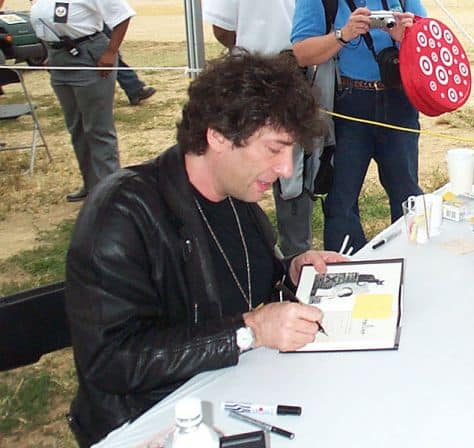 In a 2013 blog post, Gaiman recalls the distress he felt that September as he considered that his work might have inspired someone to commit suicide:
"I spent a weekend trying to understand how Sandman 19, A Midsummer Night's Dream, could have made someone kill himself. On the Monday I discovered it hadn't. But I had thought about things a lot over that weekend."
Gaiman also indicates that the media was initially focused on the comic's role in Houseknecht's perceived suicide, and that he and his editor were concerned about the impact this attention would have on the series:
"…for a couple of days the media was gearing up to destroy Sandman, and my editor was scared, and I was scared. And then I learned it was a murder, not a suicide, and the media dropped the story completely, and I felt like someone had tried to frame me for murder, and in some ways they had."
Going through this challenging experience, Gaiman concludes that fiction writers cannot be responsible for the things people are inspired to do as a result of reading their work:
"Hurting people will take their inspiration where they can, in a book, a song, in the bible or a movie. I owe them good stories. I cannot be responsible for everyone to whom the story is told."
A commenter on Gaiman's blog post, who identifies herself as a freshman Lock Haven student during this period, states that local news stations initially labeled the death as "The Sandman Murder" and that "people swarmed the local comic shops to get a copy of the comic while other local retailers tried to get it banned before young, impressionable minds got hold of it."
Although The Sandman #19 had just been published, it is unclear what inspired McGarvey's alleged use of the The Sandman comic and notes. Gaiman writes that he "heard later that neither of the men read Sandman at all, although the murderer was a big X-Men fan." Regardless, after McGarvey's death the potential controversy surrounding The Sandman disappeared.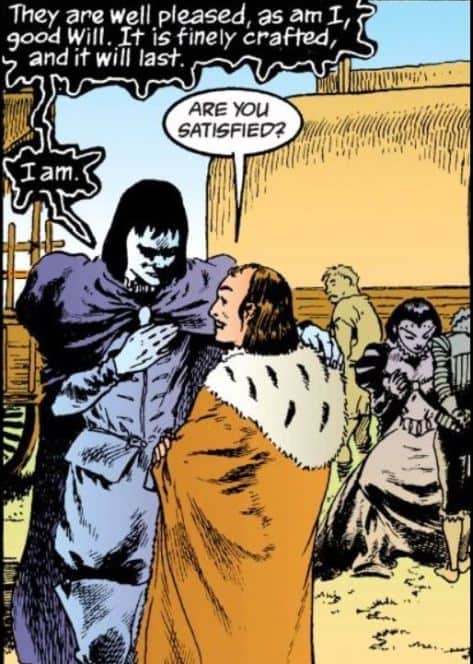 It is interesting to note that — like the mythic characters and stories featured in The Sandman series — Houseknecht's murder has become part of the university's folklore, with some students claiming to have seen his ghost wandering Smith Hall.
In The Sandman #19, the play goes on, indifferent to the concerns of its artists and audience, a work of art that will endure for ages. So, too, the comic itself —  today the comic's use in a crime is largely forgotten; the comic is considered among the best offered by the comics medium and it transcends the tragic events in Lock Haven.
NOTES AND FURTHER READING:
In addition to Gaiman and Vess' work on The Sandman #19, other credited creators include colorist Steve Oliff, letterer Todd Klein, cover artist Dave McKean, and editors Tom Peyer and Karen Berger, along with William Shakespeare.
In writing this article, the author used available online news sources. These sources include:
"Possible murder victim found at Lock Haven": Daily Collegian, September 14, 1990
"Investigations of Lock Haven deaths go on": Daily Collegian, September 17, 1990
"Students dismayed at deaths": Daily Collegian, September 17, 1990
"Lock Haven death ruled suicide": Daily Collegian, September 18, 1990
"Lock Haven incident ruled murder-suicide": Daily Collegian, November 21, 1990
Additional articles were referenced from Standard-Speaker, The Indiana Gazette, and Pittsburgh Post-Gazette.
***
The images above are the property of their respective owner(s), and are presented here for not-for-profit, educational purposes only under the fair use doctrine of the copyright laws of the United States of America.