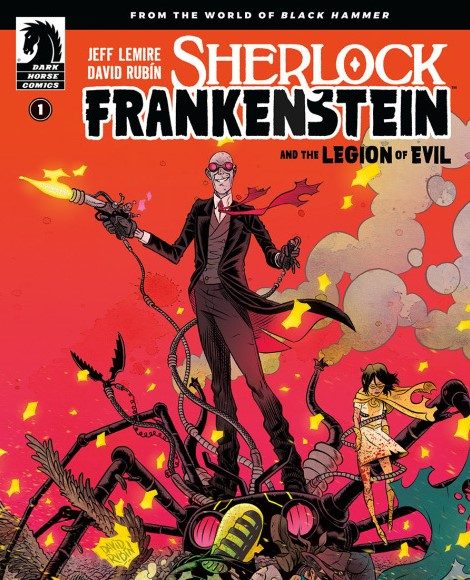 MILWAUKIE, Ore., (July 11, 2017)—Writer Jeff Lemire and artist Dean Ormston have captivated readers and critics alike with their "sad, dark, and brilliant"* creator owned superhero saga Black Hammer, which follows the forgotten champions of Spiral City long after the age of heroes has passed. This fall, Dark Horse Comics will expand the universe of the Black Hammer with Sherlock Frankenstein & The Legion of Evil, written by Lemire and illustrated by artist David Rubín, for the first of several high profile mini-series featuring different artists. While the main, Eisner-nominated Black Hammer series focuses on the heroes of Spiral City—Abraham Slam, Golden Gail, Colonel Weird, Madame Dragonfly, and Barbalien—Sherlock Frankenstein & The Legion of Evil reveals the secret origins of the Black Hammer's greatest villains.
"While working on Black Hammer I found myself having more and more ideas for other types of superhero stories," said Lemire. "The main Black Hammer story continues to be the spine of these ideas, but I found them branching off into new directions and new characters as well. It occurred to me that there was a whole history here, a whole superhero universe all of our own, that I could explore and create within. So, Dean Ormston and I have decided to expand the world of Black Hammer and create an avenue to tell these other stories. The first mini-series will be Sherlock Frankenstein & The Legion of Evil, which will be illustrated by the incomparable David Rubín."
"Lemire and Ormston have created a distinctive look and feel for Black Hammer," said David Rubín. "When designing characters like The Horseless Rider, Doctor Star, Wingman and Black Stallion, I wanted to match the wonderful weirdness of the Black Hammer's rogue gallery featured in Sherlock Frankenstein & The Legion of Evil."
"Lucy Weber, the daughter of the Black Hammer, is an investigative newspaper reporter, and her search for the truth about her father leads her to some very dark places," said Dean Ormston. "In Sherlock Frankenstein & The Legion of Evil, Lucy heads to Spiral City's infamous asylum to confront the world's greatest super villains and the secrets they have locked away."
"Black Hammer follows in the proud tradition of creator owned comics published by Dark Horse," said Dark Horse Comics President and Publisher Mike Richardson. "Like its many fans, I can't wait to see what Jeff, Dean and the all star artists have in store for us as the expanded Black Hammer universe unfolds."
"The World of Black Hammer has become my favorite place to be," said Lemire. "The last thing I want to do is exploit the fans of Black Hammer with needless spin offs or tie-ins that they have to read to get the whole story. So, these new mini-series, like the regular ongoing Black Hammer series, will stand alone and tell complete, self-contained stories."
Dark Horse Comics will publish the debut issue of the four issue Sherlock Frankenstein & The Legion of Evilmini-series on October 18, featuring a main cover by Rubín and a variant cover by legendary Hellboy creator Mike Mignola.