Today marks the 100th anniversary of the beginning of World War I (July 28, 1914).  This global war lasted four years and mobilized over 70 million military personnel; it was a destructive, deadly conflict that introduced new technologies and tactics to warfare, particularly in the area of aviation. Fixed-wing aircraft were used to observe enemy movements, strafe ground troops, and for aerial combat.  The achievements of the aviators who flew these aircraft were often propagandized by the pilots' respective governments – France was the first country to award the designation of "ace" to pilots that shot down a certain number of enemy aircraft; other countries adopted this practice. After the war, these WWI "aces" were romanticized in American movies like The Dawn Patrol and Hell's Angels.  However, American comic books have portrayed the WWI aces in a more ambiguous manner.
One of the first comics to focus on WWI air combat stories was EC Comics' Aces High. First published in 1955, this bimonthly anthology comic featured stories about both World War I and World War II aerial combat; however, it should be noted that four of the covers for this five issue series depicted WWI-era aerial dogfights, highlighting the WWI war stories contained within.  These war stories – many of which conveyed an anti-war theme – were illustrated by legendary EC Comics artists Jack Davis, Wally Wood, Bernard Krigstein, and George Evans (who also illustrated all five covers of the short-lived series).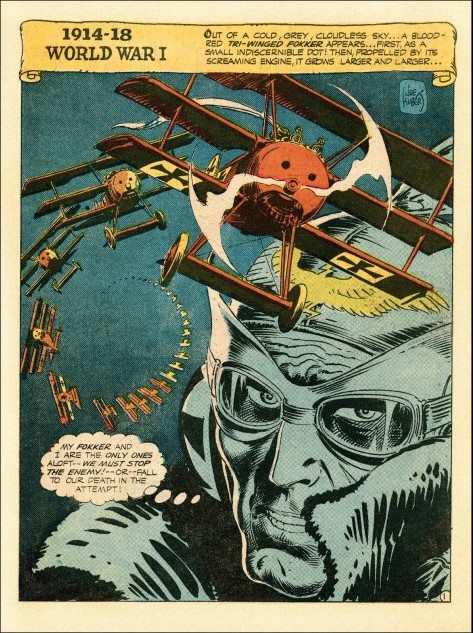 In 1965, DC Comics published the military exploits of two World War I aces in its comics, both based on actual WWI aviators.  Writer Robert Kanigher and artist Joe Kubert introduced readers to the feature Enemy Ace in Our Army at War #151 (February 1965); this feature starred Baron Hans von Hammer, a German pilot.  Von Hammer was based on the actual German air ace Baron Manfred von Richthofen (widely known as the "Red Baron", due to the bright red aircraft that he flew) who is credited with shooting down 80 aircraft (giving him more aerial combat victories than any other pilot during WWI).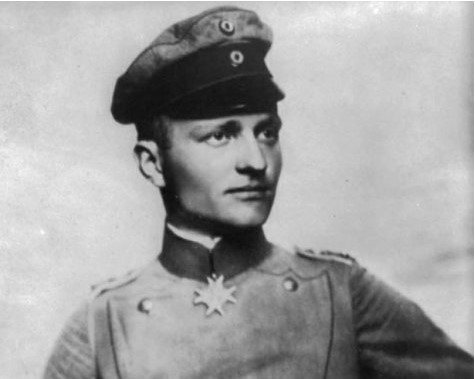 It was unusual for war comics to feature an enemy combatant as the protagonist.  As comics historian Mike Conroy notes:  "To make Von Hammer more acceptable to US readers, the writer emphasized the German's devotion to duty, as well as the fact that, on a personal level, the pilot very much disliked sending honorable men to their graves."  Von Hammer was a complex character, a grim loner who was neither a traditional hero nor a villain; Kanigher's stories explored the psychology of a combatant compelled to kill by duty during wartime, and Kubert's art for the feature was both detailed and gritty.  Comics historian Les Daniels notes that "…the German fighter pilot was an unusual hero whose philosophy occupied a territory halfway between existentialism and nihilism."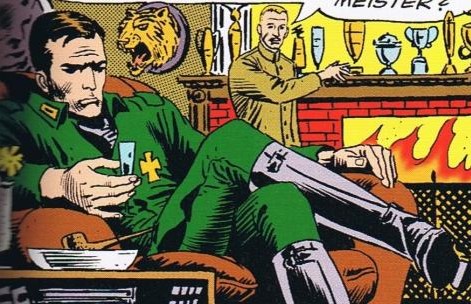 Von Hammer was popular with readers, and – unlike his real-life counterpart – the character's exploits continue after the war (Richthofen was killed in action on April 21, 1918).  The character appears in George Pratt's 1990 graphic novel Enemy Ace: War Idyll, about von Hammer's meeting with a reporter who served in Vietnam; the two veterans help one another come to terms with the horrors that they experienced during wartime.   Von Hammer also appears in Tim Truman's 1998 mini-series Guns of the Dragon – in 1929, von Hammer teams up with other DC characters (aging Western cowboy Bat Lash and adventurer Biff Bradley) to retrieve an ancient relic from Dinosaur Island (from DC's The War that Time Forgot feature).  In 2001, writer Garth Ennis, with artists Christian Alamy, Chris Weston, and Russ Heath, explored von Hammer's combat experiences during World War II in the mini-series Enemy Ace: War in Heaven.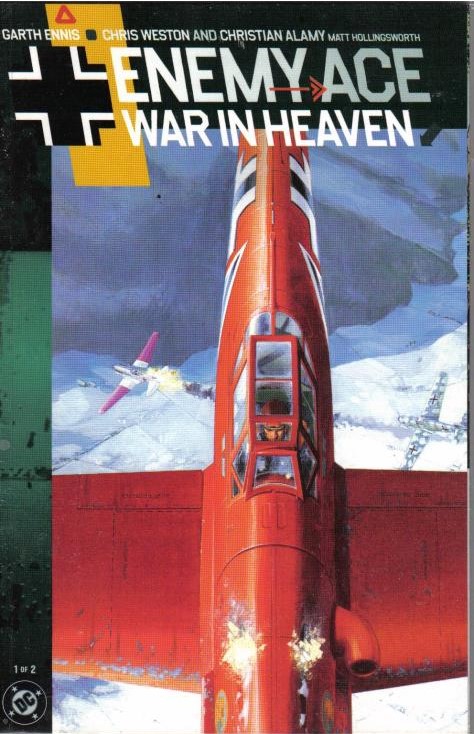 The other air ace introduced by DC Comics in 1965 was Lt. Steve Savage, nicknamed "The Balloon Buster" for his skill at shooting down German military observation balloons (which, during WWI, were heavily defended targets that were dangerous and difficult to shoot down).  Created by Robert Kanigher and artist Russ Heath, Savage – like von Hammer – was not a traditional comic book war hero.  Savage was insubordinate and frequently disobeyed orders, and only his combat skills and bravery saved him from the constant threat of a court martial.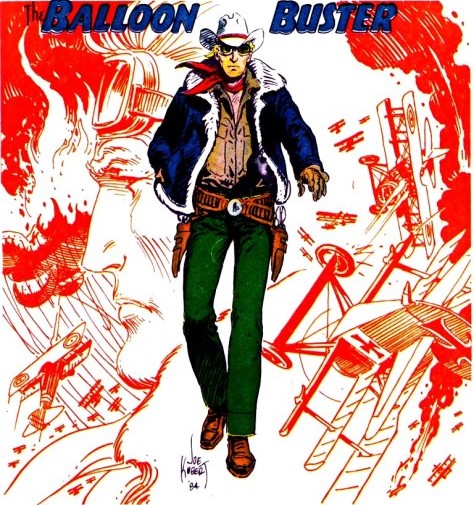 Like von Hammer, Savage was based on an actual WWI air ace – American pilot Frank Luke, Jr.  Luke's nickname was "Balloon Buster".  Luke is credited with destroying 14 balloons and four airplanes, a total of 18 aerial victories; he ranks second for the number of victories credited to United States Army Air Service pilots during WWI (after Eddie Rickenbacker, credited with 26 victories).  However, Luke's victories were achieved in just ten sorties during a two week period in September 1918 (in contrast, Rickenbacker's victories were achieved over a seven month period).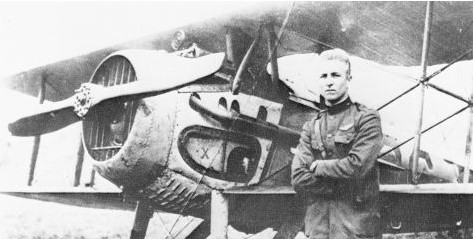 Like the character he inspired, Luke was a loner and often insubordinate.  He frequently disobeyed orders and was grounded for his lack of military discipline.  On the day of his last mission, Luke violated orders and stole a plane to engage the enemy; Luke's superiors ordered his arrest, planning to court martial him upon his return from the mission.  However, Luke went on to shoot down three balloons and strafe enemy troops before he was forced to land near the French town of Murvaux.  Surrounded by German troops demanding his surrender, Luke instead fired on the Germans using his .45 revolver; the Germans shot back, killing him.  Luke was posthumously awarded the Congressional Medal of Honor for his valor, making him the first aviator to be awarded America's highest military award.
Both von Hammer and Savage are unconventional protagonists for American war comics; the former is a melancholy aristocrat ambivalent about killing, and the latter is an insubordinate loner who rebels against military authority.  Although both characters' exploits are set during WWI, it's interesting to note that these characters were introduced at a time when America was increasing its military presence in Vietnam; the first U.S. ground troops were sent to South Vietnam beginning in 1965.  The two WWI comics characters anticipate the ambivalence and discord that will divide America during the Vietnam War.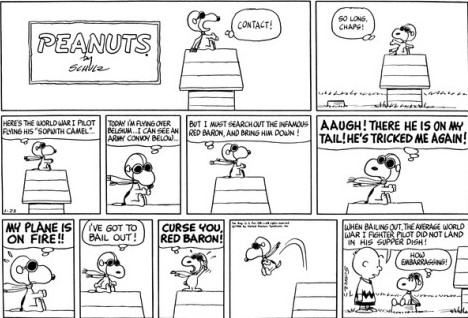 In 1966, in the comic strip Peanuts, cartoonist Charles Schulz depicted the dog Snoopy sitting atop his doghouse; Snoopy fantasizes that he is a WWI pilot in an airplane, having an aerial dogfight with the Red Baron.  The Red Baron is never illustrated in the strip, but his presence is documented by the bullet holes left in Snoopy's doghouse.  Snoopy's imagined battles with the Red Baron would be a recurring gag in the strip, and even inspired the American rock band The Royal Guardsmen to write a hit song about Snoopy's conflict with the WWI air ace:
Schulz's biographer David Michaelis notes how the Snoopy/Red Baron conflict resonated with an American audience nervous about its growing involvement in the Vietnam conflict:  "While mission upon mission of B-52 bombers hammered North Vietnam's capital and primary port cities, Snoopy's mania, his single-minded pursuit of the enemy and his hatred of losing, epitomized the America haunted by an always victorious John Wayne, the postwar U.S.A. that was racing to beat the Soviets to the moon."  However, Michaelis observes that Snoopy's repeated challenges to his unbeatable aerial foe can also be interpreted as tragicomic folly.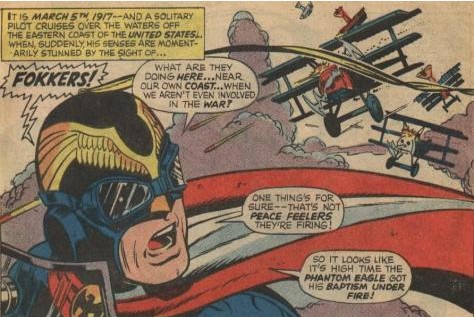 In 1968, Marvel Comics published Marvel Super Heroes #16, starring the Phantom Eagle, a masked air ace who fought the Germans in WWI.  Created by writer Gary Friedrich and artist Herb Trimpe, the Phantom Eagle is Karl Kaufman, the American son of German immigrants who had returned to Germany during the war.  To protect his German family from retaliation for his actions, Kaufman adopted the identity of the Phantom Eagle in order to fight the Germans in the air.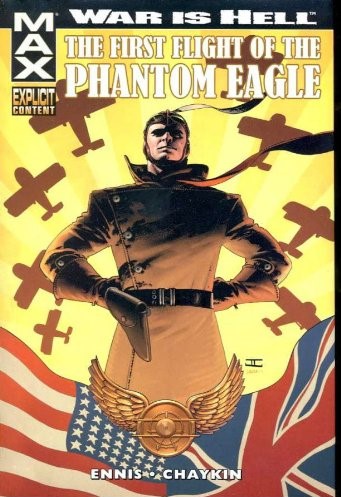 The character would later star in his own mini-series.  Published in 2008, War is Hell:  The First Flight of the Phantom Eagle was written by Garth Ennis and illustrated by Howard Chaykin.  The comic is intended for an adult audience, and depicts Kaufman as an idealistic character who discovers the horror and absurdity of war.  Given its publication date, when U.S. military forces were still engaged in combat operations in Iraq, the comic can be interpreted as a scathing commentary on the absurdity of warfare in general, and the failures of the Iraq War in particular.
The World War I air aces of the comics tend to convey an anti-war tone to readers. Unlike other protagonists featured in American war comics, the WWI aces challenge readers to ponder the reasons for conflict and the consequences of war.