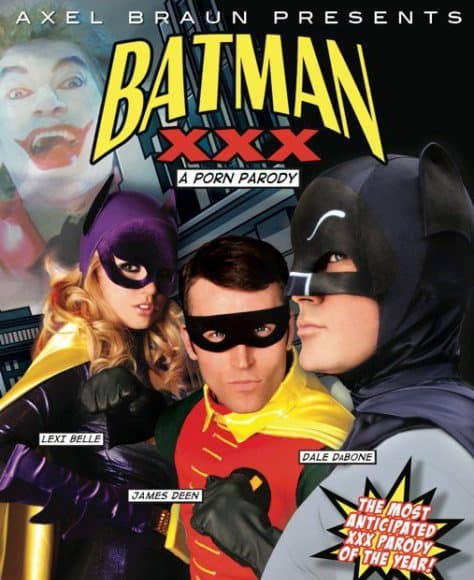 This month marks the one-year anniversary of the start of Nothing But Comics!  To celebrate, rather than look back at all the great articles we wrote over the past year, the NBC! team wanted to give everyone a behind-the-scenes look at some of the articles we DIDN'T publish this past year, for various reasons.  Below is a list of some of our best unpublished articles (of course, we might be pulling your leg!)
BAT-PORN!:  For our "Bat-Month" event celebration in May, Josh was set to write an article entitled "F@#k Batman:  A NSFW Review of Batman Pornography"; the article was not published, however, because Josh is still researching the topic.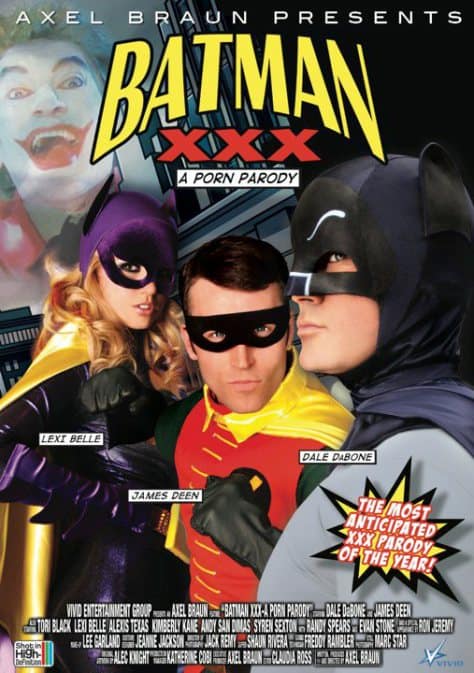 FRANK MILLER'S NANCY DREW:  NBC! received  a tip that IDW would publish a licensed Nancy Drew comics series written and illustrated by Frank Miller, in which Nancy uses her detective skills and lots of guns to defend her town of River Heights from an onslaught of Muslim ninjas.  The licensing deal fell through before we could publish the story.
SUPERHERO-IN-CHIEF:  Dean was able to get a potentially Pulitzer Prize-winning interview with President Obama, in which the President confessed that he was secretly a masked urban crimefighter in Chicago during the 1990s.  However, Dean decided it was more important to publish an article about the recent popularity of Marvel Comics super-villain Loki.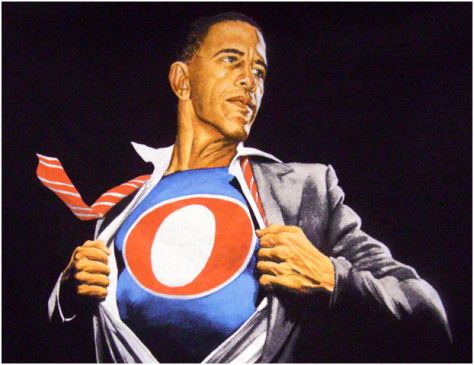 BEARDED:  Patrick interviewed comics creator Justin Jordan, but the interview went badly when Pat got into a fight with Jordan's beard.  Although NBC! couldn't publish the interview, we are proud to report that Patrick held his own.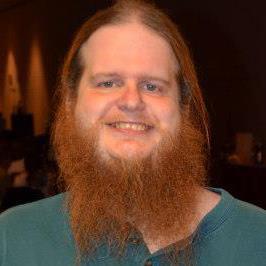 LAS VEGAS:  Dean went to Las Vegas Comic-Con, conducted a lot of interviews, and got the scoop on some upcoming mind-blowing comics projects… but, you know, what happens in Vegas stays in Vegas.
THE KINGPIN:  A lot of Tyler's articles were postponed after he received injuries during a comics convention.  Tyler approached a big bald guy in a white suit and said, "Nice costume".  Unfortunately, the guy responded, "What costume?"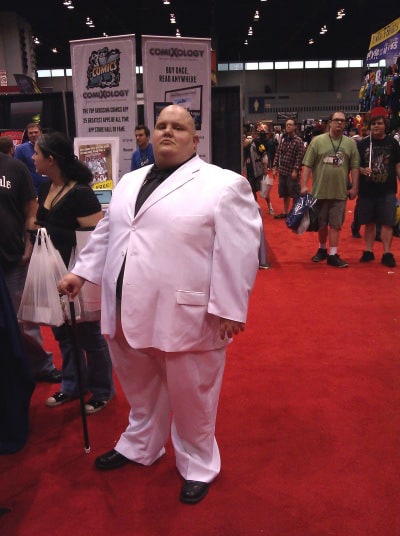 NBC! NOW:  To promote diversity, NBC! planned to update its writers to reflect the site's shifting demographics.  Josh began the process of becoming a woman, Patrick tried to be black, and Dean went off to be an evil tech genius mastermind. Josh was unable to complete the surgery because his health insurance wouldn't cover it, Patrick will never be black (no matter how hard he tries), and Dean got stuck in a company using dated technology that left his technology skills obsolete.  NBC! remains a bunch of white dudes writing about comics.
FRANK MILLER VS. NBC!:  Alex, as our Head Dork-in-Charge, was obliged to quit submitting articles and go into hiding for a while after an angry Frank Miller accused him of being a Muslim ninja.
BRIAN MICHAEL BENDS/AARON SORKIN EXCLUSIVE:  Patrick received a tip that "Brian Michael Bendis" is in fact a pen name used by Aaron Sorkin to fulfill his life-long dream of writing comic books with the same "witty" dialogue and quips that he uses for TV shows/movies about Presidents/comedians/newscasters/tech startups/sportscasters/CIA agents.  The tip claimed that the man thought to be Bendis is in fact a struggling actor (originally trying out for the role of Kingpin in the Daredevil film) who Sorkin "saw something in".  NBC! canceled the story when it was revealed to be a "plot twist" in Brian Michael Bendis' Words For Pictures book, which nobody has actually read (except Reed).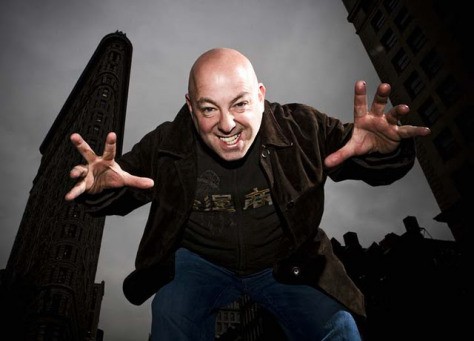 CHUCK DIXON?: Conservative comics creator Chuck Dixon accused NBC! staff of blackballing him for expressing his opinion that comics are "too liberal"; in response, half the NBC! staff asked, "Who's Chuck Dixon?"
A FLOP?:  Before the Guardians of the Galaxy movie was released, Josh wanted to write an article about how big a flop the upcoming movie would be (there was no way the general public would embrace a movie starring both a CGI talking raccoon and Chris Pratt), but then he found out that people actually liked the movie.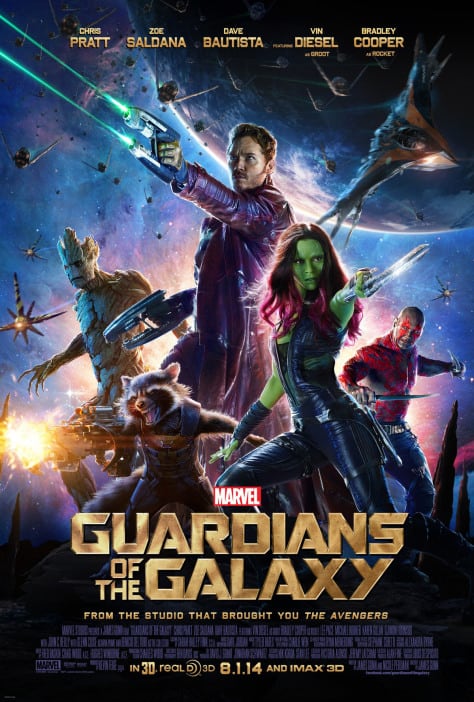 EXCLUSIVE TELL-ALL INTERVIEW WITH GRANT MORRISON: Alex had the opportunity to sit down with comic book legend Grant Morrison, who promised to reveal such secrets as how his Multiversity series will wrap-up and exactly what the hell happened in Final Crisis.  Unfortunately, Alex never got around to writing the piece due to troubleshooting the "Comment Box-iPad Crisis of 2014".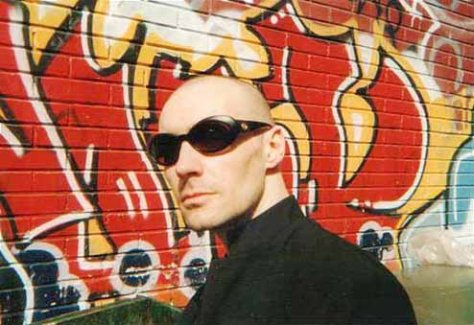 DEATH THREATS:  Creighton went into hiding for a few weeks after receiving graphic death threats from comics publisher Avatar Press, but it turned out that these "death threats" were just advance review copies of the Avatar comics series Crossed.
NO MOORE: Patrick had set up an ongoing tell-all interview with Alan Moore on his next series, the digital platform that he will be publishing comics on, a 200-page PowerPoint presentation on why Grant Morrison and every other comic creator steals everything from him, and the true meaning of both Watchmen and Christmas. Unfortunately, Patrick never got around to writing the piece due to troubleshooting the "Comment Box-iPad Crisis of 2014″.
DAN DiDIO's IDEA JOURNAL: Since becoming DC's Co-Publisher in 2010, Dan DiDio has kept an ideas journal. NBC! was offered an exclusive, insider look into these pages. He's currently six pages in, and the ideas are…umm…ideas, we guess. DC allowed us a single photograph as long as we promised not to publish it until the ideas were realized by the public. Seems the cat is now out of the bag.
Snapped by NBC! writer Dean, here is entry #5: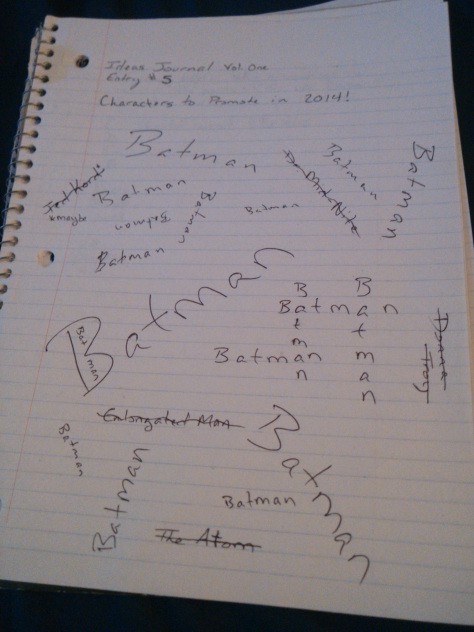 KEEP TRYING, PAT!: In an ongoing effort to expand the scope of the site's reading experience, Patrick passionately recommended that readers check out Copra, Zero, Luv Sucker, B&F, Night Business, The Sleep Of Reason, Death Agent, White Suits, Five Ghosts, Peter Panzerfaust, Trees, Supreme: Blue Rose, Prophet, The Bounce, and a whole bunch of Marvel comics. NBC!'s readership bought these books, said "meh", no longer accept his recommendations, and still prefer comics written by Dan Slott and Geoff Johns.
GREAT KIRBY'S GHOST:  Patrick approached a psychic medium who helped him contact the ghost of Jack Kirby for an exclusive interview about his creative process, growing up in NYC during the depression, WWII, his initial inspiration for Captain America and the Marvel Universe, all the ideas Stan Lee ripped off from him, his Fourth World work for DC Comics, how he feels about the current slate of films based on his creations, his thoughts on the play about his life, and his overall thoughts on being the coolest, most bad-ass man to ever walk the Earth. Unfortunately, Patrick never got around to writing the piece due to troubleshooting the "Comment Box-iPad Crisis of 2014".

THE KIRKMAN INTERVIEW:  We were excited that Robert Kirkman accepted our interview request, but when Kirkman found out that "NBC" stands for "Nothing But Comics" and not "National Broadcasting Corporation", he cancelled the interview.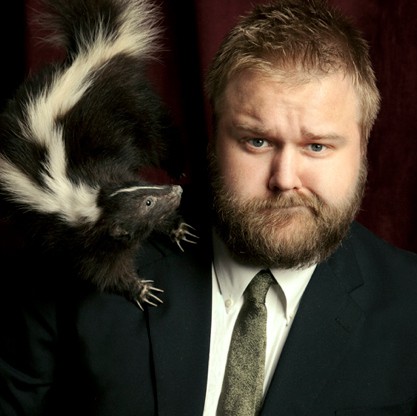 UP IN SMOKE:  Reed got a chance to interview Rick Remender, but was so high from Remender's second-hand dope smoke that he forgot to take notes.  During the interview, Reed was also unable to pronounce the name "Bucky" without laughing hysterically.
MOON KNIGHT CAUSES CRANIAL EXPLOSIONS:  Writer Warren Ellis released the first issue of his Moon Knight series with artist Declan Shalvey and colorist Jordie Bellaire. It appeared that heads literally began exploding across the multiverse until it was revealed that everybody was just reacting to finally reading an excellent new super hero comic.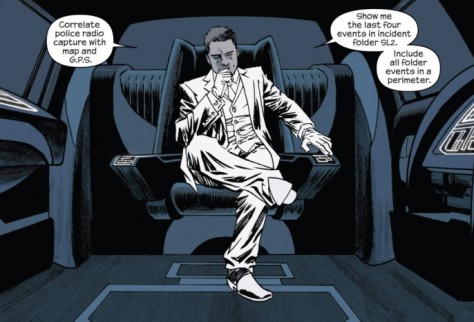 BLUE CHRISTMAS:  An online Christmas party was planned for the entire site; however, before invitations could be sent out, Josh went extremely blue and the party was immediately canceled. Since then, holiday parties have not been allowed on company premises.   (Josh wants to point out many of his favorite actors are of Jewish descent, such as Seth Rogen, Rashida Jones, and Jason Swartzman.) In a bizarre twist, afterwards Josh immediately began planning an operation to become a woman.
RICK REMENDER DID NOT OFFEND YOU:  NBC was all set to report that Rick Remender had said the "N-word" in public, wrote a story in which Falcon had sex with an underage girl in Remender's Captain America series, and ruined your favorite comic book, but none of those things actually happened. Instead, Remender continued to make high quality, thoughtful and action-packed comics that most of us enjoyed, and he also announced two new projects with Sean Murphy and Jerome Opeña.
DC COMICS MEETING:  Our lawyers wouldn't let us run our discovered footage of a meeting between DC Comics editorial staff and a creator – until now!:
BATMAN NEVER SITS:  For the official NBC! group holiday photo it was suggested that all the staff members dress as Batman. This idea was immediately abandoned when we realized that in order to fit everyone in the frame, somebody would need to sit . . .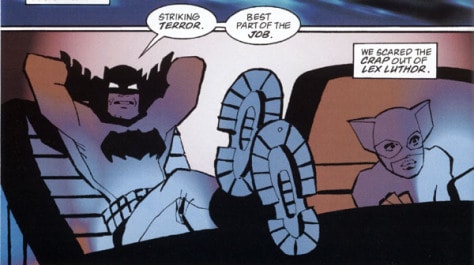 (Seriously, thanks to the entire NBC! community for your support of this site. – The NBC! team)