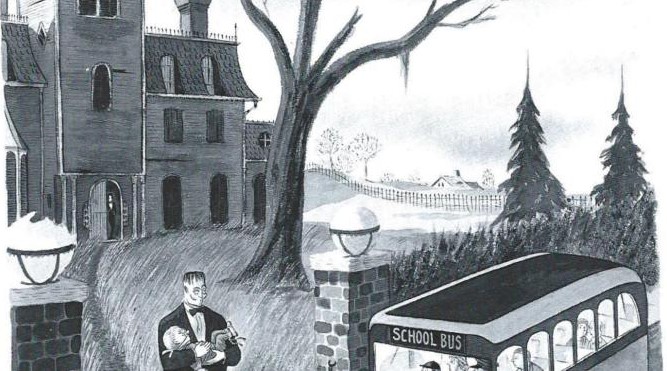 During his lifetime, cartoonist Charles "Chas" Addams (1912 – 1988) drew many macabre cartoons that made his audience (perhaps somewhat uncomfortably) laugh.  Addams is primarily remembered today as the creator of the "Addams Family" – an assortment of odd characters (Morticia, Lurch, Gomez, Uncle Fester) that appeared over the years in various Addams gag cartoons (the characters remained unnamed until Addams was asked to name them for the 1964 ABC television series based on his creations, The Addams Family).
However, Addams' ghoulish creativity was not limited to those characters.  As noted by author H. Kevin Miserocchi in The Addams Family: An Evilution, Addams' impressive artistic output spanned approximately sixty years and generated thousands of cartoons, and the Addams Family characters only appear in about 150 of these cartoons. And one legendary cartoon attributed to Addams is pure fiction – "A Ghoul in a Maternity Room".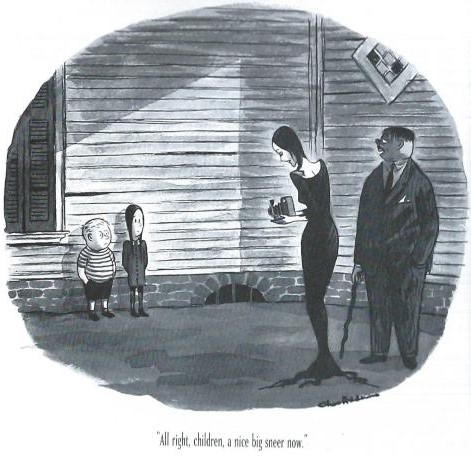 In her book Charles Addams: A Cartoonist's Life, author Linda H. Davis reveals that, among the many strange rumors that surrounded Addams, "The story most often heard concerned a Charles Addams cartoon about a ghoul in a maternity room, come to claim his offspring. 'Don't bother to wrap it; I'll eat it here,' he tells the nurse.  They said that Addams would have periodic mental breakdowns and begin drawing the gruesome maternity room cartoon."
Davis goes on to note that – although some people swore that they had seen it – Addams never drew this cartoon.  Given the artist's creepy, atmospheric ink-wash drawings and macabre humor, it is understandable why some might believe the story that Addams would periodically go insane and draw such a cartoon.  Although described by contemporaries as a kind, decent person, Addams was not shy about sharing his eccentricities with the public – he collected medieval armor and crossbows, liked to visit cemeteries, and wore a black bearskin coat during the winter.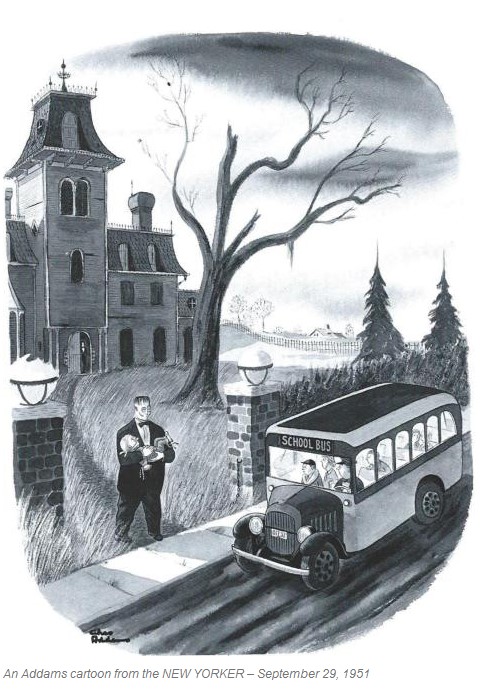 Although "A Ghoul in a Maternity Room" does not exist, the cartoons that Addams did create are an impressive artistic legacy.  Contacted by Nothing But Comics! to comment on Addams, Monte Beauchamp, author of Masterful Marks:  Cartoonists Who Changed the World, expressed his praise for the artist: "In the realm of gag cartoonists, there's Charles Addams–and then there's everybody else. There's no one better."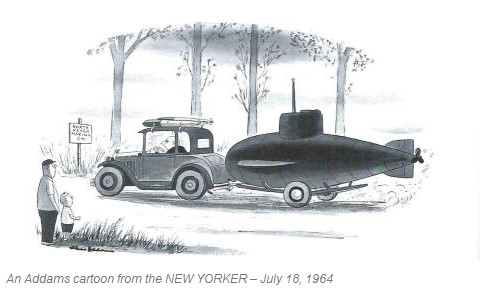 Responding to our request for a comment about Addams, cartoonist Peter Kuper, who has written and illustrated "Spy vs. Spy" for the humor magazine Mad since 1997, also praised Addams:  "Chas Addams satisfied a need in me (and many other happily demented humans) that no other cartoonist before him had fulfilled. The deep dark humorous end of the spectrum, combined with his lush rendering, was a breath of fresh(ly poisoned) air. Until Gahan Wilson came along, Addams was the only crypt keeper.  As a kid I poured over his cartoon collection Black Maria, which my parents had the wisdom to own, and enjoyed a glimmer of his humor through The Addams Family TV show. As an adult I have had the good fortune to see his gorgeous originals in the collection of the New York Public Library and they seem other-worldly. There is a gaping hole in the pages of the New Yorker missing his genius– maybe big enough to bury a corpse."
Although Addams left the world many great cartoons, at Nothing But Comics! we remain haunted by the legend of the cartoon that he never drew.  So in honor of Charles Addams' birthday (January 7, 1912), we commissioned cartoonist KC Green, creator of the webcomics Gunshow and Carlo Collodi's Pinocchio, to render the legendary gag cartoon that Addams never did – "A Ghoul in a Maternity Room":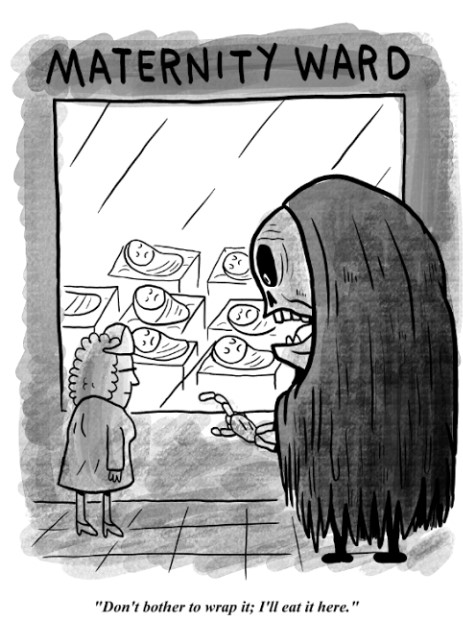 NOTES AND FURTHER READING: 
You can see more of artist KC Green's work at the following website: kcgreendotcom.com
Linda H. Davis' Charles Addams:  A Cartoonist's Life examines Addams' life and art, and explores the false legend of the "A Ghoul in a Maternity Room" cartoon.
In Masterful Marks: Cartoonists Who Changed the World, writer Monte Beauchamp and artist Marc Rosenthal provide an informative and entertaining chapter about Charles Addams.  (In the same book, you can also read Peter Kuper's biography of cartoonist Harvey Kurtzman).
The images above are the property of their respective owner(s), and are presented for not-for-profit, educational purposes only under the fair use doctrine of the copyright laws of the United States of America.