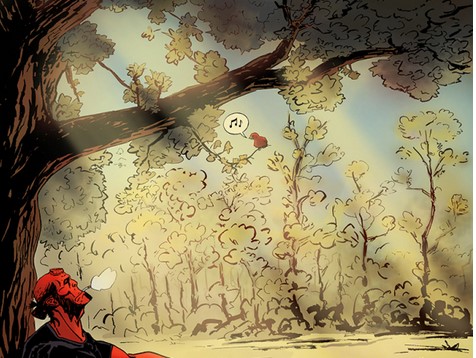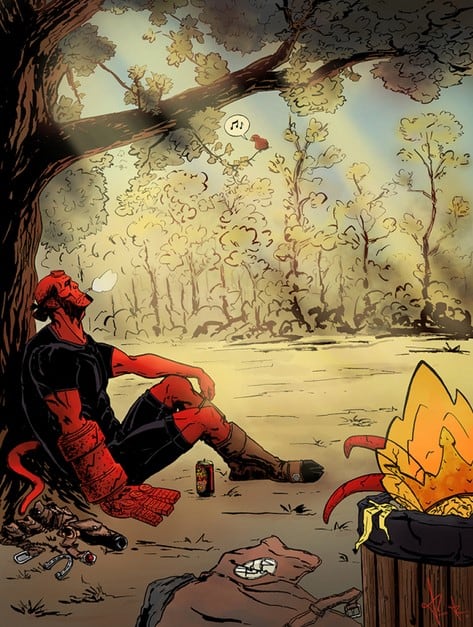 Today, March 22nd, is the 20th anniversary of Hellboy's start in "Seed of Destruction". So, publisher Darkhorse has marked the calendar as Hellboy Day. Never mind that I've been trying to get "Flash Day" off the ground for years…
None the less, today is Big Red's birthday. Besides being the Flash guy on the site, the others have designated me Hellboy Guru as well. So by default, that leaves me to talk about Hellboy today in observance of his anniversary.
Created by Mike Mignola in 1993, the character has starred in many comics, two video games, two live action blockbusters, and two animated features. Hellboy is a demon, summoned as an infant during WWII by Nazi sorcerers to bring about the apocalypse. Raised by the Allies and Prof. Trevor Bruttenholm, he instead grows to become the World's Greatest Paranormal Investigator employed by the Bureau for Paranormal Research and Defense. He fights all manner of monsters, usually fighting off any attempts at persuading him to end the world.
Since today is Hellboy Day, Darkhorse is releasing a mystery package that can only be sold today at your local participating comic shops. In addition, expect many shops to have special sales for Hellboy related merchandise such as a special sampler issue with two classic tales and two new ones; and "Hellboy:The First 20 Years" collecting Mignola's favorite covers since his creation. Aside from those two options; there are quite a few other items to tempt you and your wallet: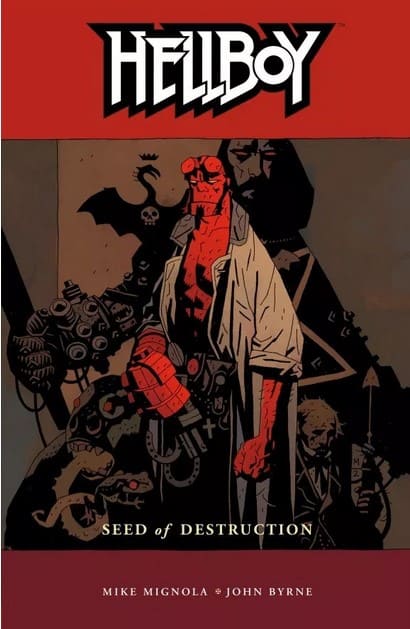 Hellboy volumes 1-13: Mignola's stories are collected in 13 trade paperbacks, each one full of engrossing stories of monsters, mythology, and macabre humor. Mignola writes every volume (with script help in volume one by John Bryne), handling art in most of the stories but allowing other artists to render them such as Duncan Fegredo, Dave Stewart, Guy Davis, and Richard Corben. If you want to go even further; the library editions are hardcover, with studier spines and collect two trades worth of stories. More expensive of course, but well worth it for fans of the character.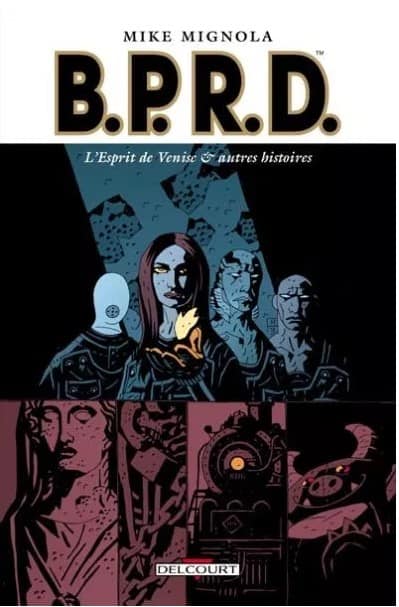 B.P.R.D. volumes 1-20 something: Eventually, HB leaves the Bureau to go on a walk-a-about. With him gone,  his friends must work as a team to fill his former role as monster hunter. The team is like a crazy cross between the Fantastic Four and the Doom Patrol; with most members having strange powers and a few not even actual humans! These stories are more standard horror books co-written by Mignola and John Arcudi. Like early Hellboy volumes, early volumes of the B.P.R.D are short arcs that build a stable foundation to grow out of. Volume 3 kicks off a long-running epic with the Bureau trying to fight off an impending invasion of monsters.
Lobster Johnson volumes 1-4: A fun, pulp, throwback starring a leather clad vigilante who fights criminals with a pistol and leaves a burning claw insignia on their foreheads. A somewhat darker version of Doc Savage, Lobster faces more conventional threats like mad scientists and homemade frankensteins. His adventures are usually more down-to-earth compared to other titles in Mignola-verse.
Others: Abe Sapien; which stars Hellboy's pal facing monsters with none of HB's strength to fall back on. Sir Edward Grey, Witch-finder; A series starring a victorian warlock employed by Queen Victoria. Sledgehammer 44; Set in WWII, Sledgehammer is a nazi-smasher in a metallic suit fighting to hold onto his humanity. Only five issues in, easy to catch-up on and enjoy.
Hellboy (2004) & Hellboy II: The Golden Army: Both films written and directed by Guillermo del Toro. What I consider to be the most faithful comic adaptations thus far; Del Toro shows real appreciation to the comics while also subtly adapting them to film. In doing so, he keeps the spirit and essence of the characters intact and made two highly enjoyable films along the way. A great introduction to Hellboy and other Mignola characters.