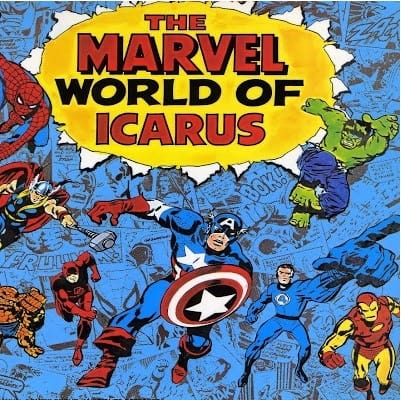 In 1972, two rock albums inspired by Marvel Comics' characters were released – one by the British progressive rock band Icarus entitled The Marvel World of Icarus, and the other a licensed "rockomic" focused on Spider-Man entitled The Amazing Spider-Man:  From Beyond the Grave:  A Rockomic, which was released by Buddah Records. Both albums provide insight into Marvel Comics' efforts in the 1970s to reach a broader, more mature audience.
In 1968, Marvel Comics' owner Martin Goodman sold the company to the Perfect Film and Chemical Corporation (which later changed its name to Cadence Industries); Goodman remained as Marvel Comics' publisher, but in 1972 he retired, and his son Chip Goodman briefly became publisher before long-time Marvel Comics writer and visionary Stan Lee replaced him as publisher later that year.
Martin Goodman had been a conservative publisher; he thought comic books were a children's medium, and was wary of going outside the rigid content restrictions imposed by the comic book publishing industry's self-censoring board, the Comics Code Authority.  Furthermore, Goodman didn't believe that there was a market for adult-oriented comic books.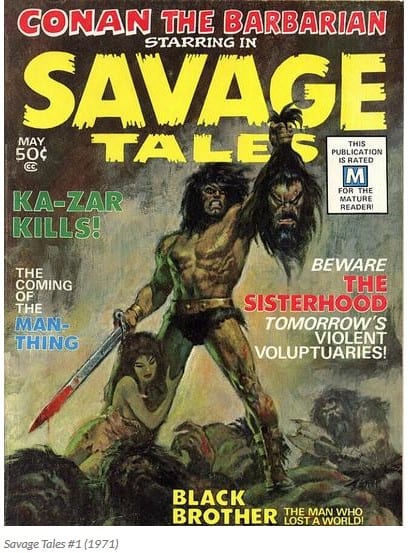 Lee, however, disagreed.  Based on the fan feedback he was getting for the stories he wrote at Marvel, Lee knew that comic books also had an older audience.  Lee was being invited to speak at college campuses, where he received adulation from Marvel fans.  Lee wasn't the only one to notice; in 1966, the magazine Esquire was reporting on the popularity of Marvel Comics among college students.  When Lee pushed Goodman to publish more adult comics in a black-and-white comics magazine format (this format was not considered a "comic book" and was therefore outside the restrictions of the Comics Code Authority), Goodman resisted.  Lee was able to convince Goodman to publish the first issue of the black-and-white magazine Savage Tales in 1971, but Goodman would not allow any subsequent black-and-white magazine publications; fans of the magazine would have to wait until 1973, well after Goodman was gone, to read the second issue.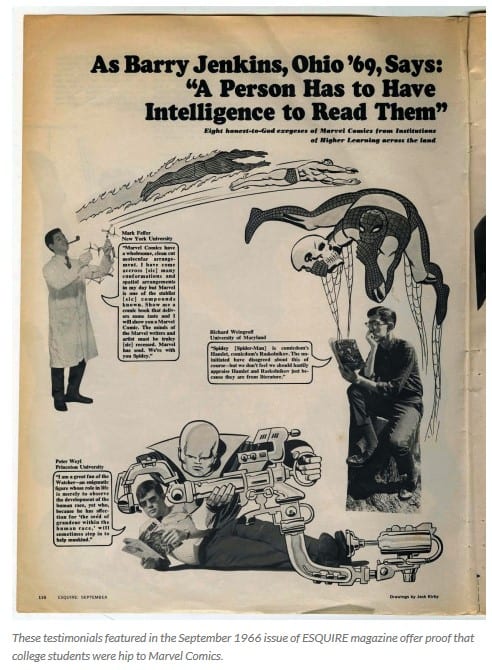 When Lee became publisher in 1972, he was determined to reach out to a broader, older audience.   As comics historian Sean Howe notes in his book Marvel Comics:  The Untold Story:  "It's time for Phase Two to begin," Lee proclaimed in his "Bullpen Bulletins' column.  "No man, no group of men, no publishing company can rest on its laurels – and Marvel's still much too young, too zingy, too bright-eyed and bushy-tailed to settle back and bask in the sun of yesterday's success. … If you think we turned you on before, the best is yet to be – wait'll you see what's coming!  Hang loose!  Face front! Marvel's on the move again!"
Howe goes on to note that Lee was planning an adult line of comic books (which, sadly, never came to fruition):  Restless from all the time spent in Martin Goodman's shadow, Lee quickly began casting around for new, more sophisticated ventures.  He started to line up luminaries like Anthony Burgess, Kurt Vonnegut, and Vaclev Havel to write a line of adult comic books.
THAT'S RIGHT, TRUE BELIEVERS – IF QUANTUM THEORISTS ARE CORRECT, AND THERE EXISTS AN INFINITE MULTIVERSE OF PARALLEL UNIVERSES AMONG WHICH EVERYTHING THAT COULD HAVE HAPPENED DID HAPPEN, THEN SOMEWHERE OUT THERE IS A WORLD WHERE KURT VONNEGUT WROTE MARVEL COMIC BOOKS IN THE 1970s.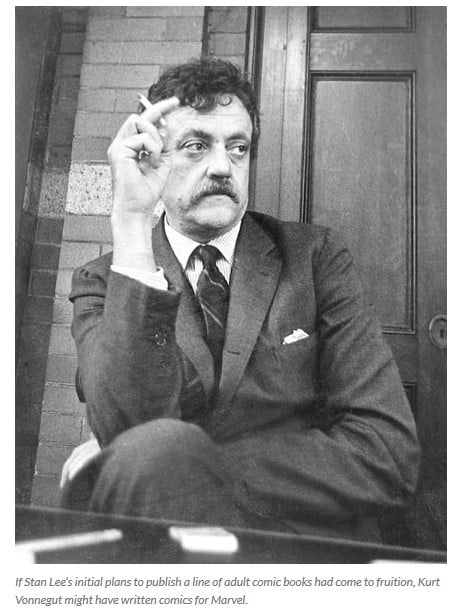 It's unclear how much knowledge Lee had about the progressive rock group Icarus' album The Marvel World of Icarus.  Some Internet sources claim that Lee gave the band permission to record the album, and that later Marvel Comics demanded that the record company pay royalties that were unacceptable to the record label; the record was withdrawn from sale, thus killing the album's distribution and dooming the nascent band to failure.  Other Internet sources claim that there was no dispute over royalty payments, and that the record was simply commercially unsuccessful (although most of the sources seem to indicate that the dispute over royalties was responsible for the record's failure).
Regardless of the extent of Lee's involvement in the creation of The Marvel World of Icarus, it's clear that the album's existence fit neatly with Lee's goal of Marvel Comics connecting with a broader adult audience.  The rock album featured songs based on Marvel characters like Thor, the Hulk, Iron Man, and even the villainous Madame Masque.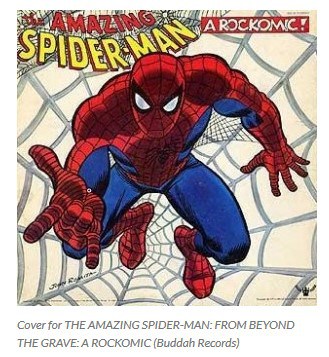 Although questions remain about how much permission Marvel Comics gave Icarus to record the album, it's indisputable that Buddah Records was licensed by Marvel to release The Amazing Spider-Man:  From Beyond the Grave:  A Rockomic.  This unique hybrid of comic book and rock album featured wordless Spider-Man comic strips illustrated by legendary Spider-Man artist John Romita, Sr. that went along with the music on the vinyl LP.  The album's lead singer is Ron Dante, who was also the lead singer of the fictional comics-inspired cartoon band The Archies.
Both rock albums reflect that Marvel was making headway into reaching an older audience.  Stan Lee was right, and Martin Goodman was wrong – Marvel's comics were not just for kids, and the company's characters could reach a broader audience through other media, a fact that remains as true today as it was in 1972.