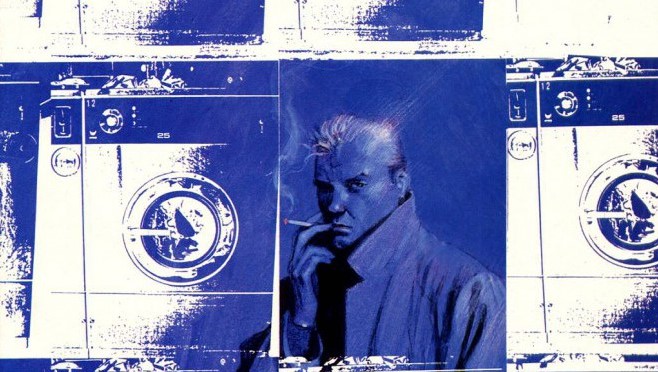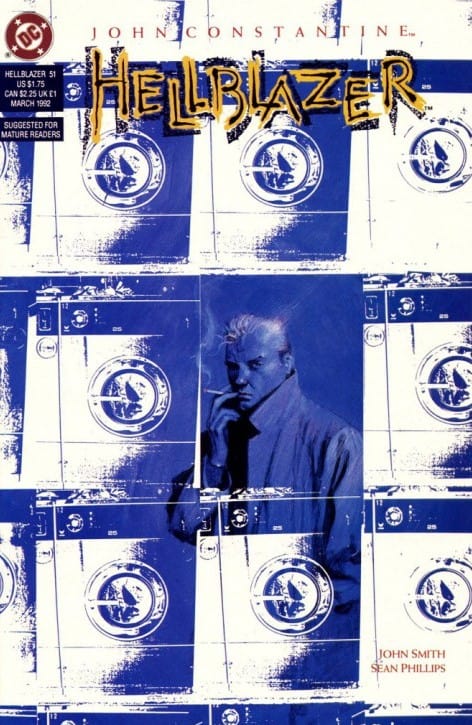 In 1992, with three words, writer John Smith revealed to readers that DC Comics character John Constantine is bisexual.
Created by writer Alan Moore and artists Stephen Bissette and John Totleben, Constantine was initially a supporting character in the pages of the horror comic Saga of the Swamp Thing.  The manipulative blue-collar British mage, with his signature trench coat and cigarettes, evolved into a popular anti-hero who eventually starred in his own horror comic series, Hellblazer.
To give regular Hellblazer writer Garth Ennis a break, Smith was asked to submit a story for Hellblazer #51.  Smith's story, "Counting To Ten", was illustrated by artist Sean Phillips, and is notable for three words that revealed Constantine's bisexuality – "…the odd boyfriend…":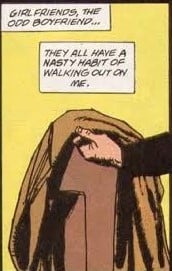 It was a brief and subtle revelation about Constantine's sexuality, and significant in that it established the bisexuality of a popular DC Comics character.  As comics scholar Ryan Carey notes:
When Smith reveals Constantine's bisexuality with his casual reference to "the odd boyfriend," it was a watershed moment for not only Hellblazer's LGBT readers, but for LGBT comics readers in general. Sure, if anyone in the DC Universe was probably presumed to be bi at the time it was probably Constantine, but nevertheless, to have such a massive revelation delivered in such a matter-of-fact, non- sensationalistic way (as opposed to, say, Marvel's handling of the character of Northstar "coming out" in the pages of Alpha Flight) was more than just respectful, it was a sign that comics really were, in fact, growing up.
NOTE:  Carey has an excellent article on Hellblazer #51 and writer John Smith (part three of a series exploring Smith's Scarab miniseries for DC Comics) posted on the site Sequart.org, and the images above were found in that article.