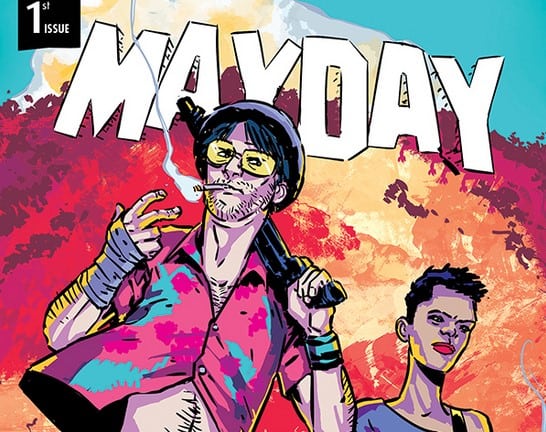 In keeping with the expansion of their ever growing line Black Mask will be launching three new series in March of 2015. More information and solicitations below.
MAYDAY #1
Diamond code: JAN151091
Writer: Curt Pires
Artist: Chris Peterson
Cover: Chris Peterson
SRP: $3.99
MR, Color, 32 pages, monthly
A washed-up, drug-addicted screenwriter and a transgender bartender stumble onto a Satanic cult's plan to sacrifice people all across LA (geomapped in the form of a pentagram, of course) and bring on armageddon. As our intrepid, damaged heroes embark on a suicide mission to stop the crazy cultists, even they wonder if this is all really happening or if they're just plain batshit crazy. Probably both.
The latest project from the mind of white hot scribe Curt Pires (POP) sees him teaming with art sensation Chris Peterson (Grindhouse) for a story that cuts to the very center of Hollywood mythology and depravity itself.
---
SPACE RIDERS #1
Diamond code: JAN151092
Writer: Fabian Rangel Jr.
Artist: Alexis Ziritt
Cover: Alexis Ziritt
SRP: $3.99
MR, Color, 32 pages, monthly
From the galactic core to the outer quadrants, one name strikes terror in the hearts of evil beings everywhere:
THE SPACE RIDERS
Sailing the cosmos in the Skullship Santa Muerte, Capitan Peligro and his fearless crew deal harsh justice to the scum of the galaxy while searching for the forbidden truths of the universe!!
Fabian Rangel Jr (Doc Unknown) and Alexis Ziritt (The Package) bring you a new and exciting space adventure that will DESTROY YOUR BRAIN! (in a good way)
---
WE CAN NEVER GO HOME #1
Diamond code: JAN151093
Writers: Matthew Rosenberg & Patrick Kindlon
Artist: Josh Hood
Covers: Michael Walsh
SRP: $3.99
MR, Color, 32 pages, monthly
"A well worn mixtape, a stolen convertible, a duffel bag full of cash, a fully loaded .45, and super-powers. 17 and on the run is the only way to see America right."
Navigating the halls of high school is never easy. And for teenage outcast Duncan and popular girl Madison things are even harder. They share a secret- they can do things other people can't. But their abilities and need for secrecy take them down a dangerous path. A love letter to crime/road tales like Badlands, 80's coming of age films like Pump Up The Volume, and askew superhero comics like Runaways, WE CAN NEVER GO HOME still carves out it's own path. It is a new chance to fall in love with the lost misfits and doomed dreamers who set off to find something bigger.
The debut creator-owned book from artist Josh Hood (JLA: Scary Monsters, Venom), and writers Patrick Kindlon (Menu) and Matthew Rosenberg (12 Reasons To Die, co-writer of Ghostface Killah's new LP 36 Seasons).