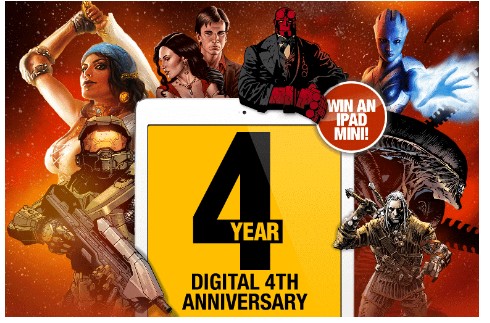 Dark Horse comics will be having a line wide sale on their digital products in celebration of their four years in the space start this Thursday April 23rd. Digital subscribers will also get an additional discount and fans will have the opportunity to win an IPad Mini. Press release with more details below
Dark Horse Digital reaches a new landmark when the digital store celebrates its fourth anniversary starting this Thursday. As a thank-you to fans, Dark Horse announces four special promotions!
Have a free comic on Dark Horse! Beginning Thursday, April 23, Dark Horse will issue a two-dollar credit toall confirmed Dark Horse Digital newsletter subscribers with a registered Dark Horse Digital account! This credit can be used toward downloading a free digital comic or toward the purchase of any bundle or graphic novel.
The very same day, Dark Horse Digital will also be offering 50 percent off all purchases made in the app or through the web store, including thousands of comics, graphic novels, manga, and more! And it doesn't stop there! Confirmed Dark Horse Digital newsletter subscribers will receive an exclusive coupon for an additional 10 percent off purchases. The newsletter coupon stacks with the web store discount, offering an even greater savings on your entire transaction.
And if that's not all, Dark Horse will be giving four lucky winners an iPad mini loaded with Dark Horse digital comics! Dark Horse will randomly pick one winner per day over the course of the weekend. The winners will be given the digital collection of their choosing the following week.
To enter to win, all you need to do is download a comic to your collection! And with over fifty free comics to choose from, there is no purchase necessary to be entered to win!
The fourth-anniversary sale starts Thursday, April 23, and ends Sunday, April 26, at midnight PST—so head over to Digital.DarkHorse.com today and sign up for a Dark Horse Digital account and for the Digital Newsletter to maximize your savings!
Dark Horse Comics launched its standalone comic-reader app and digital store on April 27, 2011, and has received incredible accolades from the continuously growing worldwide digital-comics fan base. Since then, Dark Horse Digital has grown significantly in numbers and readership while featuring its most popular and best-selling titles, including Plants vs. Zombies, Halo, Tomb Raider, Buffy the Vampire Slayer, Hellboy, Avatar: The Last Airbender, Conan, and Mass Effect. Dark Horse Digital regularly hosts weekly sales, discounts, and other special promotions for its reader base. It currently offers thousands of comics and continues to increase the digital availability of the Dark Horse back catalog.
Dark Horse Digital is available through all modern web browsers, features in-app purchasing and cloud storage through both the Google Play and  iOS apps, and provides a first-class digital-comics-reading experience. Download the free app today!
iPad Sweepstakes Fine Print
No purchase necessary. One entry per person per Dark Horse Digital account per day. Any digital comic entitlement added to a Dark Horse Digital account during April 23, 2015, to April 26, 2015, will constitute an entry to win. Must be eighteen (18) years of age or older as of entry date. Entries only accepted if submitted by 11:59 p.m. (PST), April 26, 2015. Four winners will be selected randomly (as determined at Dark Horse's sole discretion) from all applicable entries and will be notified by April 30, 2015. Entry constitutes agreement by winners to be publicized and permission to use each winner's name for the purposes of promotion of the Sweepstakes without further compensation. Sweepstakes void where prohibited. Odds of winning dependent on number of entrants.
About Dark Horse Digital
Founded in 1986 by Mike Richardson, Dark Horse Comics has grown to become the third-largest comics publisher in the United States and is acclaimed internationally for the quality and diversity of its line. In 2011, the company that revolutionized the comic industry proudly presented its groundbreaking digital-publishing program, Dark Horse Digital.
Dark Horse Digital offers its most popular titles at an unprecedented value, while providing the highest-quality reading experience possible. Single-issue comics are priced as low as just $0.99, and there is also an extensive list of free introductory #1 issues. Additionally, DH Digital's "bundles" group together story arcs spanning multiple issues into affordable packages, allowing readers to get all the issues that comprise a complete narrative, starting at just $3.99 and up. And through cloud-based technology, Digital Store purchases can be read and enjoyed online on your computer or, mobile browser, and through the Dark Horse Bookshelf apps, available on iTunes App Store and Google Play.