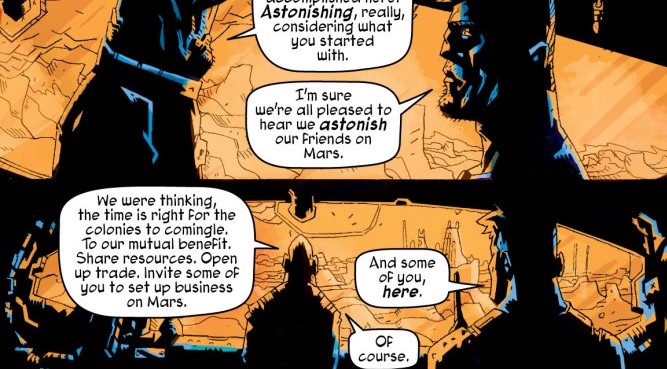 At Nothing But Comics, we were blown away by the second chapter of the science fiction comic Colonus in the Dark Horse Comics anthology Dark Horse Presents #11. Written by Ken Pisani and illustrated by Arturo Lauria, with lettering by Magnus, the dark sci-fi feature grabbed our attention and inspired us to learn more about the comic.
So we dispatched extraterrestrial contributor ஜெர்மி to ask Pisani to describe Colonus to interested readers!
@kpsmartypants An alien has a question for you about #COLONUS pic.twitter.com/NgsdTPePbg

— Clockpunk Ellis (@ClockpunkEllis) June 17, 2015
@ClockpunkEllis I'll let "The Sopranos" @JoeRGannascoli: "Bada bing! A mob war in space! Even Tony's crew wouldn't f*ck with these guys!"

— Ken Pisani (@kpsmartypants) June 18, 2015
Thanks, Ken!  We're looking forward to reading more Colonus.  The second chapter is published this week in Dark Horse Presents #11!