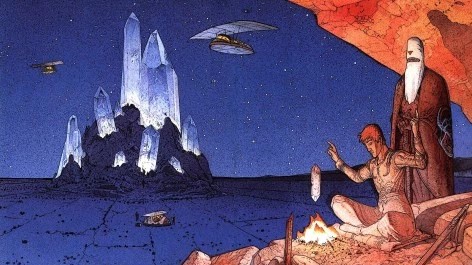 JEAN GIRAUD'S GROUNDBREAKING WORK TO BE COLLECTED IN NEW HARDCOVER VOLUMES
FOR IMMEDIATE RELEASE: MILWAUKIE, OR—Dark Horse is proud to announce that the library of Mœbius, one of the most influential and respected artists in the history of comics and cartooning, will arrive on store shelves in a gorgeous series of hardcover volumes available for the first time in nearly 20 years.
With a vast array of work showcasing his mastery of realist drawing, Jean Giraud—better known as Mœbius—is one of the most influential bandes dessinées cartoonists in history, with work that helped to define the landscape of science fiction and fantasy comics. His expertise was also showcased on work in film, with credits including Alien, Tron, The Fifth Element and more.
"As a true visionary in the comics medium, it is a pleasure to once again publish collections of Mœbius' work," said Dark Horse president and publisher Mike Richardson. "His influence on contemporary comics is undeniable, and it's a true honor to be working with Isabelle Giraud, his wife and partner, to help ensure that his legacy will continue to live on for a new generation of readers."