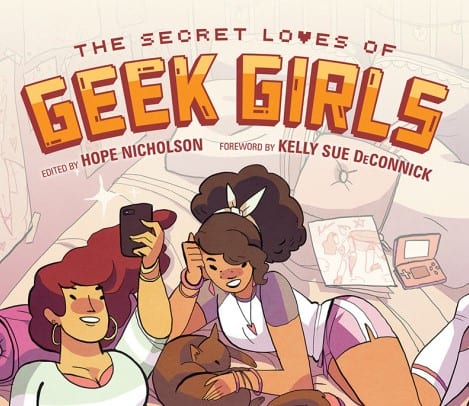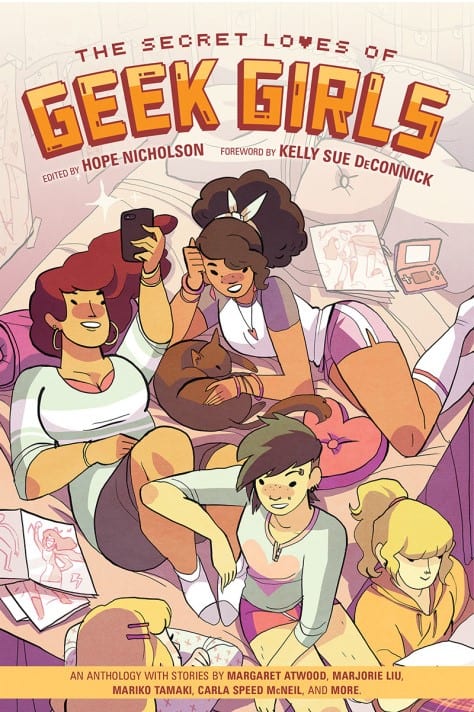 Featuring Contributions by Superstar Writers and Artists Margaret Atwood,
Marjorie Liu, Noelle Stevenson, Mariko Tamaki, Editor Hope Nicholson, and MoreDecember 9, 2015—Dark Horse Comics announced today plans to publish the highly anticipated anthologyThe Secret Loves of Geek Girls. Editor Hope Nicholson has assembled a dazzling mix of prose, comics, and illustrated stories about love, dating, and sex featuring more than fifty creators, including Booker Award–winning novelist Margaret Atwood (The Heart Goes Last), Mariko Tamaki (This One Summer), Trina Robbins (Wonder Woman), Gisèle Lagacé (Ménage à 3), Marguerite Bennett (A-Force), Marjorie Liu (Monstress), and Carla Speed McNeil (Finder). It also features a foreword by Kelly Sue DeConnick (Bitch Planet) and a new cover by Noelle Stevenson (Nimona). Originally funded via a high-profile Kickstarter campaign, The Secret Loves of Geek Girls will be available from Dark Horse Comics in both comic book stores and bookstores in October 2016.
"These are the stories we bond over when we get together at a comic con, play video games, and marathonStar Trek, said Hope Nicholson. "They are stories about the loves of our lives (both real and fictional!), and our embarrassing moments as we grow and learn more about the complex worlds of love and dating, especially as they relate to our fandom obsessions. All of the writers and artists involved—especially me—are incredibly excited to work with Dark Horse and bring our stories into comic and book stores worldwide.
The Secret Loves of Geek Girls includes:
• Cartoons by award-winning novelist Margaret Atwood that detail her personal experiences as a young woman
• A comic by Fionna Adams and Jen Vaughn about what it's like being a trans woman trying to figure out romantic and sexual inclinations while entrenched in comics
• A story by Mariko Tamaki and Fiona Smyth in which a seventeen-year-old Tamaki dreams of being Montreal's first chubby Asian Frank N. Furter
• A story by Marguerite Bennett about fandom and how it allows us to say what we feel to our loved ones
• New comics by Meaghan Carter, Megan Kearney, ALB, Meags Fitzgerald, Gillian G., Diana Nock, Roberta Gregory, Laura Neubert, Sarah Winifred Searle, Natalie Smith, Jenn Woodall, and Irene Koh
• Illustrated stories by Janet Hetherington, Sam Maggs and Selena Goulding, Megan Lavey-Heaton and Isabelle Melançon, Cherelle Ann Sarah Higgins and Rachael Wells, Annie Mok, and Stephanie Cooke and Deena Pagliarello
• Prose stories by Brandy Dawley, Diana McCallum, Jen Aprahamian, Katie West, Adrienne Kress, Soha Kareem, Loretta Jean, J. M. Frey, Trina Robbins, Twiggy Tallant, Hope Nicholson, Crystal Skillman, Emma Woolley, Gita Jackson, Natalie Zina Walschots, Alicia Contestabile, Tini Howard, Cara Ellison, Jessica Oliver Proulx, and Erin Cossar