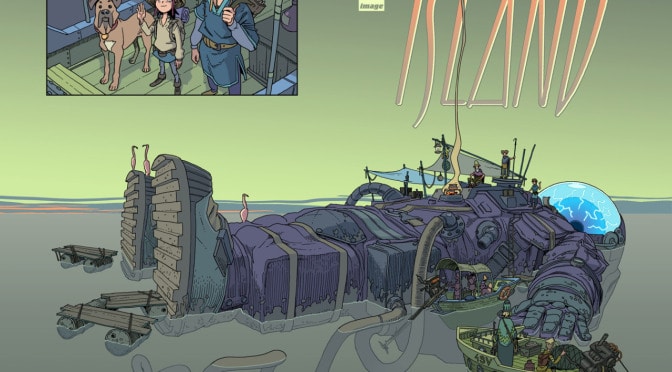 This was a year of great new comics and these were our ten favorites. Space warriors, space occultist, space terrorist, teens in space, teens in high school, teens in college, teens delivering papers, teens in a monarchy, teens in the avengers, teenage mummy's on skateboards & Weird World.
Honorable Mentions: Injection, The Dead & The Dying, Harrow County, Rebels, Divinity, Material, Prez, 8House, Arcadia, Dr. Strange, Kaptara, The Beauty, Plutonia, Dark Corridor, All-New Hawkeye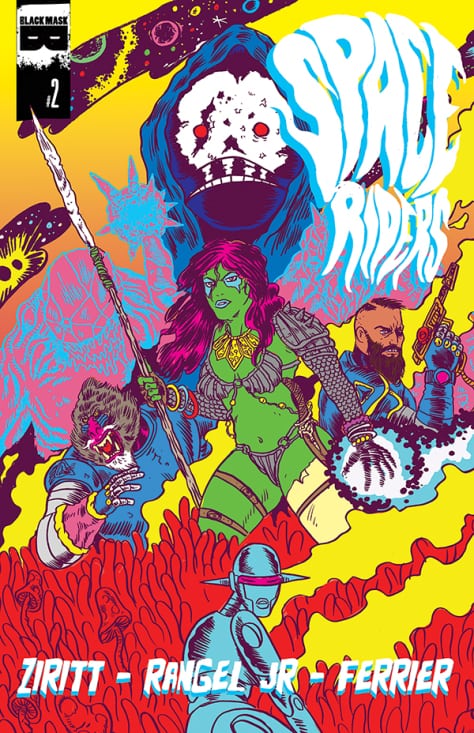 10. Space Riders by Fabian Rangel Jr & Alexis Ziritt
Easily the most unique comic of the year, Space Riders is a fantastic mix of old school cosmic with new school small press for a bizarre ride into the weirdest parts of the galaxy. Writer Fabian Rangel Jr. brought the craziest idea's he could think of and Alexis Ziritt's electric rough line illustration style made them appear even crazier in all of their epic glory. With a design aesthetic made to look like the comic was printed on old school paper stock, Space Riders was the definition of rad-Pat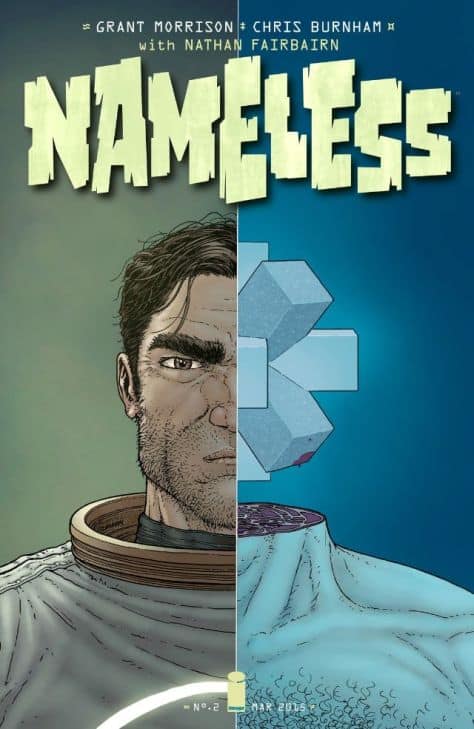 9. Nameless by Grant Morrison, Chris Burnham  & Nathan Fairbarin
Grant Morrison teams up with Chris Burnham and freaks the crap out of us. Morrison sprinkles his occult horror on this sci-fi tale. Stories are told of a planet where angels and demons fought a war, which is now long destroyed. Evidence of this world existing has been found and it is up to Nameless and his crew to find answers. This book mixes the slow burn creepiness of Alien with the supernatural horrors of Event Horizon. The only thing left for you to do is read it and try not to scream-Dean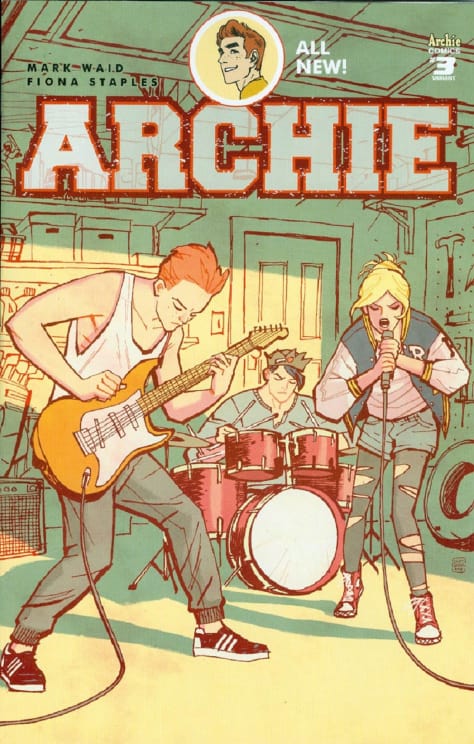 8. Archie by Mark Waid, Fiona Staples, Annie Wu, Andrea Syzmanowicz & Jen Vaughn
The kids of Riverdale got a huge makeover. Fiona Staples illustrates such attractive people she single handedly made Archie and the gang into trendy teens. Mark Waid is dialed into the Riverdale drama. From the fourth wall breaking to the lipstick incident this book will throw you back into high school and force you to remember all the great and all the awkward moments of being a teen. It is time for Archie to be relevant again, these characters are too good to brushed off as childish stories. Staples provided the makeover, Annie Wu is keeping them cool-Dean
7. From Under Mountains by Marian Churchland, Claire Gibson & Sloane Leong
Only two issues of this mysterious fantasy have hit the shelves at the time of this article, but the impact of them has been strong. Sloane Leong's painterly, evocative art work is gorgeous and haunting, and the character designs are all fantastically original. The artwork and story envelop you at once, and the only world you experience for thirty pages is one of black magic assassinations, secret counsels, feuding monarchies and innocent people caught up in the fray. The writing team of Claire Gibson and Marion Churchland are crafting an intriguing tale that falls somewhere between Game of Thrones, Greek mythology, and The Dark Crystal. They've even crafted a list of various gods and goddesses from the world of Akhara for us to ponder. We don't exactly know what to expect yet, but as long as this title continues, we'll happily devour each issue to discover more wonders of this strange world-Tyler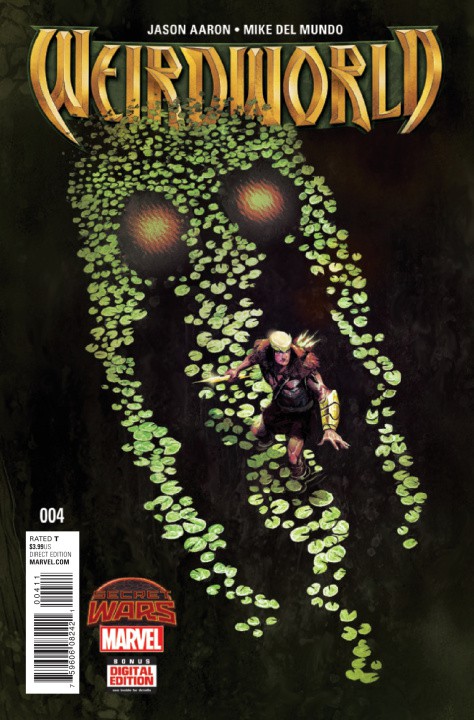 6. Weird World by Jason Aaron & Mike Del Mundo
Yes, an event tie-in, but still one of Marvel's best books of the year. Jason Aaron took the concept of an anything can go environment and let his imagination run wild. He constructed a strange, surreal world, which was beautifully brought to life by Mike Del Mundo. Not enough can be said about Del Mundo's gorgeous artwork, which was truly stunning. Weridworld was wild and crazy fun which took itself just serious enough to maintain dramatic tension but that was about it. Yes, it was an event tie-in, but by the time it was done, it was an event in and of itself-Cosmo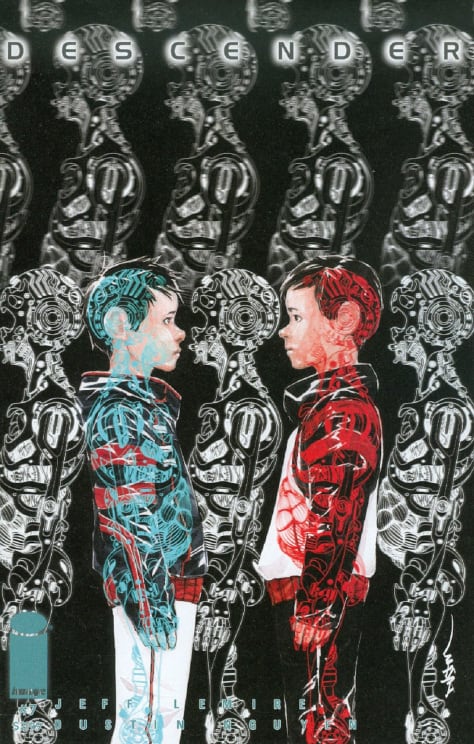 5. Descender by Jeff Lemire & Dustin Nguyen
Tim-21 has quickly become one of the most loveable characters of 2015. With a movie deal in the works before this comic even hit the shelf, Descender has lived up to the hype. Issue #1 started by winning the Nothing But Comics first annual March Madness Image Bracket Challenge and the stakes have only been raised since then. Lemire uses his emotional magic to make readers fall in love with Tim-21 in a world where being a robot is extremely dangerous. Dustin Nguyen pours his imagination onto the pages to create a beautiful and vast galaxy. This great book is only getting better-Dean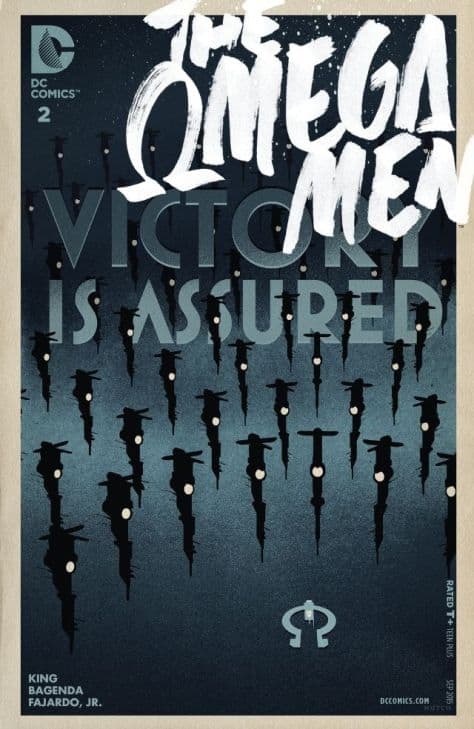 4. The Omega Men by Tom King, Barnaby Bagenda, Toby Cypress & Romulo Fajardo Jr
Before this year if fans knew anything about The Omega Men it was the title wherein Lobo originally debuted. That all changed with Tom King's revival of the team which took the concept of a band of galactic freedom fighters and laced it with philosophy. Tackling subjects ranging from religion to what is the greater good, Omega Men could be pretty heady. At the same time, King did not skimp on the action. Barnaby Bagenda's fluid, dynamic art leaped off the page. In addition to large panel sequences, Bagenda also mastered the use of the nine panel grid page which helped lend the book a signature look. At the core of all this was King's insightful character work. All in all, Omega Men is one exhilarating ride-Cosmo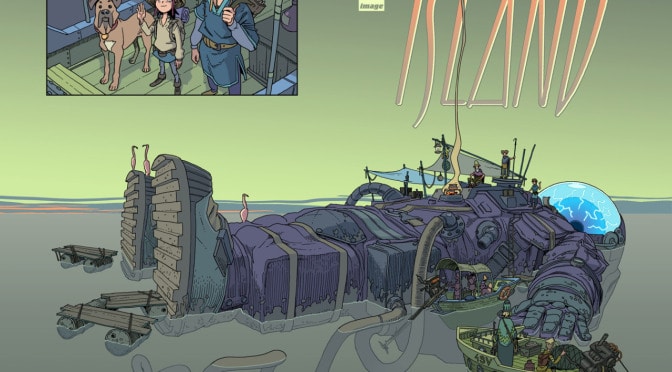 3. Island curated by Brandon Graham & Emma Rios featuring work by Farel Darlymple, Ludroe, Kelly Sue DeConnick, Simon Roy, Will Kirby, Amy Clare, Kate Craig,  Marian Churchland & more
Brandon Graham & Emma Rios' new anthology series is one of the most distinct books on the shelves. First of all, there is its over-sized, square bound format, but that unique flavor extends to the contents as well. Graham and Rios have assembled a diverse collection of talent spinning a variety of tales. What unites them all, though, is a sense of freedom. There is no uniform length to conform to, so each takes on its own pace. Chapters do not even run in back to back issues giving creators more time and editorial more flexibility with matching pieces. At times the spirit of the series feels closer to a zine with its anything at will attitude (prose essayists have included Kelly Sue DeConnick and a brain doctor). Most importantly, there is the actual quality of the work which is outstanding. Island is something truly special. Oh and the gag in #4 about God & gender: priceless-Cosmo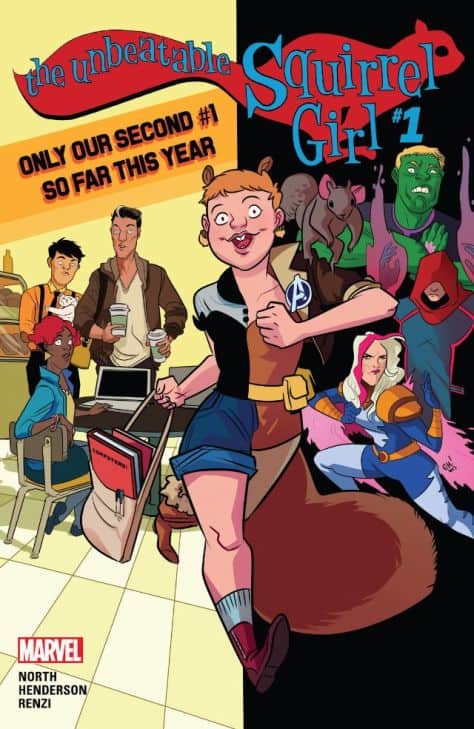 2. The Unbeatable Squirrel Girl by Ryan North, Erica Henderson & Rico Renzi
Doreen Green is not your ordinary college student and all the better for it. As an Avenger who can talk to squirrels, she faces down the biggest villains in the Marvel Universe and proves that she's as unbeatable as she is loveable. Erica Henderson's quirky art perfectly complements Ryan North's nutty scripts, creating a gorgeous story that's also hilarious. Now, the question is: which overpowered villain will Squirrel Girl and her friends defeat next?-Katharine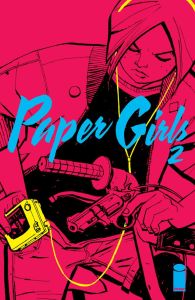 1. Paper Girls by Brian K Vaughan, Cliff Chiang, Matt Wilson & Jared K Fletcher
Paper Girls is a special comic, a two time TWF pick type of special, a let's analyze the alien language created specifically for this book with another blog special. But Paper Girls genius is how it works on so many different levels, it's a 1980's period piece that feels hypermodern in style and aesthetic, it features a highly complicated back story but feels instantly recognizable, we as readers still have no idea what is going on but are completely immersed in the story.  Brian K Vaughan, Cliff Chiang, Matt Wilson & Jared K Fletcher came together to create something truly wonderful and the best new comics series of 2015.
Disclosure: Publisher Black Mask & illustrator Sloan Leong  provided us with  advance review copies of Space Riders & From Under Mountains to Nothing But Comics without any payment between the site, creators or publisher or agreement on content.