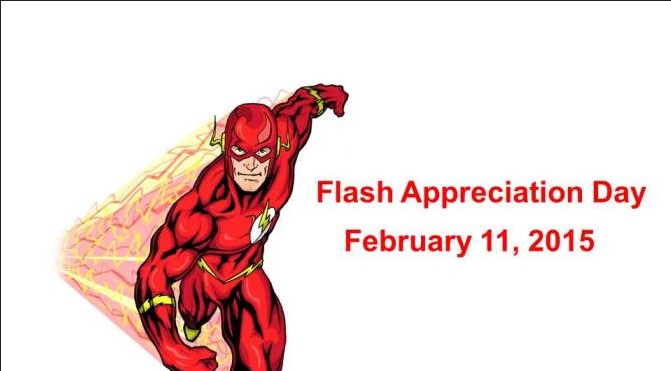 Yesterday, the Nothing But Comics! team submitted a petition to the White House requesting that the President of the United States of America honor the DC Comics superhero character the Flash by declaring February 11, 2015 "Flash Appreciation Day".
The team wanted to honor this year's 75th anniversary of several DC Comics characters, one of which was the Flash.  The first version of the Flash character appeared in Flash Comics #1 (January 1940).  Although the first iteration of the character (Jay Garrick, the "Golden Age" Flash) disappeared from comics in 1951, the character was revived in 1956 (Barry Allen, the "Silver Age" Flash) and inspired several other incarnations (Wally West and Bart Allen).  Nothing But Comics! wanted to honor the Flash in all his iterations, and focus public attention on this inspiring superhero.
In discussing how to proceed with this goal, we learned that some Flash fans choose to celebrate "Flash Appreciation Day" on February 11th of each year. This celebration is inspired by the animated Justice League Unlimited episode "Flash and Substance", which aired on February 11, 2006.  In the episode, the citizens of Central City honor the Flash for his good deeds.  For the Flash's 75th anniversary, we thought it would be great if we could get symbolic recognition of this unofficial Flash celebration from the U.S. head of state, and submitted our petition.
We realize that President Obama has many important issues to address, and that to some people, asking the President  to symbolically honor a superhero character might seem trivial.  However, what we are asking for is within the President's power to grant, will only require a small amount of the President's time, and will incur no extra cost to taxpayers.  Furthermore, we feel it is important to honor a character that has provided inspiration and served as a positive influence to so many people since 1940.
To be considered by the President, the petition needs to have 100,000 signatures by February 10, 2015.  We hope that you will support this effort to honor an inspirational comic book superhero.
The full text of the petition is listed below:
We petition the Obama Administration to:
Declare February 11, 2015 "Flash Appreciation Day" In Honor Of Comic Book Superhero The Flash
DC Comics superhero the Flash debuted in Flash Comics #1 (January 1940). The character's legacy is impressive, and the hero's adventures continue today in comics and on television. The Flash uses his powers of super-speed in the cause of justice, and has provided positive inspiration to his many fans for the past 75 years.
We, the fans of the Flash, ask the President of the United States to declare February 11, 2015 "Flash Appreciation Day" in order to honor the character's inspirational example and values.