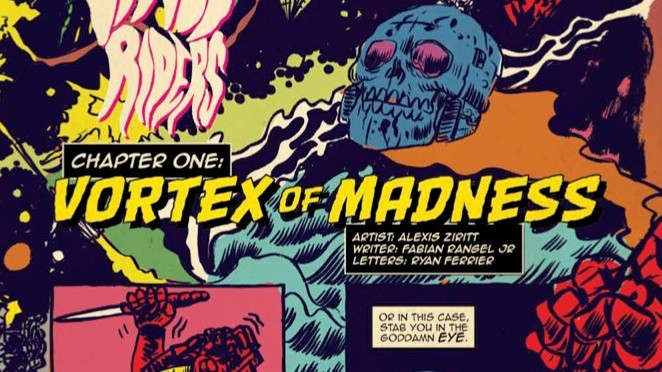 by Fabian Rangel Jr & Alexis Ziritt
Image Comics has created a near perfect system for themselves by having a strong eye for talent and a writer/artist friendly financial model. Years ago they published comics by then unknown creators such as Jonathan Hickman, Rick Remender & Matt Fraction, those creators made great comics at Image, Marvel noticed and signed said creators, creators go on to be some of Marvel's most popular writers, writers go back to Image at height of popularity to publish creator owned work superior to their Marvel work, other famous creators notice and follow suit; and within a few short years Image has a catalogue of ongoing series from creators that have worked on/or are currently working on ultra popular properties such as The Avengers, Batman,  X-Men, Justice League, Star Wars, Superman, Thor, Hulk, Captain America, Iron Man, Wolverine ect The question then becomes; where do the up and comers level up? Where are we going to find to find the next Hickman, Remender & Fraction if those spots are all filled at Image? Similar imprints like BOOM! & Oni seem content to pick up the creators from the big two that Image doesn't have room to publish instead of taking chances on up and coming talent while Darkhorse, Dynamite & IDW are still driven by licensed content. So where are the next great comics creators coming up from? Enter Black Mask and the creative talents behind Space Riders, a company and creative team that has upended the circular nature of comics talent.
Writer Fabian Rangel Jr is an upstart creator from Texas that has adapted his own grind and hustle to the self publishing world by utilizing Kick Starter & social media to make his Doc Unknown series a hit. Rangel is coming out of self publishing but he's not waiting around TCAF for the Comics Journal to discover him, more like Spike Troutman, he went out and grabbed his audience by any and all means; it looks like somebody noticed with his excellent major comics debuting this Wednesday from Black Mask, Space Riders. Writer Rangel teams with star illustrator in the making Alexis Ziritt, to create one of the most interesting and enjoyable new series of 2015 that is one part cosmic Kirby, one part Heavy Metal era Moebius and one part small press genre insanity of like minded creators such as Tom Scioli & Benjamin Marra. There is nothing else coming from a major comics publisher like Space Riders, it's a wild and eclectic space opera that manages to upend the cliché's they are playing off to create something that feels wholly original from it's predecessors. A large part of this can be credited to Alexis Ziritt, having hinted at his potential on past work on the Popgun Anthology, he has this effortless and raw style of pencelling that brings a vibrancy to the work, it's deceptively amateurish until you start to look deeper into the details, the layouts and the character work to notice the craft and stylistic flourishes that bring the art to life. Co-Creator Fabian Rangel Jr. writes an engaging and fast paced opening arc that builds it's world by making the story be about the character's responding to it and gives the book an extra level of distinction with his use of Mexican folklore elements within the environment.
Space Riders is one of the wildest and most unique books that you'll see in 2015. It's a stroke of wild imagination on overload with two creative talents that show the promise of comics future by using fresh eyes on well worn territory combined with a unique perspective and a lot of talent. So while Image Comics keeps taking talent from the Marvel & DC, and their competitors take whoever's left, Black Mask is shaping up to be the next publisher to break talent with fresh perspectives, ideas and aesthetics. In Space Riders that future is now.