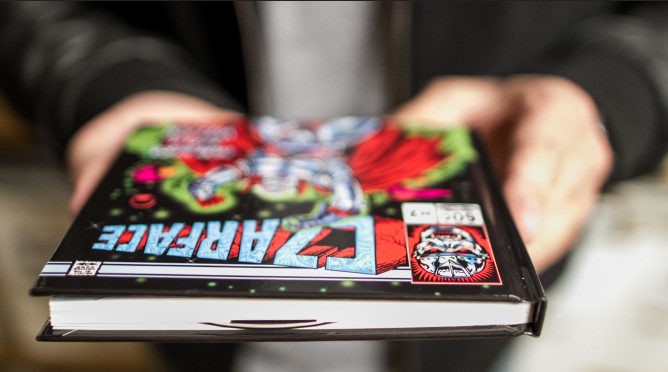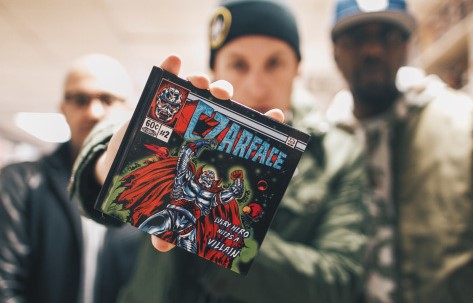 Comics & Hip-Hop culture's ties run pretty deep. Many of the same rappers that defined the medium in what's often refered to as the golden age grew up reading Spiderman, Star Wars & X-Men books off the bodega spinner racks in cities all over the northeast while vibing out to early Def Jam artists like Run DMC, Public Enemy, LL Cool J & Slick Rick. Rapper Esoteric comes from that generation and comics iconography has had a profound influence on his music for the entirety of his career. Coming up with DJ 7L under the group name 7L & Esoteric,  the group arrived on the hip hop scene in 1996 with the b-side single Secret Wars that paid homage Marvel Comics & the breakout hit Be Alert that sampled the Transformers TV theme. Whether with his long time DJ as 7L & Esoteric or in one of the many expanded crews like Demigods or Army Of Pharaohs, Esoteric's music has continued to be informed by comics mythology. In 2013, Esoteric teamed with 7L and legendary Wu-Tang wordsmith Inspectah Deck to form the group Czarface. After exceeding expectations on their debut album the trio has returned with the vibrant follow up, Every Hero Needs A Villian, which came out on Tuesday.
Every Hero is one of the most comic's centric & straight up east coast boom bap rap albums in years. It doesn't make songs about comics that we've already read, it uses comics idea's and concepts to make classic blue collar, punch you in the face and snatch your chain east coast hip hop. It's the type of album that evokes the feeling of running from the police while referencing Cyclops. In addition to the music, rapper Esoteric wrote his first comic book to go with the album which reads like Jack Kirby had he been brought up on Wu-Tang Clan. Below Esoteric & I talk about how comics influenced his raps, the brand new Czarface album, what he's currently reading & making pro wrestling move's comparable to Marvel superhero's for role playing purposes.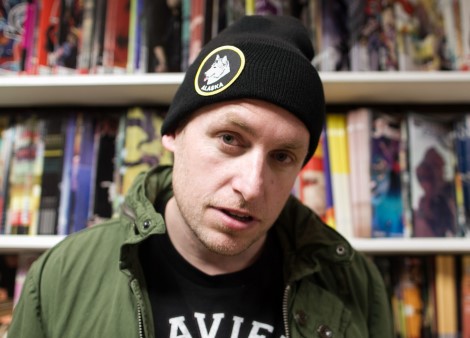 Pat: I'm really impressed with Czarface overall but what stood out for me was how much comics was entrenched in the content. Outside of the actual comic book your created to go with the album, a lot of the sampled interludes between songs feature audio that sounds like it was directly lifted from old TV shows based on Superhero comics, there are many lyrical references to comics, the cover is made to look the second issue of an ongoing series, the albums title makes reference to comics ect. Was this a conscious decision on your part? If so how come?
Esoteric: Definitely. I've always found inspiration in comic books and characters from comic books whether as a kid when they were expanding imagination in action figure form or as cartoons. I used to read and collect comics, I developed my own role playing games based on Marvel characters and pro wrestlers, I used write and draw my own comic books when I was around 10…they weren't good, but the desire was there. All of this stuff you hear from CZARFACE is what's been rattling around in my brain for years
Pat: "I developed my own role playing games based on Marvel characters and pro wrestlers,"
That sounds amazing. Was it like Marvel characters fighting pro wrestlers or were they teaming up? Was it in Marvel's 616 universe or the WWF's fictional universe?
Esoteric: It involved hand drawn cards for each character, and the characters you drew from the stack were who fought each other, depending on if you were playing alone or with a friend. For instance, Daredevil and Road Warrior Animal could very well do battle with Galactus and Big John Studd, and based on their skill set and value of an elbow smash or a cosmic blast, you could have quite a match underway. Superheroes seemed to win a lot so I made adjustments to their skills and power…for instance a Jake Roberts DDT was just as powerful as Thor's hammer. There was a time when one of my friends beat me and I attacked him on my couch in a rage. We are talking pre-teen years here.
Pat: That is so fucking cool. I've probably been listening to both yours & Inspectah Deck's music for most of my life and while comics have always been a frame of reference in both your guy's raps, it seems much more apparent on this Czarface album, do you think that's a fair observation and if so why do you think that is?
Esoteric: Thanks man. I think it's something we have in common so we tend to italicize and stress that aspect. The imagery from comics and the strength of the characters are always something hip-hop artists have referenced, because a lot of the flair and bravado comes in an exaggerated manner anyway. A lot of rappers are taking pages from Martin Scorsese and Brian DePalma, but we've had Jack Kirby and John Romita and Chris Claremont and Bob Kane and Steve Ditko to draw inspiration from. It'd be easy to make a bunch of records about making stacks of money and blowing people's heads off with a 12 gauge. We can tell compelling stories, and Deck is exceptional at that when working with Wu-Tang Clan, but for CZARFACE, we have more fun going with an abstract route with wordplay, punchlines, and sprinkling some heroic or villainous imagery on top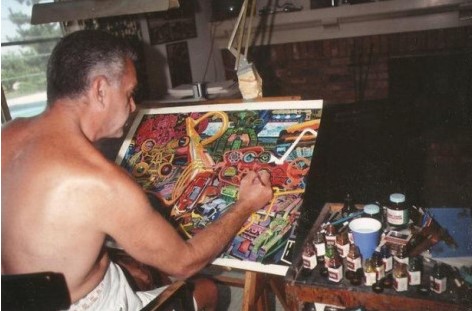 Pat: Yeah, it feels like early Doom albums or Liquid Swords in how prominent comics in a good way. You mention Kirby, Romita, Claremont, Ditko & Kane, are those your primary influences in comics? I'm assuming based on your answers that you were a Marvel kid?
Esoteric: No I like DC too, they're both pretty amazing worlds and have given me a lot, but I do lean towards Marvel. Truthfully, my main influences are the heroes and villains themselves and theirs origins, suits and or appearances…as you know the people I mentioned created the bulk of them so I'd say indirectly yes those guys influence me. But when you're a kid you read the comics, learn their powers and go….you start pretending you're them or you've got these toys, you create your own story….if Prince Namor is "off on another mission" because you don't think a 95% nude man is going to stand a chance going toe-to-toe with the Juggernaut, then it's up to you. I believe a lot of this stuff I did at a young age enhanced  the way my mind works today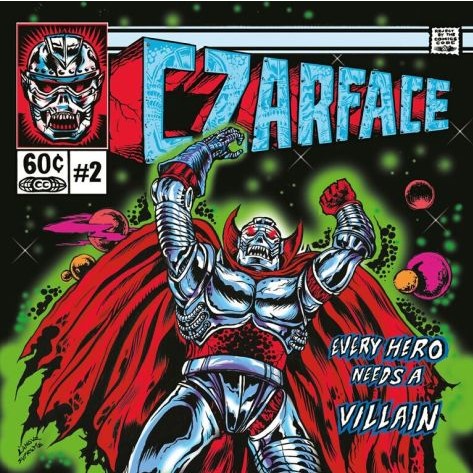 Pat: The comic you did for Every Hero really has a Kirby vibe but with this Czarface flare which I thought was really dope, even down to the fake ad's. What made you want to do that to go with the album?
Esoteric: It was important to me to find an artist that had a good understanding of Kirby. Gilberto Aguirre Mata aka
El Ultimo Codice was the one! I worked with him closely as far as storyboarding ideas and developing characters for the comic, my son Xavier and my dog Logan make appearances in there, Gilberto is really talented and fun to work with. He saw what Lamour Supreme did with CZARFACE and really put a cool twist on it. The ads seemed like a natural fit for the comic, it was cool because it would be entertaining for readers and new ways to show off our character…we grew up on ads like that, but they were always boring, a lot of these pertained to Czar himself
Pat: Yeah it's all very Kirby via the prism of Hip Hop which is cool. How did you get hooked up with Gilberto? Whose idea was it to include the infamous "Snow Beach" piece?
Esoteric: We hooked up with Gilberto the old-fashioned way- the Internet. I wish there was a better story, but nothing too glorious there…we were in contact with several talented artists but Gil fit best. The "Snow Beach" was my idea, and seeing how it is looked at as the holy grail of Polo pieces by a lot of people in the Hip-Hop community, I wanted to have it plugged into the story. I used to collect Polo in the early 90's and be inspired by the Lo-Life guys in Brooklyn and Grand Puba but I guess the irony is that the jacket is linked to Raekwon from Wu-Tang and here we are with a Wu-centric record with Deck, but my love for the Snow Beach jacket came before the C.R.E.A.M. video…I remember looking at like five of those, brand new just sitting on the rack of Jordan Marsh.
Pat: The comic had a lot of fantastic Wu references. What did Deck think when he saw it? Also wasn't Snow Beach in All So Simple?
Esoteric: You're right, my bad, and that video was the way a lot of people got introduced to the jacket it seems. First time I ever saw it was on the rack at Jordan Marsh, for like $350 in 1993. That was a lot of money for a pullover in 93. Deck was really happy with the comic, maybe he can co-write the next one.
Pat: That would be ill. Your group, 7L & Esoteric, has been working with Deck since your breakout ep Speaking Real Words in 1999. What made you guys want to come together and form Czarface now?
Esoteric: Not sure really. 2011 is when we first started developing the idea and recording tracks for the first album, that dropped in 2013….the idea of the 3 of us as group was 7L's idea. We needed a collective identity so CZARFACE was born.
Pat: The album itself feels very natural & fluid, the chemistry between you three really elevates the album. While it clearly feels like something from the era you guys came out of (east coast 90's) it's really fresh and doesn't sound derivative. A lot of times, artists coming out of that time period and scene have a hard time making music that feels relevant but you guys are more like Roc Marciano or Ka, where you can still make something that's consistent with your sound yet feels new and surprising. Is that something that you set out to do when making the album or did it just come naturally? Was the chemistry between you three there from the jump of Czarface or do you think it evolved more over time?
Esoteric: I think the chemistry is due to having 3 like-minded individuals working together, I mean if me and say Yelawolf made an album together it wouldn't produce the same results and by the same token if you put Deck in a room with Tyga it wouldn't work out. We just hit on a lucky formula. Did me and 7L think we'd compliment Deck to this degree when we were back on the North Shore of Boston arguing who had the illest verse on Guillotine (Swordz)? Not a chance. Did we have this chemistry in 1999 when we did Speaking Real Words? Nah. Things happen when they do and there's no real way to explain it other than sometimes, the whole can be worth more than the sum of its parts.
Pat: Picturing Deck with Tyga is kind of hilarious to me but at the same time he would murder that Rack City beat. Going back to comics, are you reading anything currently? Have you kept up with all the crazy shit Marvel & DC have been doing this summer?
Esoteric: It's very difficult to keep up with everything, but my son who is six keeps me up-to-date with a lot of the more obscure Marvel and DC heroes and villains becoming more prominent. Like at 6 years old, you shouldn't be picturing our neighbor's dog with a tuning fork affixed to it's head and calling him Lockjaw from the Inhumans. So he is pretty tuned in which gives me more incentive to be tuned in. Recent titles I've checked out are Transformers vs GI Joe by Tom Scioli who draws some inspiration from the art of Jack Kirby as well…The Humans, Space Riders, Liberator…I've dug into these…I recently met a guy doing a comic called Unit 5 which is centered around a post-9/11 world and the heroes that are born out of that tragedy.
Pat: Oh man, I keep telling people how awesome Transformers vs GI Joe is!! Did you catch the last issue? Total mind fuck. Scioli did an ill self published book called American Barbarian that's being collected by IDW this summer.
Esoteric: Yeah man crazy. I dig all his work.
Pat: Do you ever see yourself doing more comics outside of the Czarface book with the CD? Maybe making it a miniseries/ongoing with one of the indie publishers?
Esoteric: Oh of course…I would love to man, I really enjoyed doing the first issue and would love to expand on it. Action figures are in production like we did with the first album. Comics is something I grew up on and love and would like to write more of, I will be speaking at a Hip-Hop and Comics panel at San Diego Comic-con next month as well as slanging issue #1 at Boston Comic Con. Working my way into NYCC as well but that's not locked yet.
Pat: Nice, I look forward to seeing more from you then. Where can people find Czarface & the comic? Are you guys touring behind the album?
Esoteric: People can visit www.czarface.com for the cd, comics, shirts. toys, pins…and that's the only place you can get the comic individually but if you're looking for the vinyl version of the album, visit www.getondown.com …we do plan on touring and we are working on dates now!