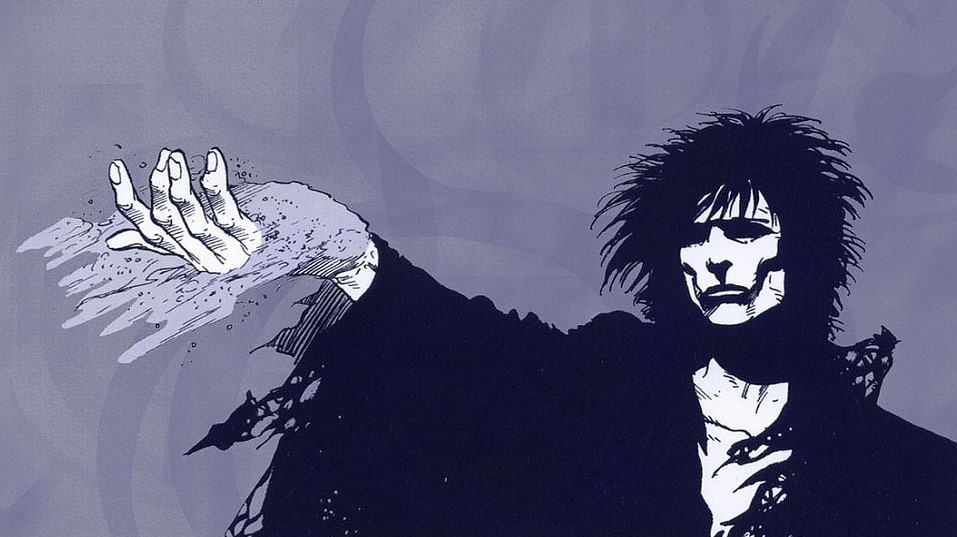 This Wednesday begins Neil Gaiman's Sandman prequel, Overture. As preparation, I have recently completed re-reading all of the original 75 issues. What follows is a personally-flavored guide to what may be my all-time favorite comic book title. For sake of new readers, I have kept spoilers at a minimum.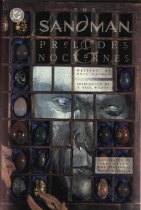 Preludes & Nocturnes (Issues #1-8): The story of Dream's imprisonment, escape, and rebuilding of his life and realm. (Overture will tell the tale of what Dream was doing leading up to his captivity). Already in the first few issues Gaiman introduces plot elements that will cycle back around later; Dream's confinement in itself would prove to be a major marker in his evolution as a character. Sam Keith was the original artist on this book, but I never felt it was the best fit for his style. Apparently he agreed as well, bowing out early on. Mike Dringenberg proved a better-suited collaborator. In this collection's final chapter, "The Sound of Her Wings", Gaiman introduced arguably his most popular creation: Dream's sister Death. Her debut contains one of the most moving sequences in a series full of them. Finally, this volume serves as a good reminder of how closely tied to the mainline DCU Sandman was. Several characters, from John Constantine to Mister Miracle to Scarecrow, appear in these pages.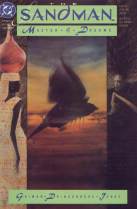 The Doll's House (Issues #9-16): The earliest Sandman stories had a very strong horror component, which is best demonstrated in this storyline, and its famous convention of serial killers (a concept that seems much less far-fetched today than it did when I first read it in the early 90s). At the time, I did not connect with either of these initial arcs as strongly as later stories. Revisiting them earlier this year, though, I felt a deeper resonance beyond the scenes of fright and blood. Meanwhile, Gaiman takes a pre-existing Sandman superhero, and ties him directly into Morpheus' narrative. Their conflict would leave behind his wife Lyta Hall and their son Daniel, two characters who would play vital roles at a later date. Indeed, this arc is full of introductions to important supporting characters. Also, the beautiful prelude tale "Tales in the Sand" gives the background for Season of Mists.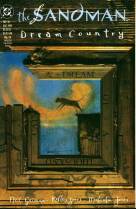 Dream Country (Issues #17-20): All four of these standalone stories are great, but my personal favorite is "A Midsummer Night's Dream," wherein Gaiman imagines Shakespeare and his company of actors performing, at Dream's request, their new comedy before The King and Queen of Fairie, as well as their court. From this concept Gaiman muses on the art of storytelling, the power of imagination to create a sense of the real. Dream himself ponders that facts are irrelevant when the spirit of a tale is honored, that details matter not as long as the essence is truly rendered. Beautifully illustrated by Charles Vess, I read this story recently twice in a row. It also made history by winning a World Fantasy Award for Best Short Fiction, the first time a comic had competed directly against prose and won. On the wall of my teenage bedroom was a photo of Gaiman and Vess triumphantly holding aloft their trophies.
Season of Mists (Issues #21-28): If I have a single sentimental favorite, this is it. I read this story in trade and was instantly hooked into the world of Sandman. Dream travels to Hell to right a past wrong of his, only to find Lucifer has emptied the realm and abdicated his kingdom, the key to which he turns over to Dream. This story begins the series' reoccurring contemplation of responsibility vs. freedom, and which requires greater courage, not only through Lucifer but more lowly Dead Boy Detectives who make their first appearance here. Also, The Endless family is filled out, and an absent brother is first mentioned. Most of the art of this arc was by Kelley Jones who remains one of Dream's most iconic illustrators. Finally, for those more used to Marvel's nobler Thor, Gaiman's depiction of the God of Thunder is truly a hoot.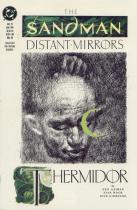 Distant Mirrors (Issues #29-31, 50): Four different ruler in four different ages, all facing the limits of their power. Again Gaiman is contemplating the responsibilities of a leader and the restrictions on their authority. "Three Septembers and a January" relates a contest in which the power of Dream trumps Desire's, deepening a sibling rivalry even further. "Ramadan" is exquisitely illustrated by P. Craig Russell, who kindly signed my copy many years back.
Special #1: A retelling of the story of Orpheus, son of Dream. The entire Endless appear together for the first time. This story is not only moving on its own, but would have many ramifications down the line. It also came with a glow-in-the-dark cover (it was the 90s after all). If anyone's curious, it doesn't glow much anymore . . .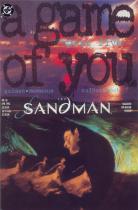 A Game of You (Issues #32-37): The previously minor Barbie returns to star in this story of her childhood dream world under siege. Of all the extended arcs this was the one I remembered least, but captivated me when re-reading it this summer. Shawn McManus' art fits perfectly a tale with a greater fantasy flavor. Also, of note is the portrayal of the transsexual Wanda. Homosexuals often figured prominently in the pages of Sandman (Desire we are told has no gender but flows fluidly between whatever he/she/it wishes). One of the things I realized in revisiting these stories as an adult is how Sandman influenced my own acceptance of alternative lifestyles from an early age.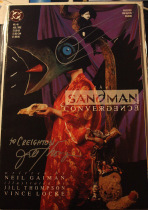 Convergences (Issues #38-40): Three standalone tales covering Russian folklore (Gaiman seems to have a fondness for old Baba Yaga), Marco Polo, and storytelling itself. The last story, "A Parliament of Rooks" was a favorite of mine. Jill Thompson has always been one of my favorite Sandman artists, and in the 90's. I met her at a convention where she signed "Rooks" along with all my Brief Lives issues. It's still one of my most memorable meetings with any comics creator.
Brief Lives (Issues #41-49): I can no longer remember whether I first read Season of Mists or an issue or two of this storyline. Regardless, it was here (issue #44 specifically) that I came on as a monthly reader. This arc is one of the highlights of the entire series, probably my favorite after Season of Mists. Delirium and Dream go in search of Destruction. This storyline contains Gaiman's fullest discussion of the duality of The Endless. Just as Death is present at both our births and deaths, Destruction causes creation; creation triggers destruction. Opposites define each other as reality is meaningless without dreams. Also of note is that issue 47 was the first to carry the Vertigo imprint.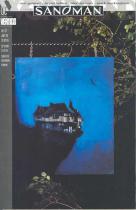 World's End (Issues #51-56): Honestly, my least favorite of the arcs. Plenty of good stuff here, though. The highlight is the sailing story featuring Hob Gadling. Michael Zuli's two-page spread of a sea serpent is one of the most striking images of the whole run. Years later, when I was writing a character describing a similar encounter, the wonder of Zuli's creature was at the forefront of my mind.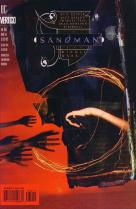 The Kindly Ones (Issues #51-69): The final long story (and I had forgotten just how long it was). After her son disappears, Lyta Hall searches out the Furies (or Kindly Ones if you please). Many characters reappear, long-running threads reveal their import, and there are several deaths. Loki delivers one of the most chilling villain speeches ever. Marc Hempel's art is gorgeous. And the ending? Well, by the time issue 69 arrived it wasn't a surprise (I still remember yelling confirmation of the finale to a friend down a high school stairwell), but when it arrived it packed quite a punch. Still does, in fact.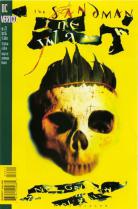 The Wake (Issues #70-73): As I argued in my piece on Hob Gadling, one of Sandman's reoccurring themes is that of dying, mourning, and remembering. Here various characters gather to offer reminiscences, and grieve the best way they know how. Then Hob appears one last time, dragged by his current girlfriend to a Renaissance Fair, the resulting story both funny and poignant. Zuli outdoes himself yet again in the art. Also, during the wake Gaiman reminds readers that, Vertigo imprint or not, his story continues to exist in the DCU.
Exiles (Issue #74): An exiled Chinese scholar wanders through the dessert and meets Dream at two significant moments in his life. Jon J. Muth's simple art is quite effective. Also, he sketches a pretty cute kitten.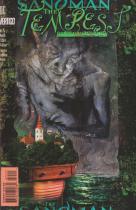 The Tempest (Issue #75): This issue is close to my heart for multiple reasons. First, it naturally brings a close to the series by telling the story of Shakespeare composing The Tempest, which tradition long considered his final work. When #75 was released I had a budding interest in Shakespeare and his plays; the first time I read the play Tempest was because I had read it would be the subject of Sandman's final issue. Also, Charles Vess' return to the series was a fitting finale to a long line of gorgeous issues. Yet it was as a young writer myself that I was most affected. Late in the issue, Shakespeare speaks of his life and the regrets that he has. His life has been lived at a distance, filtering every experience through his perceptions as an artist. Happiness, heartbreak, pleasure, even the death of his son have been most meaningful to him as fodder for the stage. His characters are more real to him than people he sees every day. Again, Gaiman returns to another of his great themes: storytelling. Shakespeare has felt an obligation to his art, and sacrificed all other happiness in the name of success. Is he that much different than Dream, bound by obligations which he will honor, if necessary, to his death? Are they both marooned on an island they can never leave? These are troubling questions arising from a sequence as heartbreaking to me now as it was nearly twenty years ago.
Gaiman has, of course, told other tales of Dream and the various members of his family. Yet, for now, I'll leave my reminiscences here, as I anticipate a new chapter to open on Wednesday.