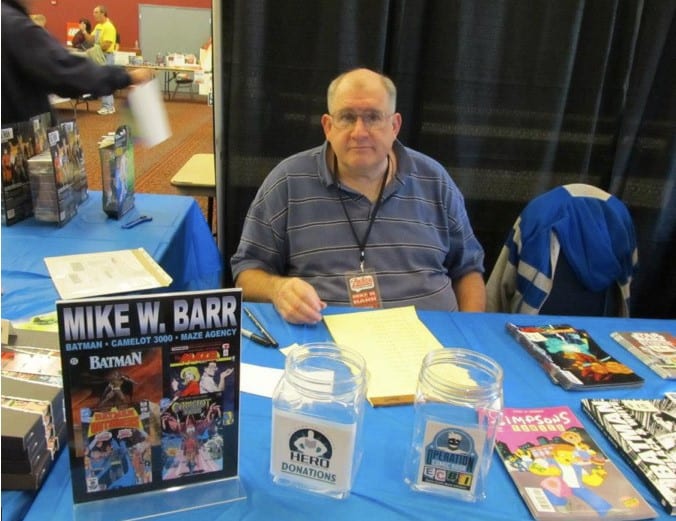 While attending the Gem City Comic Con earlier this month; I had the pleasure of interviewing creator Mike W. Barr. Mr. Barr is the writer of such things as Legends of the Dark Knight, Batman:Year Two, Camelot 3000, and The Maze Agency. He also created the DC character Katana and wrote the first few series volumes of Batman and the Outsiders.  Recently, he wrote "The Sacrifice" in Detective Comics #27.
How did you start writing comics?
Writing fan letters to DC comics, and submitting scripts to Julius Schwartz. My first sold script was for Detective Comics #444.
What was it like writing Batman?
Very cool character to write, very resourceful. I had to stop and think how he solves problems, which was like being Batman himself.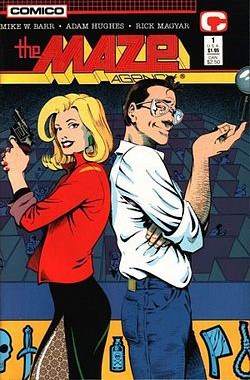 What project are you most proud of?
If I had to narrow it down, my creator owned series The Maze Agency.
Asking him about the series; Mr.Barr described it as a whodunnit detective series with no supernatural elements, and focused on Private Investigator Jennifer Mays and her boyfriend who works as a true crime writer. The series shows early work from fan-favorite artist Adam Hughes.
Are you working on any projects currently?
Writing Star Wars stories for Titan Comics in the U.K, and digital comics for DC.
Any tips for aspiring writers?
It's more difficult to break into the industry now; Publishers look through scripts and portfolios at the major conventions instead of taking submissions.
What is your favorite type of music?
Solid Gold Oldies, Classic Rock, music I was raised on.
Asking for final thoughts, Mr.Barr told me that digital is the way of the future. Look for his digital work in Batman '66 and Legends of the Dark Knight.
A big thanks to Mike W. Barr for his time and his quality writing to the comics industry.