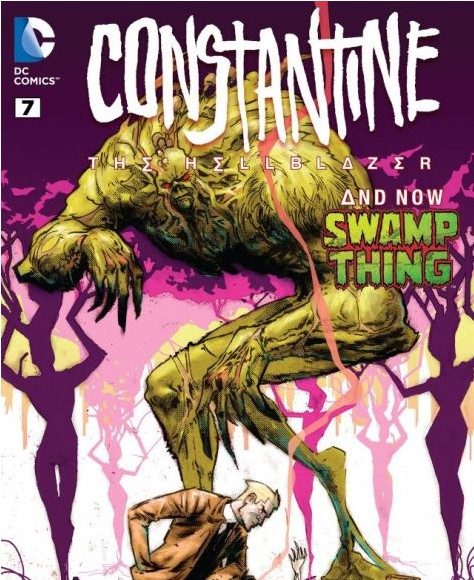 Writers – Ming Doyle and James Tynion IV; Artists – Riley Rossmo and Brian Level; Colorist – Ivan Plascencia; Publisher – DC Comics
Perhaps some readers of this review have had sex in a public park.  If so, I hope that none of these readers were attacked by flesh-rending tree creatures, as was the case for an unlucky couple in the opening pages of Constantine: The Hellblazer #7.
These attacks on young romantics in New York City's Central Park bring plant elemental Swamp Thing to John Constantine's home, seeking the anti-hero magician's help. Constantine and Swamp Thing have a challenging relationship, but familiarity with the past history of these characters is unnecessary to enjoy the story.
The two work together to solve the mystery and stop the killings. But Constantine receives a warning  – similar to others that he has received in previous issues – from an ally that magical forces are threatening New York, and that he should be wary of impending trouble.
The story by writers Ming Doyle and James Tynion IV establishes the horrific premise of this issue, but also provides some wonderful humor.  The odd couple chemistry between Swamp Thing and Constantine creates some laughable moments, and Swamp Thing's encounters with the people of New York are hilarious.
Artists Riley Rossmo and Brian Level, with colorist Ivan Plascenia, provide a shadowy, scratchy look for the comic, which is perfect for the horror elements, but the art team also neatly depicts the interesting character qualities and humor elements of the story.
Readers looking for a horror adventure comic with some great humor and art should check out this comic.