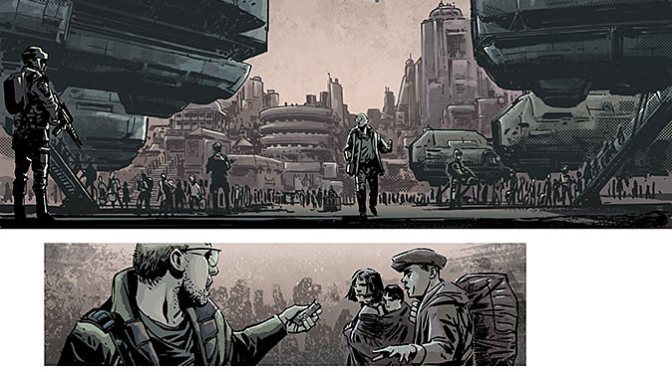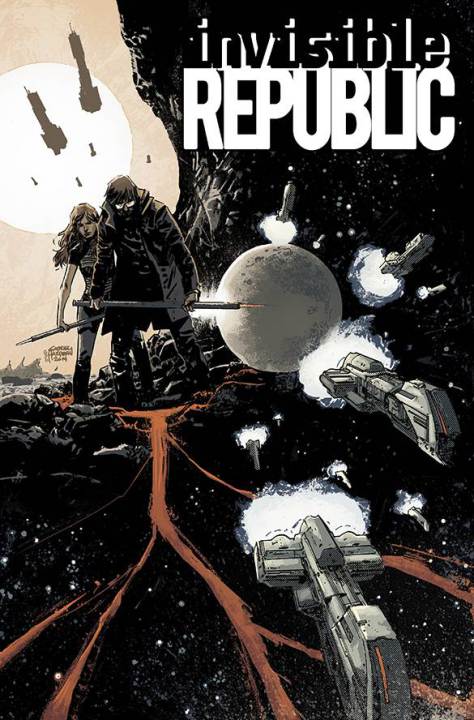 Written by Gabriel Hardman and Corinna Bechko.  Art by Gabriel Hardman. Colors by Jordan Boyd.  Published by Image Comics.
This week, it is my honor and responsibility to select the "Week's Finest" for the Nothing But Comics site, to spotlight the comic book that I think stands above all others that were released this Wednesday.
I thought it might be Chrononauts.  Or Frankenstein Underground.
I was excited to read Chrononauts, and I thought Frankenstein Underground would be a strong contender (and it was), but I was also intrigued by this new science fiction comic book published by Image Comics, Invisible Republic. Its promotional blurb – "Breaking Bad meets Blade Runner" – did not appeal to me; it sounded like overzealous marketing hype.  But I like science fiction comics, so I gave Invisible Republic a shot.  Based on the first issue, in terms of setting and aesthetics, it seems the blurb is inaccurate – Invisible Republic is not "Breaking Bad meets Blade Runner."
It is something much better.
I'm a fan of thoughtful, novelistic science fiction that creates engrossing settings and characters.  My bookshelves hold the novels of Frank Herbert, Jack McDevitt, and Robert Charles Wilson, and I regret that there aren't more comic books that capture the complexity and richness of these prose science fiction works, although Image Comics is doing a lot to increase the quantity and quality of science fiction comics.  Trees, for example, by Waren Ellis and Jason Howard, is a noteworthy example of an original science fiction comic book done well, as is last week's Southern Cross, by Becky Cloonan and Andy Belanger.  And so is Invisible Republic.
Written by Gabriel Hardman and Corinna Bechko , with art by Hardman and colorist Jordan Boyd, the first issue of Invisible Republic is set on the remote moon of Avalon, in a time of political turmoil and economic strife – the year 2843, to be exact.  Former novelist Croger Babb has seen better days, and now works as a reporter on Avalon, covering the misery of the populace after the recent fall of a tyrannical regime.  Babb discovers the journal of Maia Reveron, the cousin of Arthur McBride, the former dictator of Avalon.  Written decades ago, the journal promises to reveal the secret history of McBride's rise to power.
The creative team does a great job of establishing the world of Invisible Republic with just enough information to inform and entertain the reader. In the first issue, readers are deftly presented with the history of Avalon – quick and subtle references to "generation ships" and "pre-FTL days" establish the science of this comic, and references to the fall of the "Mallory regime" and the "Commonwealth" establish its politics.  Subtle references are also used to create an impression of Babb and his current situation, and to establish the strength and character of Maia.
The art team conveys a bleak world – Avalon is dark and grimy, and Hardman and Boyd establish a neat dichotomy between Avalon's dark present and its brighter – but just as troubled – past.  Hardman not only expertly renders an alien world, but also very human, relatable characters that engage in activities as mundane as hunting for food and as exciting as surviving armed combat.
Invisible Republic #1 is a strong debut issue that features great characters and an intriguing story.
Opinions may differ, but for me, it is, indeed, this week's finest.