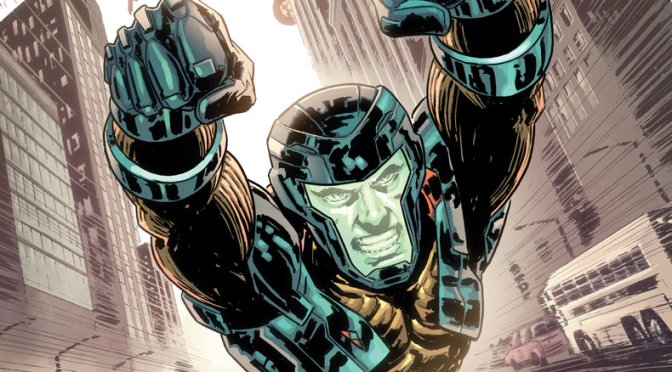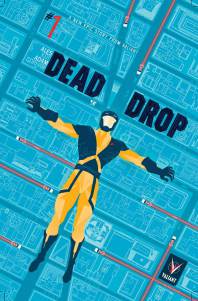 Dead Drop #1 by Ales Kot & Adam Gorham
Valiant's new four issue limited series Dead Drop opens with a bang, immediately plunging the reader into the action. Artist Adam Gorham renders a stunning image of X-O Manowar diving towards the island of Manhattan. Soon, Aric is on the ground, only to discover that a false tip has turned the NYPD against him. However, there is precious little time to sort out the matter. Or at least that is what Neville, the British government's liaison with Aric's Unity team, keeps insisting over the comm. A band of black market ne'er-do-wells have gotten their hands on an alien virus which, if unleashed, could cause catastrophic causalities. To make matters more complicated for Aric, there is the suggestion that it may be connected to the Vine. Problem is Neville is rather tightlipped on that last point, preferring to continually iterate how vital it is that Aric keep moving. Still there remains the lingering doubt that Neville does not have all his cards on the table. (Of course, does he ever?)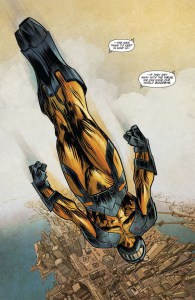 This makes for a thrilling comic, especially as Gorham's art is bursting with dynamic energy. He vividly portrays Aric chasing the black marketer through the crowded streets of Manhattan, as she sprints, leaps and otherwise bounds past any obstacles in her path. This is the first time I have seen Gorham's art (yes, I am way behind on Zero), but I shall definitely be looking for more of it in the future.
Writing the issue is Gorham's Zero collaborator Ales Kot. Kot's only previous work for Valiant was a short Shadowman story a year and a half ago. It was an intriguing little riff on the character but not much more than that. Now, though, Kot is being given the chance to demonstrate much more strongly what he can do with the Valiant universe. The initial results are impressive. He has a sure grasp of the characters, easily slipping into the voice of Aric of Dacia.
At the same time, he is able to sprinkle in bits of his own personal sensibility. The origins of the deadly space sound like something that could easily be found in one of Kot's creator owned books. He also brings a playful vibe to the storytelling, most notably in the cellphone conversation that the marketer has while fleeing Aric ("no I don't have time to go to a store"). Similar to Matt Kindt's Valiant titles like Divinity and Ninjak, Kot displays the freedom to mix his own personality into his Valiant work. The result is an entertaining comic book that feels like more than just a work-for-hire paycheck. Indeed, I am already looking forward to the next installment, when Neville rotates out Aric for another agent. (Each issue will feature a different hero in the lead).