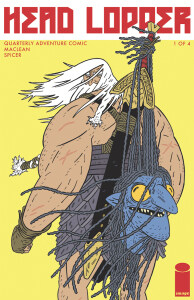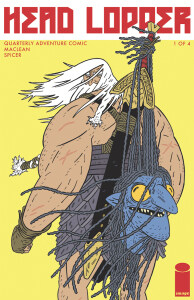 By Andrew Maclean
The Isle of Barra is overrun with dozens, maybe hundreds of deadly beasts. Well, none of them stand a fucking chance now that Head Lopper…I mean, now that Norgal has reached the Island. Travelling with the obnoxious, annoying head of Agatha the Blue Witch, Norgal sets on the grand mission of finding a place to sleep. Any beast which gets in his way will find its quick death at the end of the lopper's blade. Don't for one second think that Agatha is just a hinderance, Norgal finds many different ways to swing her into the fight.
Andrew Maclean is a master, this book is amazing. I do not usually rate books in my reviews, however if I did Head Lopper Quarterly #1 would be a 5/5, or an Excellent, or a  two thumbs up or a "Fuck Yeah" fist pump (How come no one rates on fist pumps?). Whatever the scale is, Head Lopper is at the top. Yes, it is $6 but that is a steal, this book is close to 100 pages. What do you get at Marvel for $6 these days? This is the only quarterly you need to be buying. I have seen Andrew Maclean's work before on Apocalypigirl which was good, I really enjoyed it, but Head Lopper is something else, Head Lopper is leagues above.
This book is rich in humour, imagination, adventure and killer action scenes. It is the little things in the book which make it so funny. For example the king of the Isle of Barra is a small child of what looks to be 3 years old. His father is out of the picture so he assumes the throne, however he is more interested in playing with his toy horse then hearing requests from the good people. His mother, Queen Abigail insists that all request go through King Aaron. She sits on the throne, with Aaron on her lap as the people share their concerns with a toddler. It gets to be quite funny. A good way to illustrate not to take this world too seriously.
Speaking of illustrate, this book is a beauty to look at. It reminds me of Orc Stain by James Stokoe, but that is probably more because of the style of the book then the actual art. Maclean is a great writer, but he is also a fantastic artist. He has a loose style that makes these action scenes, or rather, these lopping scene look incredible. The fast face pages seem to flow so well while the slowed down moments switch focus to the characters. I can't say enough about Andrew Maclean and Head Lopper. This was my favourite book this week. It is so awesome. Head Lopper receives my highest of recommends and is a must buy. If you can't come up with the 6 bucks, give me your address and I'll ship you mine.