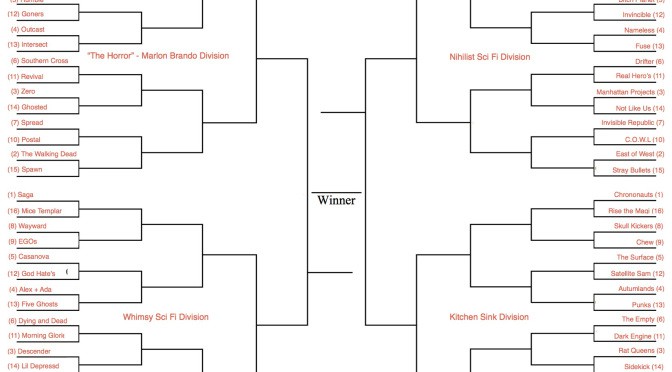 Guess what NBC! community, it's March and do you know what that means? It is time for Image March Madness! The NBC! staff has taken the top 64 Image books hitting the stands in March and broken them up into four divisions: "The Horror" – Marlon Brando Division, Whimsy Sci-Fi Division, Nihilist Sci-Fi Division and The Kitchen Sink Division. We seeded the books in each division from 1 to 16 and set up the head to head matches. Now our job is over, the rest we place in your hands. You can download the brackets here ImageMarchBracket. Fill out the bracket with your predictions and email it to NothingButComics@gmail.com. Which issue will be crowned as March Image Issue Champion? We will be accepting brackets with your predictions until March 26th. So how do we actually crown an Image champion? After all the Image books have been released, we will start the voting. It is up to you to vote for each head to head battle, with the winner of each match advancing to the next round. We will be conducting a round of voting each day starting March 27th, which will give us an Image issue champion by the end of March. I will then tally up each bracket submitted counting the number of correct predictions based on the outcome of the voting. The highest number of correct predictions will win the Image March Madness bracket challenge! Your voting on the head to head battle is only based on the performance of the March issue.
Read on for a preview of each division and my personal filled in bracket.
"The Horror" – Marlon Brando Division Preview (Dean)
First Round : I think the Horror division is the only division where all top 8 teams will move onto the next round; however, not without a fight. These teams have been working hard all season to make it into this tournament, and they are definitely going to go down swinging. Wytches (1), The Walking Dead (2) and Outcast (4) will have relatively easy wins. Zero (3) has a tough first round matchup drawing Ghosted (14). You can never count out a team coached by Joshua Willamson. Look for that game to be a close one.
Second Round: I predict the second round to follow the lead of the first where the top four seeds advance to the next round. Voice In The Dark (8) had a strong start to the season but due to some set backs fell down in the standings; however, they are now playing better than ever. Look for Voice in the Dark to give Wytches a closer game than they expect. Outcast (4) vs Rumble (5) is going to be just that: a rumble. The most intriguing potential matchup in the second round is Zero (3) vs Southern Cross (6). Southern Cross is a fresh new team that is going to hit this tournament with a bang. Zero (3) is going to have to play a really strong game to pull it out, but, in the end, I think Zero's large fan base will be the added push they need to get them through this round.
Third Round: The third round is going to be simpler, I think Wytches and Zero make it through this round easily no matter who their opponents end up being.
Fourth Round: Look for the #1 seed, Wytches, to make it out of the horror division. I don't think any other team stands a chance. Wytches is just too strong.
Whimsy Sci-Fi Division (Pat)
First Round: This is possibly the strongest division of the four as top to bottom this has some of the most well-loved series in modern comics while also being incredibly top heavy. Saga is the clear favorite as it's easily the best book at Image. With that said The Wicked + The Divine is a strong surging comic that's twice been chosen as TWF from our staff here at Nothing But Comics. Descender is still unproven but has ultra strong creative team, lots of hype from the comics internet that has seen the book & a movie deal, which should assure it's going to get eyes on it. Alex and Ada is the fan favorite dark horse and while I don't think it's beating Saga, it could very well be there in the end. The middle of the division is where things get most interesting; Casanova, The Dying & The Dead and ODY-C are comics with big names like Matt Fraction, Fabio Moon & Jonathan Hickman that lack a strong audience backing it, while later half series like Synergy, Morning Glories & Five Ghosts are great books from lesser known creators. Perhaps the most interesting match up in the first round comes from that group with Wayward & EGOs going toe to toe in a tough match up. This is one that could go down to the wire. Rounding out the later seeds are long running ongoing's like Mice Templar & Thief of Thieves that probably can't go the distance but should still put up a strong fight. Look for Saga, Wicked, Descender & AA to walk into the second round,  God Hate's Astronauts & Synergy to upset, The Dying to outlast Morning Glories and EGOs to pull out a close one over Wayward.
Second Round: All chalk, favorites Saga, Alex & Ada, Descender & Wicked + The Divine breeze through round two.
Third Round: If Alex & Ada where able to take on any other book, they'd be the favorite to punch their ticket to the elite eight but Saga is a juggernaut, see ya lovebirds. The Wicked + The Divine's teen drama tropes catches up with it while DC fanboys go to the mat for Lemire/Nyguen to pull out the win.
Fourth Round: Saga to the Final Four but Descender has a good showing.
Nihilist Sci-Fi Division (Dean)
First Round: Every year in March Madness a #10 seed defeats a #7 seed, look for it to happen in this division. The #7 seed Invisible Republic is a young team with little experience. They will come out strong with a lot of energy, but, in the end, look for the steady #10 seed C.O.W.L to use the experience to their advantage and take this first round. Another mini upset I predict is #9 seed Supreme Blue Rose taking out slightly higher ranked #8 seed Secret Identities. Secret Identities is a sound team, but look for the unorthodox play of Supreme Blue Rose to pull the mini upset. The rest of the games won't be close with the top seeds advancing.
Second Round: I think the second round is going to have three games that are blowouts and one close game resulting in an upset win. The close game is going to be Drifter (6) vs Manhattan Projects (3). Manhattan Projects is obviously very strong, but I think they will underestimate the strength of Drifter. Drifter has been getting better and better and I think they are poised to bring their best game yet. Drifter wins a close one.
Third Round: I predict the match ups in the third round to be Black Science (1) vs Nameless (4) and Drifter (6) vs East of West (2). This is going to be one of the strongest division top 4s we see this year, resulting in two very close games. I see Nameless taking a close one against Black Science and Drifter, edging out East of West, a team that plays very similar to their previous opponent: Manhattan Projects.
Fourth Round: With my prediction of a #4 seed and a #6 seed making it this far, look for Drifter's cinderella story to end here with a win by Nameless. Nameless takes the Nihilist Sci-Fi Division.
The Kitchen Sink Division (Pat):
First Round: Easily the strangest of the four divisions, Crononauts gets the number one seed based on potential. Mark Millar and Sean Murphy worked on two fan favorite, creator owned series last year in Starlight and The Wake, if the two can bring the same level of quality to this book they are a strong a contender as any to win the whole thing. Shutter is probably the favorite to win the division with the love it gets from fans and NBC staff alike, and beloved Rat Queens should easily make it out of the first round. The middle of this division is super weird with some long running ongoing likes Chew, Sheltered & Satellite Sam versus new comers such as The Surface, Red One & Empty. Look for Chrononauts, Shutter, Rat Queens, Autumnlands, The Surface & Sheltered to make into the second round pretty easily. Dark Engine upsets The Empty, Chew wins the 8-9 battle versus Skull Kickers while Punks, Dream Police, Rise of The Magi & Sidekicked fall into the same anonymity that they came from.
Second Round: Crononauts rolls past Chew, Ales Kot love edges out Autumlands that puts The Surface in round three, Rat Queens knocks out Dark Engine handily and Shutter outlasts Sheltered.
Third Round: The one two punch of Millar & Murphy in Crononauts eclipses Kot's esoteric The Surface, while Shutter holds in a tight win over Eisner nominated Rat Queens.
Fourth Round: This is a tough call, Shutter is well loved, but as much I hate to say it, a debut from Millar & Murphy is just too much for Keatinge & Del Duca's beloved series to hold out. Chrononauts heads to the final four.
Thanks for the expert analysis with two of the Divisions, Pat.
Take a look at my filled out bracket below. My final four prediction is Wytches (1), Nameless (4), Descender (3) and Chrononauts (1), with Chrononauts and Descender meeting in the final and Chrononauts winning best March Image issue.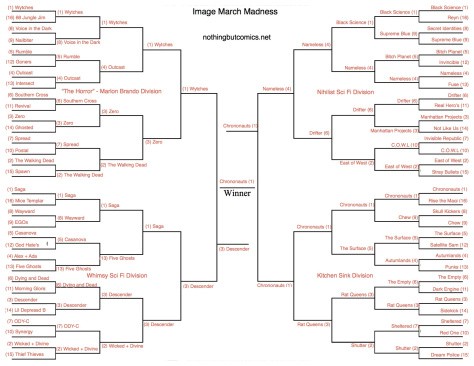 So download your brackets and get to filling them out. Let's see who can predict the best Image book in March. Make sure to come back on March 27th where the first round of voting begins.
Regrets
A few teams missing the tournament this year:
Deadly Class: The team was busted for substance abuse, and therefore could not make the tournament. Which is a real shame because they would have been a front runner.
Low: Requested that the tournament be played underwater, when we refused they pulled out.
Velvet: We can't find them.
The Fade Out: Just missed out on the tournament due to player ineligibility.
Manifest Destiny: The whole team is out of country this month.
Southern Bastards: They only have a football team.
Birthright: Birthright would have been a strong contender this year, but it was found that their star player is not from this world, so they were disqualified.
Jupiter's Circle: Due to last year's no show, they were not invited back this year.
– Dean and Pat