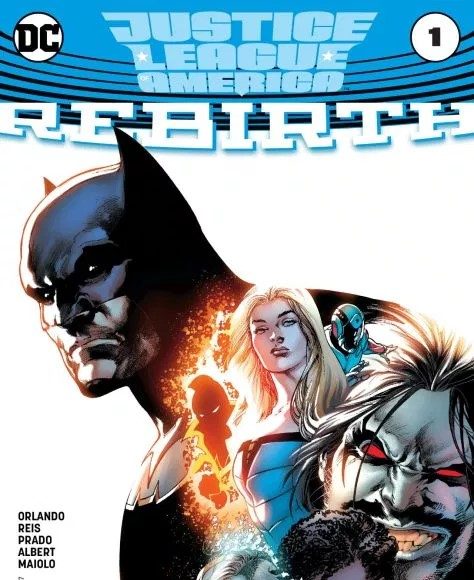 By Steve Orlando, Ivan Reis, Joe Prado and Oclair Albert, Marcelo Maiolo, Clayton Cowles
DC relaunches Justice League of America with a new roster and creative team. With it being the third iteration since the New 52 started, how does it compare?
This issue feels very familiar, in that I know I've read this before. Not just in the first issue of team books, but also a Justice League book. Someone is putting together a new team, that's totally different from the last one and it's going to make a real difference. The most effective example I can think of is Brad Meltzer and Geoff Johns first issue of their Justice League relaunch post Infinite Crisis.  The League had fallen to paranoia and mistrus, and so they opened their roster to new and less mainstream heroes in order to be a better team. As an aside, Vixen and Black Canary were both members on that iteration.
Batman has put together a new League of "mortals" (since when is a Czarnian mortal?) so that the public can trust them. Also there's a new threat coming, so he doesn't want any beings with god-like powers. The rest of the issue is pretty much each new recruit playing off the next one.
Credit where credit is due, the issue is well executed and the roster is admirably diverse. Almost half the team is female, two are non-white and one is gay. The fact that Lobo is on the team either means Orlando is a Timmverse fan or DC wants to get the main man back in the public eye again. Little things act as neat easter eggs for hardcore fans; like Roxie Rocket appearing, the JLA headquarters at Happy Harbor (where the original JL operated in the 1960's), etc. It occurs to me that Vixen, Atom and Killer Frost are currently appearing on two different DC shows on the CW, with the Ray set to appear on another. Batman forming the Justice League to prepare for an incoming threat because of a personal epiphany sounds eerily similar to Batfleck in Batman v Superman. These are less criticisms than observations, going forward if this series maintains a parallel step with DC's shows and movies that will be grounds for concern.
On art, Ivan Reis, Joe Prado and Oclair Albert reunite for a respectable turnout. The consistency doesn't match 2011's Aquaman or Blackest Night, but the fight sequences are tight and well-choreographed, and most of the characters have clear emotional responses while conversing. I don't care for how Reis draws the new Batman costume, but that's a small nitpick. Reis really helps the characters come alive with their body postures, making them feel distinct and realized. If this team stays for the next 4-5 issues it should yield impressive results.
Justice League of America #1 will feel like a lot of other Justice League comics, but in a good way. Orlando has picked out an interesting team for Batman to lead and the art team has a strong track record. I haven't read much of Orlando's work, but it's clear he's a fast rising talent at DC and I think they made the right call letting him write this book. For those waiting for a good Justice League book, this is one to watch.