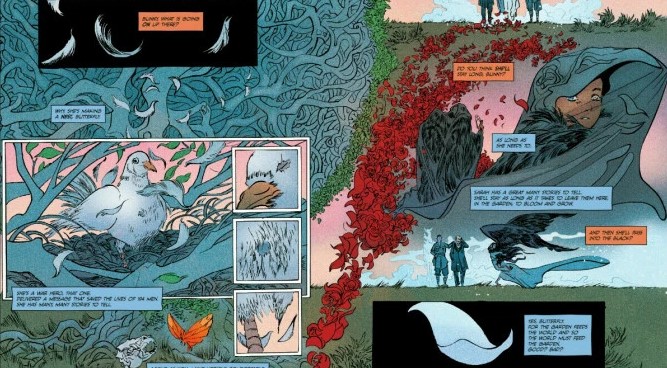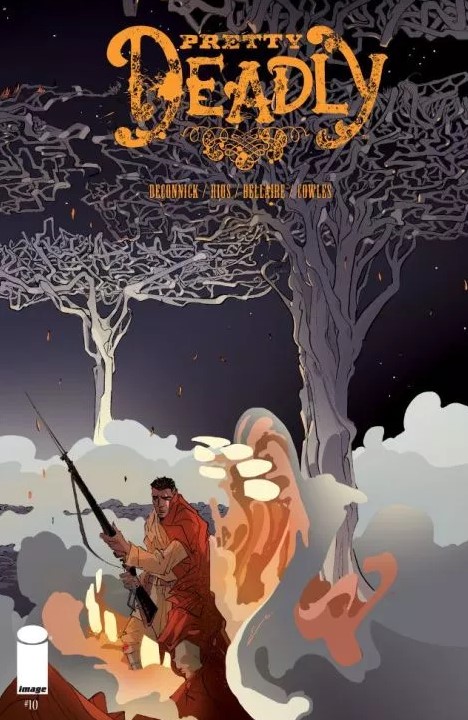 by Kelly Sue DeConick, Emma Rios, Jordie Bellaire & Clayton Cowles
"I'ma keep running 'cause women don't quit on themselves"-Beyonce
Pretty Deadly debuted in the fall of 2013. It came with a mountain of hype for the creative team and quickly became controversial by revealing that Hanibal Tabu's comic shop owner was as clueless as he was. It established itself as a polarizing comic rather quickly with some incredibly dense and complicated writing paired to Rios & Bellaire's lush surreslist visual storytelling. A western about the grim reaper as a gun slinging female cowboy being narrated by the skeleton of a bunny rabbit to a butterfly, Pretty Deadly's core readership quickly formed  into a niche audience where it's remained for some time while falling out of the lexicon of comics zeitgeist as quickly as it got there. For the majority of comics readers, Pretty Deadly is the weird and challenging western that some moron ripped up in front of his customers while an even bigger moron wrote about it in a celebratory manor through a highly public forum while most comics fans who tried the book came away scratching their heads. It didn't take long for delay's to kick in followed by an extensive break between the book's first and second arc. For a long time, Pretty Deadly felt as if it was not meant for this world, a noble experiment whose ambitions exceeded it's real life application. But DeConnick, Rios and co kept plugging along. They brought the series back and reconfigured it's setting, they streamlined the narrative structure to make the plot more clear and concise and they let artist Emma Rios & colorist Jordie Bellaire continue to explore their own unique ability and creativity in visual storytelling. Pretty Deadly came back better then it had ever been, kept getting better and it's conclusion was the best single issue comic of this week.
Following a plot that's put the cast in Europe's deadly trenches of WWI, Pretty Deadly #10 is a beautifully masterful conclusion to the books second arc that helps in further honing in on the series aesthetic and narrative arc without losing any of the wonder and expressionism that defines the series. Where as initially, writer Kelly Sue DeConnick was happy to have Pretty Deadly as a space for her to freely experiment with the structure and expectations of comic book writing, by issue #10 she has focused the narrative on the books key players while finding a solid direction for the series. More importantly, issue #10 still retains the book's deep symbolism and elements of magical realism, but it now feels as though it's accentuating the rest of the comic as opposed to overwhelming it. While Emma Rios has always been a master of her craft, her art supersedes whatever she might have done an issue prior on Pretty Deadly in each installment and ten is no exception. Lush and free flowing with stunning details and a singular style, Rios is masterful; from the way her art controls the stories pace and narration, how her ability allows for the comics surrealism to feel expansive and lived in, her impeccable technical line drawing or the wholly original and brilliantly simple design style, Rios continues to outdo herself. She is the consummate comics artist and with this, Island and Mirror; currently one of the mediums most important creators. Colorist Jordie Bellaire is her usual genius in contrasting vibrant bright colors with darker muted tones in the foreground. Even letterer Clayton Cowles stylized text add's another dimension to the comic in distinguishing it's excellence.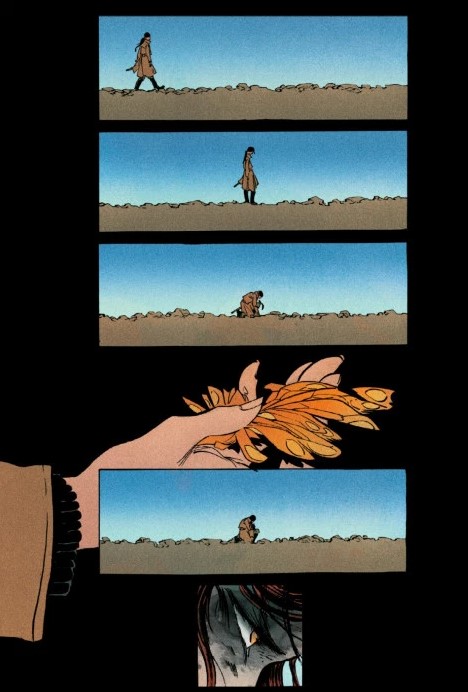 Pretty Deadly is a series that requires time and patience but it's collection of creative's was far too talented to write off. Issue #10 pays off on that potential, this is what it was always forming into, now fully realized in all of it's stunning glory. I've been thinking a lot about how we talk about comics on the internet and how that's become a staple of it's marketing. The controversy over DC Universe Rebrith & Captain America Steve Rogers aided in making those comics some of the biggest releases in recent memory much like Pretty Deadly #1 was at the time of it's debut based on the non-controversy of a dim-witted comics retailer, his bad opinions and all the talk that surrounded this series as byproduct. But when we step away from the noise and focus on the art-form in and of itself, Pretty Deadly #10 is undeniable. It could have been overshadowed by everything else, it could've succumbed to it's own sky high ambitions and it could've been left to die on the vine in delay purgatory. Instead they just kept creating, the comic just kept getting better and that is how you end up at Pretty Deadly #10, the sum total of the creator's potential, ability and expression. It laid all the doubts and controversy in it's past simply by being as great as was possible. Nothing real can be threatened.