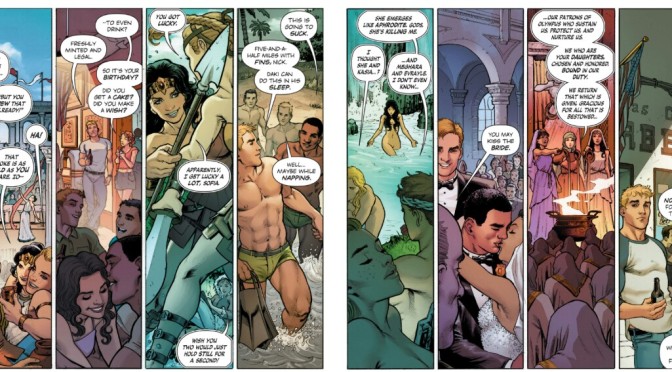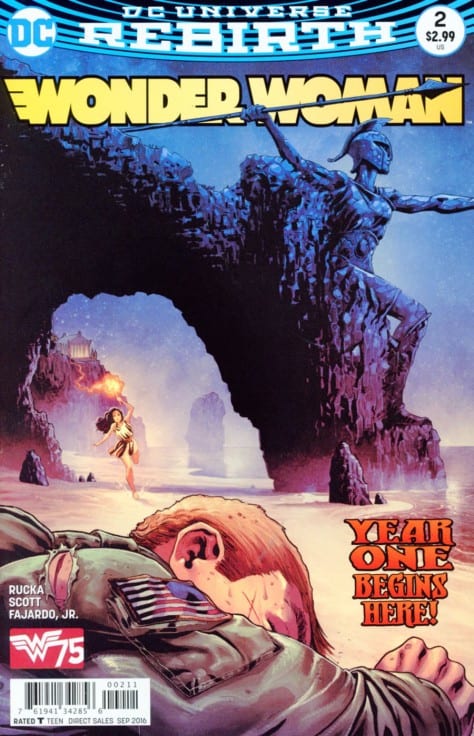 by Greg Rucka, Nicola Scott & Romulo Fajardo Jr
Fate isn't real, but some things are meant to be. Wonder Woman #2 is all about the latter and it's why the comic is so immersive. 
Upon the announcement of DC Rebirth, nothing was more intriguing then Wonder Woman. Greg Rucaka & Nicola Scott had been two of DC Comics most talented creators before each left the publisher for greener pastures and were both doing some of the best work of their respective careers at Image. Even as rumor's began to persist about the DC Rebirth creative teams, there was no indication that Rucka & Scott had any involvement with the initiative, let alone that they'd be taking on one of comics most iconic and important superheros. Yet here we are and like in Black Magick #1, Rucka & Scott team with ace colorist Romulo Fajardo Jr for a single issue comic that is in depth yet natural read which fully engages with it's character's and setting. Like the first two issue's of the series, it is distinct and measured but it does so here with the most gravity we've seen from the book so far.
When Rucka has a character and setting in his head, his writing becomes effortlessly natural and considering how much time Rucka has already spent on the property; it shouldn't be surprising how fluid he is on this series. The idea of Wonder Woman #2 is to show the parallel lives of Diana Prince & Steve Trevor before their first meeting. Rucka fills the script with detail by showing the protagonist in moments. It's a series of little things; conversations the two have with close friends, stuff people say about them, even having both looking up at the same stars at the books start. Rucka let's the character's drive the story by taking a convincing look at their inner lives and that it's the details that make someone who they are. On art, every comics reader should know that for Nicola Scott, details are everything. Nothing about the art in Wonder Woman #2 announces itself the way a lot of comics do. There is no large splash page meant to draw your attention. Instead, Scott's pencil work does technical precision with a warmth that gives Wonder Woman a lush and captivating visual story telling. Not only is she adept in the accuracy and acting of her illustrations but more importantly, she knows where to apply her skill for realism. It's not just her having the ability but knowing how to use it in terms of a visual narration that makes her art so appealing and distinguished. Colorist  Romulo Fajardo Jr has been a part of some of DC Comics best series over the past year because of how he can maintain consistency in his style while still bringing a unique aesthetic to each books he's worked on. Like his work on Midnighter or The Omega Man, he has a bright and expressive pallet on Wonder Woman #2 but it's more muted here, in a good way. There's a rougher quality to it that makes perfect sense for the books tone and inherent subtlety.
You can feel the love and care that was put into this issue in a manner that goes beyond typical. It's clearly defined within the voice of the comics creative talent that is profoundly congenital to the character's themselves. For all the expectations I had for this series, this issue exceeds them. It has a definitive sense of purpose and eagerness to explore itself that is contagious for the reader. This is how Wonder Woman was meant to be.