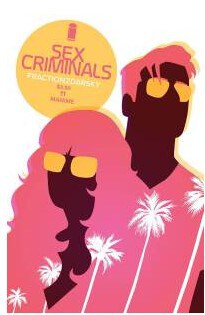 After a brief hiatus (including time taken for some obscene variant doodling), Sex Criminals has returned for its third arc. The arc may begin with a new character in a different locale (Miami), but the familiar, off-kilter tone is readily apparent. Fraction and Zdarsky fill the pages with the same astute character observations and wacky humor, which fans love about the title. By the time Jon rolls up to Suzie in a rented monster truck, Brimpers know they're home once again.

The opening section is narrated by a retirement home orderly (Douglas D. Douglas) as he goes about his daily routine. He is a kind-hearted person, who cares for his elderly mother, partially out of duty, partially because his sibling skipped out on it. Yes, he might have unconscious resentment towards them, but Douglas sincerely likes helping people. Just don't judge him for listening to trashy audiobooks where dragons sexually assault the hero's sister (it seems that Fraction has been catching up on some HBO during the hiatus). He enjoys his life and is OK with that. Or at least, that is what he keeps telling himself. Anyway, at night after his mom goes to bed, he strips down in his room and—well, exactly what is not shown at first. However, there are some familiar steams of color jutting through the air.
On this note, the narrative links up to Jon and Suzie. The second arc left the reunited couple in a tentative alliance with Ana Kincaid. Former adult star, turned professor, Kincaid is a fellow sexual deviant. Not a deviant in the everyday sense, but gifted in the supernatural powers when you climax sense. Jon and Suzie are time-stoppers, Ana is a "sex ghost." They are interested in Douglas because he has some special ability of his own. Jon and Suzie want to take down the Sex Police, who have a nasty habit of, well, policing other people's bedroom activities. Armed with a bunch of case files stolen from the enemy, they hope to recruit others to their cause. (Having now written those last couple sentences, I suddenly want to read a Sex Criminals/Mind MGMT crossover).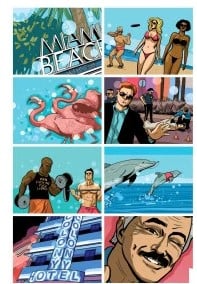 Thus, Jon and Suzie are off to Miami unaware that their arch-enemies Myrtle Spurge, aka Kegelface, has hatched her own plan to bring down Jon and Suzie. For now, though, the couple are satisfied to savor some time alone together. From the lows of the second arc, they have been able to repair much of their relationship, even if things remain awkward at times. (Getting away from that third wheel Ana, and all her baggage, is definitely a plus). Their scene in a ritzy Miami hotel room is the most relaxed, care-free time they have shared since the first flush of their coupling. It has been a while since they have been this goofy charming with each other, and it feels good to see it again. As always, the shifting state of their relationship remains the heart of the book.
Another Sex Criminals constant is the great art from Zdarsky. He scatters throughout the issue his trademark sign gags (there are some terrific laugh out loud ones this time around). Where he really clicks well with the title, however, is his talent for facial expressions. Fraction's scripts often cover a wide range of emotions from anger to passion to befuddlement; Zdarsky expertly conveys them all, balancing the proper amounts of levity and seriousness. Finally he has a knack for the extraordinary side of the title, which he demonstrates in the issue's final page reveal of just what special talent Douglas D Douglas emits.
Taken together this was a strong return for Sex Criminals. The issue came polybagged with a variant gimmick which I know first-hand resulted in people, who previously had never heard of the series, buying copies. Hopefully they opened at least one of their "investments" to discover one the most enjoyable comics on the stands.