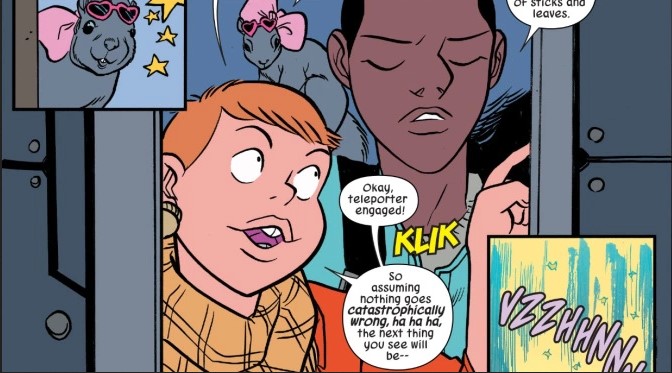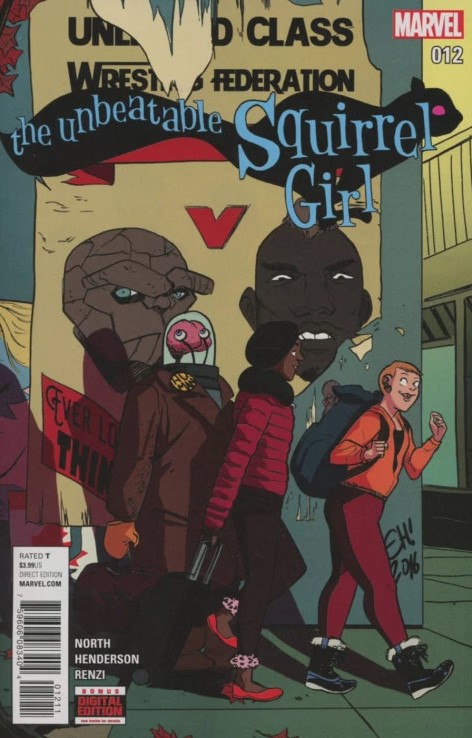 By Ryan North, Erica Henderson & Rico Renzi
Another night in The Big Apple, another gang of hapless crooks driving off with their ill-gotten loot. Good thing that New York has Spider-Man, Daredevil, Luke Cage & Iron Fist, whoever is house sitting Avengers Mansion at the moment to protect it. So, wait, who is protecting the city this fine evening? Is it, Doreen Green, aka The Unbeatable Squirrel Girl? That seems to be heroine the crooks are expecting. Instead, though, they are apprehended by Brain Drain, a brain in a jar affixed to a hulking robotic body. Brain Drain's entry onto the scene is a wacky, off-kilter moment which also contains multiple types of meta (Erica Henderson's art homages Action Comics #1's iconic cover, while Ryan North's footnotes continue his ongoing tutorial on computer programing). As wonky as this might sound, it all blends seamlessly together, demonstrating right off the bat that this will be another fantastic installment of this outstanding series.
Brain Drain was first introduced several issues back as an adversary who Doreen realizes is simply misunderstood. Being her usual compassionate self, she enrolled him in Empire State's computer science program alongside herself and her friend Nancy. Since then he has pretty much been in the background studying coding under the alias "Brian Drayne? This issue, however, gives Brain a more prominent role. Brain has an immediately endearing personality, reprimanding criminals with philosophical observations about the social contract, altruism and "the ennui that plagues mortal minds? His difficulty understanding human nature, leaves him no less willing to protect it. When a bystander inquires if he is a superhero, Brain replies "Even when I cannot see my own potential, I still struggle to realize it. So yes? Such dialogue from North is a fun combination of serious and whimsy which carries over to Brain's design. Henderson embraces the ridiculous side of Brain's character, such as the mask Brain wears about its visage. Despite a near lack of facial features, Henderson is still able to convey clearly Brain's emotions. His presence in this issue is delightful and leaves the reader wishing for more of him.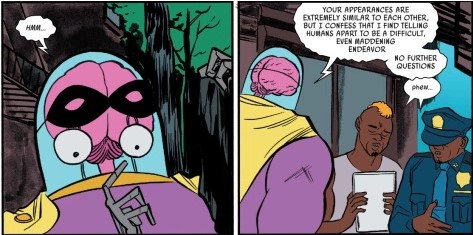 Brain has been charged with overseeing the city by Squirrel Girl who along with Nancy and squirrel sidekick Tippy-Toe, have traveled to Canada. Joined by Doreen's mother Maureen, they are spending vacation is an isolated cabin. A little too isolated. Without any butts to kick (though there are nuts to eat) Doreen quickly grows bored. She cannot even follow supervillain smack downs virtually as her phone has no reception. Instead she is left to her own devices, flipping through two decade old magazines on the thrilling subject of Earth Boring. As always, North's sense of humor is pitch-perfect, as he manages to base a whole magazine cover around a boring pun without it ever growing belabored. Indeed, the joke actually gets funnier with each use. At the same time, Henderson's facial expressions illustrating Doreen's increasing exasperation are priceless.
One of the keys to Squirrel Girl's success has always been its keen sense of personality. This was true in the first issue where the banter between Doreen and Tippy-Toe was quite endearing, successfully drawing readers into the story. As wonderful as Doreen and Tippy are, though, they are also surrounded by a growing cast of supporting characters. Nancy, Chipmunk Hunk, Koi Boi, Brain Drain, Maureen and more regularly contribute to the joys of each chapter. For example, in this issue, Nancy and Maureen further strengthen their bond which leaves Doreen feeling a bit embarrassed. What is more awkward than your mother swapping childhood stories about you with your college roommate/best friend? In fact, beneath all the superhero trappings, there is a natural mother/daughter dynamic between Doreen and Maureen. There is a mystery about the cabin which does cheer up Doreen a bit while also overlapping with some odd experiences of Brain Drain down south in New York. However, what really drives the comic are the engaging characters.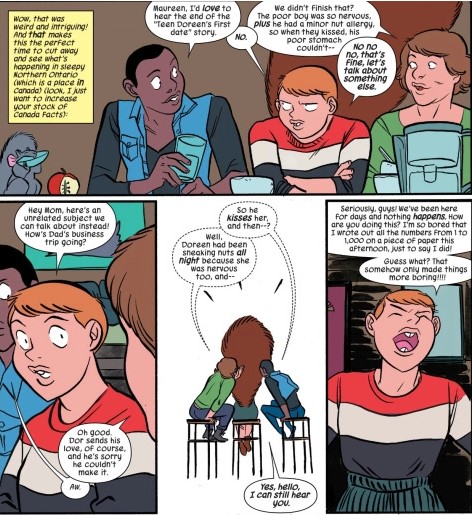 In addition, there is Henderson's fabulous art. As mentioned above, Henderson has a knack for facial expressions. From Doreen's frustration to Nancy's calm enthusiasm to Tippy's giddiness to Brain Drain metaphysical puzzling, Henderson captures each vividly. She also draws a couple action sequences which she invests with her usual lively energy. She continues to demonstrate that her illustrations are as vital to Squirrel Girl's spirited identity as North's scripts.
All in all this is another highly entertaining chapter of The Unbeatable Squirrel Girl. There were many enjoyable comics this week, yet Squirrel Girl was the most delightful mix of humor and heart. Also, the only one which featured a talking squirrel sporting new sunglasses with heart shaped lenses. For all those reasons, Squirrel Girl merits the designation This Week's Finest.