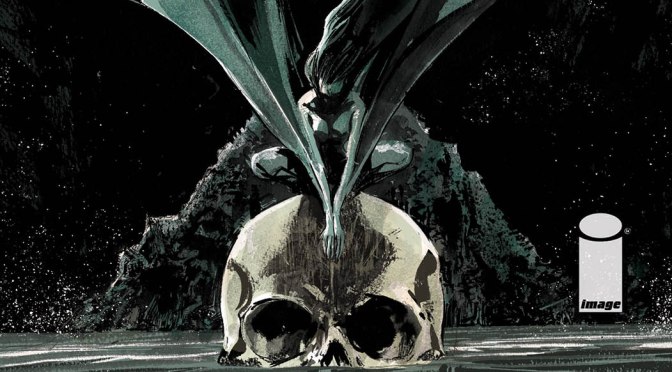 After an almost three year hiatus (the last post came out on 4/30/14), I've decided to bring back my column "The Haul." At its inception, I vowed to write something once a week. Not only did that not happen then, but I will not even pretend to make that claim again today. However, what I can promise is to pop in at least once a month for this new endeavor. When "The Haul" first debuted, it was meant as a place where I could talk about whatever was on my mind that week in the world of comics. Having that freedom was nice, but this next iteration will have better specified boundaries. By dropping a lens over this column, I can provide a clearer focus on what it is readers can expect.
So from here on out "The Haul" will serve as my commentary on the next month's batch of comics. This commentary will consist of thoughts on specific books from plot to creative team and whether or not I'll be pulling it when the time comes. I've written similar posts in the past about solicitations, but never with any intention of doing so on an ongoing basis.
A few things before we begin…
Solicitations are released three months prior to the publication date, but these articles will focus on celebrating what we have to look forward to next month (i.e. this article will feature February's books).
While I read quite a few comics every month, I do not read EVERY SINGLE book. I can't. Publishers release too many comics for me to even consider that. Because of this, I might not be talking about books you pick up.
I'll always link to full solicitation listings.
DC
THE WILD STORM #1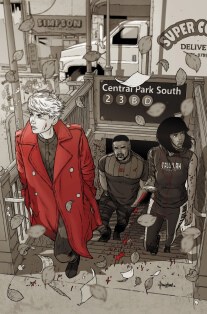 Written by WARREN ELLIS
Art and cover by JON DAVIS-HUNT
A troubled woman, barred by her employer from continuing her research, walks miserably through New York City. It takes her a moment to notice that everybody else is looking up. A man has been thrown from the upper floor of the Halo skyscraper.
And that woman—Angela Spica, sick from the transhuman implants she's buried in her own body—is the only person who can save him.
What she doesn't know is that the act of saving that one man will tip over a vast and secret house of cards that encloses the entire world, if not the inner solar system. This is how the Wild Storm begins, and it may destroy covert power structures, secret space programs and even all of human history.
New York Times best-selling writer Warren Ellis (TRANSMETROPOLITAN, RED, THE AUTHORITY) returns to DC to curate Jim Lee's WildStorm world, with this debut issue resetting the WildStorm universe with new iterations of Grifter, Voodoo, the Engineer, Jenny Sparks and others.
"I couldn't be more excited to see these characters that are so near and dear to me reintroduced under the guiding hand of Warren Ellis. WildStorm represents an incredibly fun and exciting period in my career, and I can't wait to see what Warren and Jon have in store for fans in February."—Jim Lee, DC Comics Co-Publisher
If you were to find the top-most expert in the field of WildStorm Studies, then locate the person containing the complete opposite knowledge, you'd get me. Knowing nothing about any of this, save the wind-carried whispers that have tickled my ears throughout my comics-loving life, makes this series all the more exciting to check out. It's a #1 with a great creative team. Let's try it out, shall we?
JUSTICE LEAGUE OF AMERICA: REBIRTH #1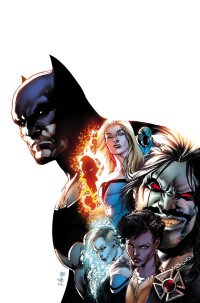 Written by STEVE ORLANDO
Art and cover by IVAN REIS and JOE PRADO
Batman, Black Canary, Killer Frost, the Ray, Vixen, the Atom, and…Lobo?! Spinning directly out of the events of JUSTICE LEAGUE VS. SUICIDE SQUAD, join the sensational team of writer Steve Orlando and artists Ivan Reis and Joe Prado and discover how Batman assembled the roughest, toughest Justice League of all time!
Orlando? Reis? So far so good. Rebirth issue? Ohh…this isn't looking so hot anymore. Thankfully, the creative team and the JLA's roster gives me enough hope to check this out. I read two of the one-shots leading to this series (Vixen and The Ray). One I enjoyed, one I did not. To hear which is which, check out this week's Nothing But Comics! Podcast.
JUSTICE LEAGUE OF AMERICA #1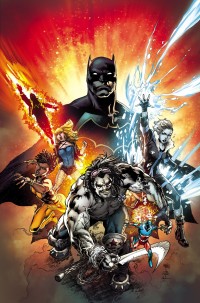 Written by STEVE ORLANDO
Art and cover by IVAN REIS and JOE PRADO
Meet the Extremists—self-proclaimed saviors from another Earth, they thirst for peace, prosperity and total submission to the will of their leader, Lord Havok! How can the newly assembled JLA stop this group of misguided maniacs before the Extremists unleash their own unique—not to mention dangerous!—brand of law and order on our chaotic world?
See above. Though if we follow DC's pattern, this issue will be MUCH better than its predecessor.
BATWOMAN: REBIRTH #1
Written by MARGUERITE BENNETT and JAMES TYNION IV
Art by BEN OLIVER and STEVE EPTING
Cover by STEVE EPTING
The newest chapter of Batwoman's life begins here! Monster Venom is the hottest new bioweapon on the market…and to break up the syndicate spreading it around the world, Batwoman's going to have to return to the place where she spent some of her darkest hours! Learn where Batwoman comes from, and where she's going, in this one-shot prologue to the first big Batwoman epic, "The Many Arms Of Death"!
I'm a bit on the fence with this one, and it's only because it's the one-shot Rebirth issue. I'd love a good Batwoman book again, and Tynion has been crushing this character in Detective.
ALL STAR BATMAN #7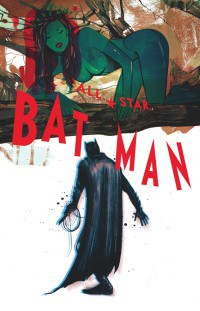 Written by SCOTT SNYDER
Art and cover by TULA LOTAY
"Poison Promises"! Step aside, gentlemen—Poison Ivy is about to steal the spotlight in Batman's continuing rogues gallery road trip. Scott Snyder teams up with mega-talent Tula Lotay to reimagine the Dark Knight's most seductive villain.
I tried the first two issues. Romita Jr.'s art killed it for me. The story might have been fine, but I just cannot stand his work. I know he is a favorite for so many readers out there, and that's great. But he's not for me. Thankfully, I jumped back in with issue six (Mr. Freeze story drawn by Jock). I'm back in. Plus, Tula Lotay? YES, PLEASE!
BATMAN #16
Written by TOM KING
Art and cover by DAVID FINCH
"I Am Bane" part one! Bane is coming for Batman. Bruce must keep those he loves safe for five days in order to save Gotham Girl once and for all. But Bane will stop at nothing, and no one is safe.
Tom King's Batman? You're already reading this and you already know why. I don't have to explain myself.
BATMAN #17
Written by TOM KING
Art and covers by DAVID FINCH
"I Am Bane" part two! Barricading himself within the walls of Arkham Asylum still might not keep Batman and his allies safe from Bane's assault. Which one of Bruce's loved ones will be torn from him next?
See above.
DETECTIVE COMICS #950
Written by JAMES TYNION IV
Art by MARCIO TAKARA and others
Cover by EDDY BARROWS and EBER FERREIRA
"League of Shadows" prologue! Celebrate 950 issues of the original Batman series with this extra-sized extravaganza! Cassandra Cain has stayed out of the spotlight on Batman's team as she slowly comes to terms with the civilized world she was kept away from all her life…but the time for her to step up is fast approaching! Will she ever learn how to fit in among the masses, or will she always be more weapon than woman? Plus: a primer on the history of the League of Assassins, and an adventure with the team's newest recruit: Azrael, the Avenging Angel!
When the Rebirth titles were announced, I NEVER expected Detective to be one of my favorite books on the shelf each month. But it was, and is. I've fallen a bit behind, but this title has priority on my catch-up list. Slightly disappoint not to see Eddy Barrows on art, but it's okay…for now.
DETECTIVE COMICS #951
Written by JAMES TYNION IV
Art by CHRISTIAN DUCE
Cover by EDDY BARROWS and EBER FERREIRA
"League of Shadows" part one! The next big DETECTIVE arc explodes here as the League of Shadows goes from mysterious rumor to deadly fact! What's their plan for Gotham City? And how will their actions affect Batman and his team?
Literally everything I'd say here was said right up above. And you've already read that, so let's move on.
DOOM PATROL #6
Written by GERARD WAY
Art and cover by NICK DERINGTON
Backup story art by SHAWN CRYSTAL
Our first arc concludes! The Doom Patrol is back together, and their mission to take out the Vectra brings them in contact with another old friend. Secrets will be uncovered, blows will be struck and, whether they win or lose, Casey Brinke's existence will be altered forever. And yours just might be, too!
Wanna hear a secret? Prior to this series, I'd never read a Doom Patrol book. I get it. I'm a horrible person. You might as well close this article now.
MOTHER PANIC #4
Written by JODY HOUSER
Art by SHAWN CRYSTAL
Cover by TOMMY LEE EDWARDS
Mother Panic isn't the only one hunting for revenge in the streets of Gotham City. The terrifying Pretty is after the next name on Violet Paige's hit list. But is he a friend or foe—and how is he connected to the mysterious Gather House that made Violet who she is?
Best of the Young Animal titles? ABSOLUTELY.
THE KAMANDI CHALLENGE #2
Written by PETER J. TOMASI
Art and cover by NEAL ADAMS
After the thrilling events of issue #1, writer Peter J. Tomasi and artist Neal Adams rescue the Last Boy on Earth and send him on his next adventure. Now, Kamandi must save Tiger King Caesar and his people from impending doom. Will he be the hero they need? Or will he use the chaos of the situation to escape for good?
Admit it…you love Kamandi. Let's bring it in for some Kamandi love.
Marvel
KINGPIN #1
MATTHEW ROSENBERG 

BEN TORRES (A)
Cover by JEFF DEKAL
WILSON FISK BUILDS A BRAND-NEW EMPIRE!
The KINGPIN has done bad things. Deplorable things. He has cheated the law. He has blackmailed rivals. He has killed. But that's all in the past. The Kingpin is back in the city that he loves and ready to make his mark as a titan of legitimate industry, but needs to rekindle his public image. When Wilson Fisk makes disgraced journalist SARAH DEWEY an offer she can't refuse, the spiraling saga of crime and betrayal begins anew. Don't miss the start of Kingpin's ongoing series, written by breakout writer MATTHEW ROSENBERG and illustrated in the heavy noir stylings of BEN TORRES, as Manhattan's criminal mastermind returns to the Big Apple with honorable intentions, but no one in his circle remains pure on his climb back to the top.
If you listen to The Nothing But Comics! Podcast, you'll know that I'm not exactly on good terms with Marvel right now. For the most part, if it isn't Star Wars, I'm not reading it. The company's prices are just too high what the amount of content you get. But…in all honesty…I miss it 😦
It might be time for me to dip a toe back into the 616 just to see how things are going. And who better to pull me back in than Matthew Rosenberg? (Hey Matt…let's not forget about 4 Kids okay?)
BULLSEYE #1 (of 5)
Ed Brisson 

Guillermo Sanna (A)
Cover By Dave Johnson
SHOOT FIRST!
Daredevil, Elektra, Punisher… You name 'em, Bullseye beat 'em. But that was just business… This?
This is pleasure. What does the world's greatest assassin do for fun? Find out what Bullseye gets involved in for laughs in this deadly first issue, way down in South America!
This is a maybe for now, but it's only a miniseries and it's Ed Brisson. I'll give it one.
GAMORA #3
NICOLE PERLMAN 
 • MARCO CHECCHETTO (A)
Cover by ESAD RIBIC
ON THE DOOMED PLANET UBLIEX, ESCAPE IS IMPOSSIBLE!
While the planet literally breaks apart around her, GAMORA searches for her prey, determined to get her revenge against the BADOON – even if it's the last thing she does!
But on Ubliex, where adventure and criminals wait around every corner, Gamora might find more than she ever imagined…
…a truth so astounding that it will rock Gamora to her very core.
Alrighty. This was the Marvel comic book that dragged my back into the universe for now. The banter between Gamora, Thanos, and Nebula is perfect. Checchetto is killing it on the art. A Gamora book SHOULD. NOT. BE. THIS. GOOD.
STAR WARS: DOCTOR APHRA #4
KIERON GILLEN 
 • KEV WALKER (A)
Cover by Kamome Shirahama
Aphra's father has led her straight into danger – of course.
Her business on Yavin 4 concluded, Aphra journeys off…
…in search of one of the most powerful weapons imaginable!
Spinning out of Gillen's Darth Vader series, Doctor Aphra was well deserving of her own title. Getting a fresh character is much needed in a pool of heavily OT-influenced titles. If you are just starting, I found the second issue stronger than the first. We aren't too far in yet if you want to hop on.
STAR WARS #28
JASON AARON 
 • SALVADOR LARROCA (A)
Cover by STUART IMMONEN
Master Yoda finds himself overpowered and captured!
Imprisoned within the caves, the master must become a student once more.
Plus…Ben and Luke feel the ripples of the Jedi Master's tale!
We've got two stories here, one past and one present. The past deals with Yoda being badass, something we really didn't get too see much of in the movies. The second story surprisingly choked me up a bit. C-3PO has been captured by the Empire, and the only Rebel brave (or stupid) enough to stage a rescue is R2-D2. R2 steals an x-wing and decides he's going to take on the Empire by himself. For a long while, this was not my favorite book. It's gotten better. This is good Star Wars, people.
DARTH MAUL #1 (of 5)
Cullen Bunn 
 • Luke Ross (A)
Cover By Rod Reis
Bred on hate, fear, and anger…steeped in the ways of darkness…and trained to kill. Darth Maul's time as apprentice to Darth Sidious has long been cloaked in shadows, but at last we will reveal his tale of revenge. From writer Cullen Bunn (DEADPOOL KILLS THE MARVEL UNIVERSE, WOLVERINE) and artist Luke Ross (STAR WARS: THE FORCE AWAKENS, HERCULES) comes a tale of rage unleashed as Darth Maul prepares for his first encounter with the Jedi.
When simply looking at the films, Darth Maul is a pretty boring character. Aside from doing cool flips and dying, he really doesn't have much of a part. The Expanded Universe has done quite a bit with him, propping him with qualities and stories worthy of the otherwise unworthy praise he had always received. Bunn tends to be hit or miss with me, but I'm willing to give this title a shot. Fingers crossed that this book is still here next month.
STAR WARS: POE DAMERON #11
CHARLES SOULE 
 • PHIL NOTO (A/C)
Things are heating up for Poe Dameron and super-spymaster C-3PO!
The First Order is on their tail…and Terex's evil cronies as well.
Not to mention… Who's feeding information to the First Order in the first place?
I go back and forth in when wondering if this is the best Star Wars comic book out there right now. Soule is doing an amazing job at writing Poe, and Noto's art is always on point. Consistently an entertaining read.
Image
THE OLD GUARD #1
STORY: GREG RUCKA
ART / COVER: LEANDRO FERNANDEZ
Eisner-winning writer GREG RUCKA (LAZARUS, BLACK MAGICK, Wonder Woman) and critically acclaimed artist LEANDRO FERNANDEZ (THE DISCIPLINE, Deadpool, Punisher: MAX) team up together to introduce THE OLD GUARD, the story of old soldiers who never die…and yet cannot seem to fade away.
Trapped in an immortality without explanation, Andromache of Scythia—"Andy"—and her comrades ply their trade for those who can find—and afford—their services. But in the 21st century, immortality is a hard secret to keep, and when you live long enough, you learn that there are many fates worse than death.
Greg Rucka #1? Why sure! It has surprisingly been a while since I read a new Image book. The premise sounds interesting. Let's go!
THE WALKING DEAD #163
STORY: ROBERT KIRKMAN
ART: CHARLIE ADLARD, STEFANO GAUDIANO & CLIFF RATHBURN
COVER: CHARLIE ADLARD & DAVE STEWART
NEW STORY ARC: "CONQUERED"
In the aftermath of The Whisperer War: ALL IS LOST.
ALSO, HOLY CRAP! THIS ISSUE IS 25 CENTS TO CELEBRATE THE 25th ANNIVERSARY OF IMAGE COMICS!
I love, love, love that we are getting two issues this month and one of them is only a quarter. The Whisperer War has built to it's peak and now it's time to see what comes next. I know I'm one of very few (the only?) NBC! contributors reading this title, but I look forward to it every month. There are characters I've embraced fully. Even when I'm seven-ish episodes behind on the TV show, I know I'll always have the comic to read.
THE WALKING DEAD #164
STORY: ROBERT KIRKMAN
ART: CHARLIE ADLARD, STEFANO GAUDIANO & CLIFF RATHBURN
COVER: CHARLIE ADLARD & DAVE STEWART
"A FALLEN HOUSE"
Maggie leads the survivors from the Hilltop to Alexandria…to see it overrun with the dead.
ALSO, HOLY CRAP! THERE ARE TWO ISSUES OF THE WALKING DEAD THIS MONTH!
Here's that second issue we were talking about.
OUTCAST #25
STORY: ROBERT KIRKMAN
ART / COVER: PAUL AZACETA & ELIZABETH BREITWEISER
NEW STORY ARC: "LIGHT OF DAY"
A major turning point in the series! New characters are introduced! Big things are in store for Kyle Barnes as he's faced with something he never could have prepared for—hope! Everything changes as we celebrate our 25th issue!
ALSO, HOLY CRAP! THIS ISSUE IS 25 CENTS TO CELEBRATE THE 25th ANNIVERSARY OF IMAGE COMICS!
I don't know what it is exactly about this series, but it keeps me reading month after month. This book is low-key non-stop. Azaceta's art dominates on these pages. This is a series I've championed from the start, and it has never made me regret it.
THE BELFRY (ONE-SHOT)
STORY / ART / COVER: GABRIEL HARDMAN
AN ALL-NEW HORROR ONE-SHOT FROM GABRIEL HARDMAN!
When an airliner crashes in a remote jungle, everyone walks away unscathed only to find you can't escape the lush, brutal world of the Belfry.
From Logan storyboard artist and Hugo Award-nominated writer/artist GABRIEL HARDMAN (INVISIBLE REPUBLIC, KINSKI, Star Wars Legacy), THE BELFRY is a self-contained one-shot that may just strip you of your humanity.
I was just calling for more Image horror. Well, here we are! I want this in front of me right now. Now! NOW! Relax, Alex.
PLANETOID PRAXIS #1 (OF 6)
STORY / ART / COVER: KEN GARING
SERIES PREMIERE
PLANETOID PRAXIS is the long-anticipated sequel to the popular 2012 miniseries PLANETOID. The inhabitants of a distant planetoid have fought off their robot overlords and established a thriving settlement on the planetoid's mechanized surface. Now, years later, their de facto leader, Onica, must grapple with a new complication when their isolated way of life is threatened by the arrival of an unexpected visitor!
I'm not sure I can fully express just how excited I am for Planetoid's return. I was one of the, seemingly, only people to buy the first miniseries when it came out in 2012. Every year since, I search for clues of its return. And finally, almost five years later, the time has come. PLEASE find the original and check out this sequel.
PAPER GIRLS #11
STORY: BRIAN K. VAUGHAN
ART: CLIFF CHIANG & MATT WILSON
A BOLD NEW STORYLINE STARTS HERE!
The Eisner and Harvey Award-winning "Best New Series" from BRIAN K. VAUGHAN and CLIFF CHIANG returns, as Erin, Mac, and Tiffany finally reunite with their long-lost friend KJ…only to encounter some horrifying new threats in an unexpected era.
Here's one I've accidentally fallen behind on. I'm sorry. I'll get caught up. I promise.
DESCENDER #19
STORY: JEFF LEMIRE
ART / COVER: DUSTIN NGUYEN
"ORBITAL MECHANICS," Part Three
Driller's terrible secret is revealed to Andy, and their uneasy alliance is shattered. Meanwhile, across the galaxy, Tim-21, Quon, and Telsa make their way to the ocean planet of Mata where the secrets of The Harvesters may finally be revealed!
Here's one I've purposely fallen behind on. I find it reads better in larger chunks. I'll give ti a few more issues before I tackle what I've got.
EAST OF WEST #32
STORY: JONATHAN HICKMAN
ART / COVER: NICK DRAGOTTA
The teenage Horsemen show the world just how grown-up they've gotten, but they still aren't old enough to drive.
In the top five monthly books for best art. Every issue I find myself trapped in Dragotta's immersive world. The last issue's revelation that a character once thought dead is not, I can't wait to see what comes next. If you are interested in this series but have never read an issue, check out the Year One/Two volumes. Not only are they beautiful to look at, but they will get you caught up the cheapest.
KILL OR BE KILLED #6
STORY: ED BRUBAKER
ART: SEAN PHILLIPS & ELIZABETH BREITWEISER
COVER: SEAN PHILLIPS
The second arc in BRUBAKER & PHILLIPS' runaway bestseller keeps the hits coming, as Dylan realizes how close he may be to being caught by the NYPD. Also, remember that every issue features all the backpage extras that BRUBAKER & PHILLIPS fans have come to expect.
You want to get your heart pumping? Pick up this series. WOW. Hear us gush about it on this week's podcast episode.
SOUTHERN BASTARDS #18
STORY / COVER A: JASON LATOUR
ART: CHRIS BRUNNER & JASON LATOUR
"GUT CHECK," Part Four
Roberta Tubb's entire life has prepared her for this moment. But how far is she willing to go to avenge her daddy?
Tell me this series isn't amazing. I dare you.
Actually, please don't. I hate liars.
Other
ARCHIE #17
Script: Mark Waid
Art: Joe Eisma, Andre Szymanowicz, Jack Morelli
Cover: Joe Eisma
Cheryl Blossom's unleashed on Riverdale, creating chaos and tumult at her whim! Only Veronica can stop her—but how will she get back from her Swiss boarding school in time to save her friends?
I've been a cheerleader for this book since issue one. Waid flawlessly makes Archie relevant in today's world. This is the quintessential teen book you should be reading.
JUGHEAD #13
Script: Ryan North
Art: Derek Charm, Jack Morelli
Cover: Derek Charm
Reggie has won KING FOR A DAY!  And it turns out his first act as King is to demand… that everyone else to form a band with him? Okay that's actually not so bad; I was expecting way worse from Reggie. Wait, never mind, I'm getting word that DESPITE this very enjoyable and conflict-free premise, when Jughead plays around with the new music video for "The Reggies" and accidentally uploads an altered and embarrassing clip to the internet, everyone becomes enraged at our favorite crown-wearing hamburger-loving pal! Even Betty, and she's the greatest!  She doesn't get mad unless it's really important! ANYWAY: Jughead will face CONSEQUENCES, but at least they'll be interesting AND HILARIOUS to read about!
Not many books make me audibly laugh while reading, but North's Jughead gets me every damn time. If you haven't read this book before and are looking for a good place to jump on (but don't get trades for some reason), start with the first Sabrina issue. Their date had me in tears.
QUANTUM TEENS ARE GO #1
written by Magdalene Visaggio
illustrated by Eryk Donovan
colored by Claudia Aguirre
cover-A by Eryk Donovan
Mad science is the punkest shit there is. Teenage sweethearts Nat and  Sumesh spend their nights breaking into abandoned superlabs to steal  the parts they need to build a time machine – and they've just found  the most important part. But mysterious entities keep trying to stop  them from turning it on. Now all they've gotta do is hang on long  enough to figure out why. Magdalene Visaggio (Kim & Kim) and Eryk  Donovan (Memetic, Constantine) bring you a high-octane adventure full  of robots, muscle cars, and queer-ass skater punks.
While many can be duds, I'm opening to trying as many Black Mask #1s as I can. I really have nothing more to say about this right now. Hopefully it will still be on the list next month.
PLANET OF THE APES/GREEN LANTERN #1 (of 6)
Writers: Robbie Thompson & Justin Jordan
Artist: Barnaby Bagenda
Main Cover: Ethan Van Sciver
BOOM! Studios and DC Comics are proud to bring together two classic properties in a historic crossover event.
When Taylor goes missing, Cornelius investigates and discovers an ancient ring, unlike anything the universe has ever seen.
As its power echoes through the stars, the Guardians of the Universe must reveal to their Lanterns a secret they had hoped would remain buried.
With the Green Lantern Corps, led by Hal Jordan, racing to get to the source of this power before Sinestro can get his hands on it, they will discover a truth that will change them forever on…THE PLANET OF THE APES.
Let me explain:
First, this only gets one to wow me. That's it. I'm not messing around.
Second, Apes + Lanterns should not be good. It shouldn't. But I want it to be. I want this to be good so bad that it frightens me a little. I fully expect to get burned here.
Let me know in the comments which books I'm not reading but should be. The list goes on and on and on and on and……
For full solicitations, click here.