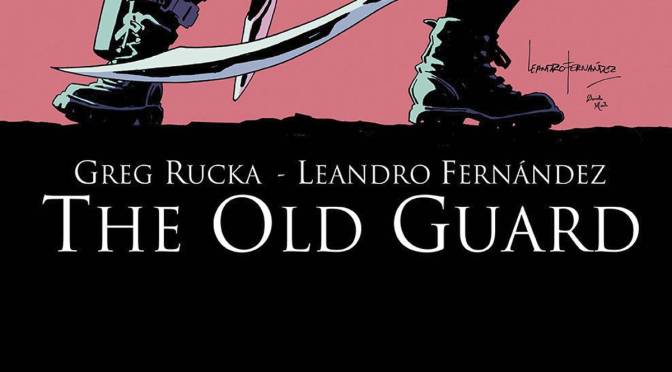 Looking back on last month's article, I came to the realization that I tend to add more books to a list than I'm actually able to read and, in may cases, afford. There are only so many hours left at the end of the day to tackle my pull list, and, while they are a passion, comic books are not my only hobby. On top of that, I've been reading a lot more "older" stuff lately. This list will be more realistic, conservative towards what I think I'll actually read. If I get to more, great! I'd love to read every good book out there.
Another reason this list is shorter is rising cover prices. I've griped about Marvel's prices in the past, refusing to pay $3.99 for, in many cases, fewer than 22 pages, but now other companies are jumping on the bandwagon. Come April, DC is bumping a majority of its non-bi-monthly comics from $2.99 – $3.99. As a way to pretend to make up for this, the company is providing digital access codes to read the same story online, something Marvel recently ceased doing. Since Rebirth, DC's regular-sized books have been only 20 pages long. Will the dollar increase show in the page count, too? We already know this answer.
Piling on this mosh pit of shittiness, Image's solicitations show it is also following suit. Except for a few of the popular titles such as The Walking Dead and Saga, the average price of an Image comic book will be $3.99. One possible explanation is the publisher hiked up the price to make up for the .25 cent issues released this year to celebrate Image's 25th Anniversary. However, even if that is the case, what are the odds the titles will drop back to normal price? While the company's paper quality and stories tend to be a grade above the rest, I know I'll be less inclined to check out a new Image series now.
These actions have consequences, and they'll be reflected in my monthly spending.
A few things before we begin…
Solicitations are released three months prior to the publication date, but these articles will focus on celebrating what we have to look forward to next month (i.e. this article will feature February's books).
While I read quite a few comics every month, I do not read EVERY SINGLE book. I can't. Publishers release too many comics for me to even consider that. Because of this, I might not be talking about books you pick up.
DC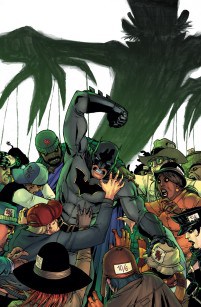 ALL STAR BATMAN #8
Written by SCOTT SNYDER
Art by GIUSEPPE CAMUNCOLI and MARK MORALES
Cover by GIUSEPPE CAMUNCOLI
"Hats and Bats"! Underestimate the Mad Hatter at your own peril. Batman takes on one of his most dangerous and deranged foes in a mind-bending tale from the powerhouse creative team of writer Scott Snyder and artist Giuseppe Camuncoli!
On sale MARCH 8 • 40 pg, FC, $4.99 US • RATED T
I couldn't be happier that I finally jumped onto this series with the Mr. Freeze issue (#6) because between that and the Poison Ivy continuation from last month, this title is on fire! Get on this train asap!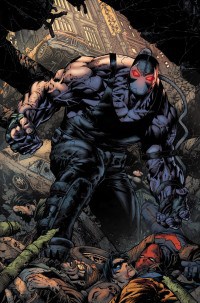 BATMAN #18
Written by TOM KING
Art and cover by DAVID FINCH and DANNY MIKI
Variant cover by TIM SALE
Retailers: This issue will ship with two covers. Please see the order form for details.
"I AM BANE" part three! Bane broke the bat before, but it wasn't enough—now he's going to break everyone else! Bane is coming, and no one is safe!
On sale MARCH 1 • 32 pg, FC, $2.99 US • RATED T
Never has Bane felt this menacing. This villain is hitting hard, and his destruction is going to leave a mark on this title. As someone who has spoken out against David Finch's art in the past, his work on this book has been stellar.
BATMAN #19
Written by TOM KING
Art and cover by DAVID FINCH and DANNY MIKI
Variant cover by TIM SALE
Retailers: This issue will ship with two covers. Please see the order form for details.
"I AM BANE" part four! Batman is losing…Bane is going to break him for good this time. The Dark Knight must turn to a very unlikely weapon to beat Bane once and for all!
On sale MARCH 15 • 32 pg, FC, $2.99 US • RATED T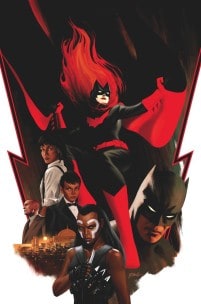 BATWOMAN #1
Written by MARGUERITE BENNETT and JAMES TYNION IV
Art and cover by STEVE EPTING
Variant cover by J.G. JONES
Blank variant cover
Retailers: This issue will ship with three covers. Please see the order form for details.
"The Many Arms Of Death" part one! At last—Batwoman is back in her own ongoing series! On the island nation of Coryana, anything goes for members of the criminal underworld…and during her lost years after being drummed out of the military, Kate Kane found a kind of refuge there. But now, a deadly new bioweapon is available in the markets of Coryana, and Batwoman will have to face up to the things she did in those days…and the people she left behind, some of whom would be happier to see her dead than alive!
Writer Marguerite Bennett (DC BOMBSHELLS) is joined by James Tynion IV (DETECTIVE COMICS) and superstar artist Steve Epting (Captain America, Velvet) to present an epic Batwoman story that will alter the course of her life forever! This one's unmissable!
On sale MARCH 15 • 32 pg, FC, $2.99 US • RATED T+
Considering how great the Rebirth one-shot was (when nearly every other was hot garbage), Batwoman is shaping up to be a solid series. After the last few pages of the previous issue, I'm intrigued to find out just where this creative teams is taking these characters.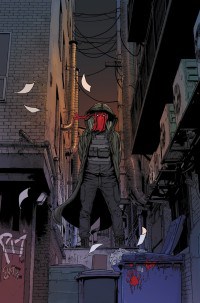 THE WILD STORM #2
Written by WARREN ELLIS
Art and cover by JON DAVIS-HUNT
Variant cover by AFUA RICHARDSON
1:50 variant cover by JIM LEE and SCOTT WILLIAMS
1:100 pencils-only variant cover by JIM LEE
Retailers: This issue will ship with three covers. Please see the order form for details.
All Angela Spica did was save someone's life. And now hers is over. The rogue engineer lies bleeding in a place she hopes nobody will find – but she's wrong. The people embedded in the secret power structures of the world are tracking her. Skywatch. Halo. International Operations. A covert operative called Grifter.
If only she hadn't unknowingly foiled an assassination planned by her boss. If only her boss wasn't the one person more interested in the Engineer's transhuman implants than in her life.
It's all going very wrong, very quickly. There's going to be more blood.
On sale MARCH 15 • 32 pg, FC, $3.99 US • RATED T+
#1 was everything we'd hoped it'd be. Warren Ellis, in his typical fashion, has set-up a great story that we yet to know anything about yet. Jon Davis-Hunt's artwork and panel layout kept every page new and exciting. Also, how can you pass up an issue with Grifter looking so badass.
THE KAMANDI CHALLENGE #3
Written by JIMMY PALMIOTTI
Art by AMANDA CONNER
Cover by BEN CALDWELL
Variant cover by AMANDA CONNER
Retailers: This issue will ship with two covers. Please see the order form for details.
After the stunning cliffhanger of the last issue, the red-hot team of writer Jimmy Palmiotti and artist Amanda Conner takes the wheel and steers us toward a wild new adventure. Now, Kamandi is embraced by the God Watchers as a holy messenger! Can he keep up this charade long enough to survive? Or will the truth lead to the end of the last boy on earth?
On sale MARCH 29 • 32 pg, FC, 3 of 12, $3.99 US • RATED T
Hands down, this is the most fun book on the shelf. Each issue has an incredibly strong creative team competing in the challenge. Creative Team A gets Kamandi into seemingly impossible situations and then Team B has to write him out of it. Non-stop Kamandi craziness.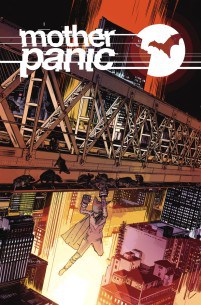 MOTHER PANIC #5
Written by JODY HOUSER
Art by SHAWN CRYSTAL
Cover by TOMMY LEE EDWARDS
Variant cover by MICHAEL CHO
Retailers: This issue will ship with two covers. Please see the order form for details.
While hunting a new target, Mother Panic may have found her first ally in the strange and enigmatic Pretty. But nothing involving Gather House is ever what it appears to be. Can Pretty really be trusted? And what exactly is going on in Violet Paige's basement?
On sale MARCH 22 • 32 pg, FC, $3.99 US • MATURE READERS
Sadly, I'm on the verge of dropping this series. The story is getting a bit repetitive; we get it, MP doesn't take no shit. But four issues of that is a bit tiring. Right now, I'm hanging on for Tommy Lee Edwa–And he's not on this issue…oh, boy.
Marvel
GAMORA #4
NICOLE PERLMAN 
 • MARCO CHECCHETTO (A)
Cover by ESAD RIBIC
VENOMIZED VARIANT COVER BY STEPHANIE HANS
SUNRISE ON DOOMSDAY!
• As planet Ubliex approaches the black hole's event horizon, GAMORA is on the cusp of getting the revenge she so desperately seeks…
• …in exchange for making deals with gangsters of questionable intent, who claim they hold the key to escape.
• Yet as earthquakes, fire tornadoes and anti-gravity bubbles begin to tear Ubliex to pieces, Gamora may find herself forced to choose between her vengeance quest and her own survival.
32 PGS./Rated T+ …$3.99
Keep. It. Up.
STAR WARS #29
JASON AARON 
 • SALVADOR LARROCA (A)
Cover by STUART IMMONEN
Action Figure variant COVER by John Tyler Christopher
Star Wars 40th Anniversary Variant Cover by Kevin Wada
• A problem, Yoda has. A big problem.
• Strong with the stonepower, this problem is.
• But judge it not by its size, will he.
It's Star Wars. I'm probably picking it up. Also, this Yoda arc has been great.
STAR WARS: POE DAMERON #12
CHARLES SOULE 
 • PHIL NOTO (A/C)
Variant Cover by Bengal
Star Wars 40th Anniversary Variant Cover by Leinil Yu
• Poe is on the run from Terex's forces with only C-3PO and BB-8 to help him!
• Can the greatest pilot in the galaxy survive without a ship?
• PLUS: A traitor revealed?!
Again, this book is hot each month. I wonder how long we are going to be playing cat and mouse with Poe and Terex, but it's still a great ride.
DARTH MAUL #2 (of 5)
CULLEN BUNN 
 • LUKE ROSS (A)
Cover by RAFAEL ALBUQUERQUE
VARIANT COVER BY DAVID AJA
Star Wars 40th Anniversary Variant Cover by Paul Renaud
• A Jedi Padawan has been captured by sinister forces…
• …and Darth Maul is determined to find her?!
• This early tale of the galaxy's deadliest Zabrak continues!
Alright, this book gets one more. The last issue left me underwhelmed. This is only adding to Maul's stigma as being a great design but boring character.
Image
Royal City #1
Story / Art / Cover: Jeff Lemire
March 22 / 56 pages / Full Color / M / $4.99
NEW ONGOING SERIES written and illustrated by JEFF LEMIRE (DESCENDER, A.D., Sweet Tooth). ROYAL CITY charts the lives, loves, and losses of a troubled family and a vanishing town across three decades. Patrick Pike, a fading literary star who reluctantly returns to the once-thriving factory town where he grew up, is quickly drawn back into the dramas of his two adult siblings, his overbearing mother, and his brow-beaten father, all of whom are still haunted by different versions of his youngest brother, Tommy, who drowned decades ago. ROYAL CITY is a return to the literary and thematic territory of LEMIRE's breakthrough graphic novel Essex County and is his most ambitious, and most personal, project to date.
That last sentence tells you everything you need to know about why I need this book so badly in my life. Essex County changed my life back in high school.
Injection #11
Story: Warren Ellis
Art / Cover A / Cover B: Declan Shalvey, Jordie Bellaire
March 15 / 24 pages / Full Color / M / $2.99
NEW STORY ARC Flensed human skeletons chained to the rocks of an archaeological site in Cornwall. The tentacles of FPI, reaching into the fabric of time. Brigid Roth of the Injection team, sent in by Maria Kilbride to separate data from legend, and accident from murder.
So THAT'S what giddy feels like. How I missed this series…
Descender #20
Story: Jeff Lemire
Art / Cover: Dustin Nguyen
March 22 / 32 pages / Full Color / M / $3.99
"ORBITAL MECHANICS," Part Four. The fate of Driller is revealed as he crashes on a dangerous new planet and comes face-to-face with something no one else in the DESCENDER universe has yet encountered…MAGIC! And Bandit makes a startling new discovery about the Tim-22 that will send shockwaves through the galaxy!
Still piling these issues up to binge read all at once. I have about two arc's worth of issues. Gonna be a great day.
East of West #33
Story: Jonathan Hickman
Art / Cover: Nick Dragotta
March 22 / 32 pages / Full Color / T+ / $3.99
"THE KINGDOM ENDURES" The King of New Orleans picks a side.
There will never be a time when this book isn't on my list. Hickman's expansive yet highly personal story is…well, Hickman.
Kill or Be Killed #7
Story: Ed Brubaker
Art: Elizabeth Breitweiser, Sean Phillips
Cover: Sean Phillips
March 15 / 40 pages / Full Color / M / $3.99
As Dylan hides from the NYPD, Kira begins to get suspicious of some of his mysterious behavior. BRUBAKER and PHILLIPS' newest hit book keeps hitting! And remember that every issue has all the extra back page articles and art their fans have come to expect.
Best new Image book. Is seven issues enough time to stop calling it new?
The Old Guard #2
Story: Greg Rucka
Art / Cover: Leandro Fernandez
March 29 / 32 pages / Full Color / M / $3.99
PART TWO. The Old Guard is revealed. A new immortal is discovered. Things go sideways, fast.
I almost skipped the first issue last month, but we planned to talk about it on the podcast, so I squeezed it in. Glad I did. The story is a decent Rucka plot (not much different than anything we've seen before by him), but Leandro Frenandez's art? DAMN!
Outcast by Kirkman & Azaceta #26
Story: Robert Kirkman
Art / Cover: Elizabeth Breitweiser, Paul Azaceta
March 22 / 32 pages / Full Color / M / $2.99
"THE SHARPENED EDGE" Kyle Barnes hones his abilities… preparing for the battle ahead.
This is one of the best Image titles that no one ever talks about. I wish this book got more love from the community.
Paper Girls #12
Story: Brian K. Vaughan
Art: Cliff Chiang, Matt Wilson
Cover: Cliff Chiang
March 01 / 32 pages / Full Color / T+ / $2.99
Growing up can be deadly.
Fun ride. No idea what the hell we are leading up to.
Planetoid Praxis #2
Story / Art / Cover: Ken Garing
March 08 / 32 pages / Full Color / T+ / $3.99
Years have passed and life on The Slab has changed. Aden and his friends explore a black market trading post, while Onica and Nkunda confront an entirely new force that has descended upon the planetoid.
Remember how excited I was for last issue? Well, now I'm even more so. After a 5-ish year break, this book is as brutally beautiful as ever.
Southern Bastards #19
Story: Jason Aaron
Art / Cover A: Jason Latour
Cover B: Babs Tarr
March 29 / 32 pages / Full Color / M / $3.99
"GUT CHECK," Part Five A moment of truth for Roberta Tubb. A moment of reckoning for Coach Boss.
"Gut Check" says it all.
The Walking Dead #165
Story: Robert Kirkman
Art: Charlie Adlard, Cliff Rathburn, Stefano Gaudiano
Cover: Charlie Adlard, Dave Stewart
March 01 / 32 pages / BW / M / $2.99
"OPPORTUNITY" When Alexandria is at its weakest… they strike.
Kirkman has been dropping hints as to who these new villains may be, but we still know next to nothing. Interesting that we get another group of baddies so soon after The Whisperers.
Other
ARCHIE #18
NEW STORY ARC! The Blossom Twins have found out their father has been lying to them about why they moved to Riverdale. It's up to Detective Jughead to learn the dark truth behind the Blossom Family! Join us as we welcome new Archie series artist Pete Woods (Deadpool, Robin).
Script: Mark Waid
Art: Pete Woods, Andre Szymanowicz, Jack Morelli
Cover: Pete Woods
Variant Covers: Elsa Charretier, Robert Hack with Kelly Fitzpatrick
On Sale Date: 3/15
32-page, full color comic
$3.99 U.S.
All new story arc, people. I've been championing this title since issue one. If you haven't checked it out yet, consider doing so with this issue.
THE ARCHIES ONE-SHOT
BRAND NEW ONE-SHOT SPECIAL! Follow Archie's quest to make his songwriting dreams a reality, and see what happens when the rock 'n' roll dream starts affecting his relationships with his closest friends. Join co-writers Alex Segura and Matthew Rosenberg (Archie Meets Ramones) and artist Joe Eisma (Archie) for a power-pop one-shot that goes loud on the music, fun and friendship.
Script: Alex Segura and Matt Rosenberg
Art: Joe Eisma
Cover: Jaime Hernandez
Variant Covers: David Mack, Audrey Mok
On Sale Date: 3/15
48-page, full color comic
$4.99 U.S.
Look at the plot. Look at that cover. Now look at the rest of the creative team. This!
QUANTUM TEENS ARE GO! #2
written by MAGDALENE VISAGGIO
illustrated by ERYK DONOVAN
colored by CLAUDIA AGUIRRE
cover by ERYK DONOVAN
$3.99 | 32 pages | FC | Mature Readers
Well, things aren't exactly getting better. Nat and Sumesh keep seeing strange figures everywhere — but nobody else is. What the hell is going on? Turning to some good old-fashioned DIY mad science to track
down an answer, the kids get more — and less — than they bargained for.
Best new Black Mask book in some time. Glad I took a chance on this title. Super fun and great artwork with Donovan.
GRASS KINGS #1
Writer: Matt Kindt
Artist: Tyler Jenkins
Main Cover: Tyler Jenkins
Intermix Cover: Matt Kindt
From The New York Times bestselling writer Matt Kindt (Mind MGMT) and Peter Panzerfaust artist Tyler Jenkins comes a rural mystery series chronicling the tragic lives of the Grass Kings, three brothers and rulers of a trailer park kingdom, a fiefdom of the hopeless and lost, of the desperate poor seeking a promised land.
Eldest brother Robert leads a grief-stricken life, having lost his daughter to a tragic accident, followed by his wife disappearing one morning never to return.
When an enigmatic young woman named Maria flees to their community in search of safe haven, Robert takes her in. Will his decision lead to ruin and retribution dooming the Kingdom?
Perfect for fans of Justified or The Fade Out.
Oversized first issue featuring 30 pages of story!
Matt Kindt is blah blah blah blah. You already know how amazing Kindt is, so I don't have to tell you about that. But Tyler Jenkins, on the other hand, need more praise. His work on Snow Blind last year (in my top 5 favorite limited series of 2016) was phenomenal. Truthfully, I've yet to even read the solicitation past the cover and the creative team. I want in.
PLANET OF THE APES/GREEN LANTERN #2 (OF 6)
Retail Price: $3.99
Writer: Robbie Thompson, Justin Jordan
Artist: Barnaby Bagenda
Main Cover: Ethan Van Sciver
"Silver Age" Variant Cover: Paul Rivoche
"Movie Poster" Variant Cover: Robert Sammelin
"Spectrum" Variant Cover: Felipe Massafera
"Vintage Action Figure" Variant Cover: David Ryan Robinson
Ape City is in a panic. Word has spread of the capture of a talking human (Hal) and his bizarre alien companion (Sinestro). What's worse, a group of strange, scarred humans—Mutants—are spotted in The Forbidden Zone, being led by a strange-acting Cornelius, who's wearing a ring—a ring Sinestro has long been searching for.
The first issue could have been terrible, and it would have made me look like an asshole for putting it on my list. BUT! It wasn't, and it didn't! Score 1 for PotA/GL!
Dropped:
JLA
Detective Comics (Temporarily)
Doom Patrol
Kingpin
Bullseye
Doctor Aphra
Added:
Grass Kings